Meet Kamal Adisa, One of the Creatives Behind Wizkid's Successful MIL Album, Works With Sony Music
Kamal Adisa is a known figure in the field of motion graphics design. Kamal, born in Nigeria and now based in Brooklyn, New York, has established a reputation for himself in the music industry by collaborating with some of the most notable artists in the world
Kamal Adisa is a Nigerian visual artist from Kwara State who has found himself on the shores of different lands, from Lagos to Jordan to New York, where he currently lives and works with one of the top music labels in the country, RCA Records, an American record label owned by Sony Music Entertainment.
A platform that allowed him to work with Wizkid, Doja Cat Sza, Steve Lacey, and Odunsi the Engine.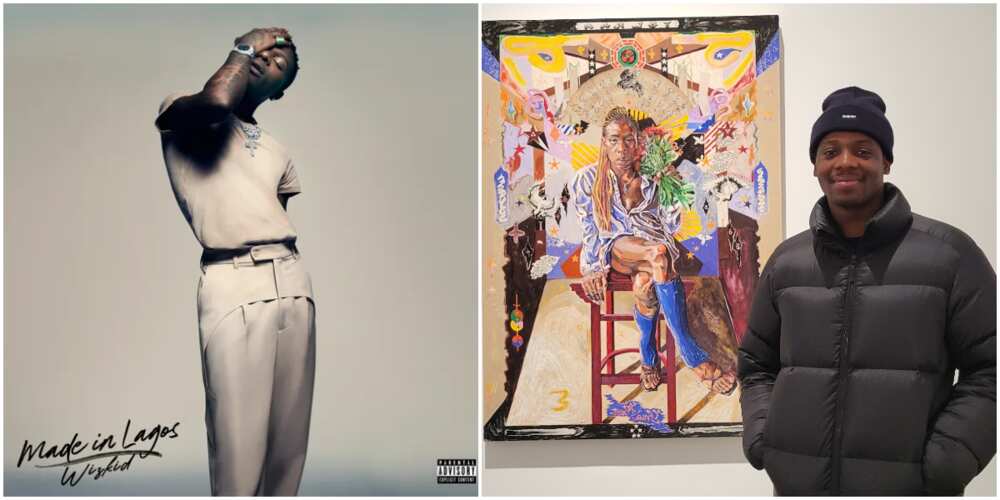 Kamal's skill juggles all the fields of visual artistry, from graphics design to filmmaking and editing, down to a solid grasp of motion graphics.
The digital designer has lived all his life imbibed in visual expression, with several acquired ethnicities and lifestyles from the different countries he has lived in.
Kamal finds himself dissipated at the crux of them all with a degree in communication design from the prestigious Parsons School of Design and Arts in New York.
However, Kamal believes he is just starting and has more ahead of him, "I mean, after 24, there is a lot I want to do in the future," he said.
In this interview with Legit.ng, Kamal discussed his cross-cultural experiences, the turning moment in his career, and working with the country's Afrobeats star Wizkid.
Leaving Nigeria at a young age
Kamal revealed that leaving the country at a young age didn't stop him from gearing his arts towards his roots; it was already a huge part of him regardless and became an advantage for him because it made him understand the country from the inside out.
"That didn't affect me because I was still getting the same family time I would get if I was still in Nigeria," he said. 
"If anything, I would say, leaving the country gave me a different lens to how I saw things back home. Whenever I went back home for the holidays, my perception of things was very different, and it showed in my visuality. Anytime I am working, my perspective is like someone who has left the country and can see and comment on how things could be."
Having a background that spans graphic design, video editing, and motion graphics. Kamal explained his journey as a visual artist and his exploration of multiple art forms.
"It doesn't feel like I am doing two different things; rather, it makes me feel like I am doing different sides of the same thing," he said.
"I have been into arts, like fine arts in general; it is something I have always done since I can remember. I would say this exploration of different mediums was very natural to me. It all started when I got into college and had the chance to play around with various types of artmaking, including sculpting, product design, fine arts, and a little graphic design; that was when it all started. I saw the connection between graphic design and film editing. And the further I went into the duo, it led me into motion graphics. 
The influence of both Nigerian and US cultures is evident in Kamal's works, as he explains how diversity has shaped his work.
"It makes me want to mix the two; both cultures have become a part of who I am. I always want to bring both sides together; it naturally shows in my work. An example of such is my second movie, 'How the Tortoise Cracked its Shell.' It premiered at the African Film Festival in New York in 2022. The film is a perfect example: I talked about a Nigerian theme: how the tortoise cracked its shell. A story that is common to Nigerians but with the experiences I have had here in New York.
Getting a clue of what a typical Nigerian setting Kamal spoke on his family's acceptance of his dreams of becoming an artist rather than doing something professional in school
"Fortunately for me, it wasn't much of a problem because, my parents have always encouraged me to pick up arts; ever since I was little, they have been the ones asking me to practice arts which I know is not the same for a lot of people. When I tell my friends the kind of things I am doing, they react in disbelief. My parents, too, are also into separate creative businesses and excelling in their various fields; probably that was what gave them the confidence to let me do my thing."
In 2019, Kamala won the Supernova Film Festival at the Student Animation Competition in Denver with his animated short film, Paradise Island. This was a defining moment in his life ambition as it made him realise the potential he had to offer the world.
"That was a moment that really gave me some type of confidence in my work. Although I had already felt confident about my art, the competition placed me among other talented artists at the event.
"And making it to the top amongst those other people, whom I respected for their crafts, boosted my confidence to keep practising. It was more of an amazing moment for me because I just went there to have a good time; I didn't see myself winning the competition, so it heightened my entire experience in Denver."
Kamal spoke more on the concept behind his first short film, "Paradise Island," which bagged him his first award. 
"That was the first animated film I ever made, and it was an experimental movie about a boy named Adam who woke up in a mysterious world and how he explored it. It wasn't meant to be anything deep because I chipped in some comedy that the judges pointed out as something they appreciated."
Working for RCA Records and what he does for them
Kamal is a motion graphics designer, and what that means is that he animates any work that needs such a depiction for the marketing team. The digital artist revealed that he got into the company when they were trying to build their motion department.
"The team I am under is the public creative team, a subsidiary under the motion team, and we work hand in hand with the digital marketing team, which helps promote the artist's project. So, if there is an album rollout, all the materials will be gathered that will be used to produce music videos, lyrics videos, and cover art, and all these will be used to build DSPs, animated covers, and the entire online image that will be used to promote the project on several digital platforms."
Working with Wizkid and creating the motion graphics for Made in Lagos' digital marketing.
The album cover art inspired the animation Kamal and his team created. As there were other brilliant minds with whom he worked with.
"When I listened to MIL, I knew it was a hit", he said. I saw myself smiling the whole time. I just knew that the album would solidify Wizkid's stance as one of the best Nigerian artists to ever emerge," he said.
So, I decided to do an animation of him just showing up in a flame of smoke because I wanted it to be sort of magical, a phenomenon. There was no crazy idea behind it. We wanted it to be as simple as possible but still have the energy of the music, and that is what it came out to be: magical but still simple."
What fans should expect from Kamal as his career progresses 
The digital designer is working on an animated project that will tell the story of what creatives and artists go through to get to their finished work.
"My friends and I are working on a project where we will get to interview artists, all kinds of artists, from musicians to writers, to tell their inspiring story of what goes on behind the scenes to make a great work."
Source: Legit.ng