Video of Young Thug Looking Defeated in Court During His Trial Goes Viral, Fans React: "Leader of the Gang"
A video of Young Thug looking defeated while attending his gang conspiracy trial has gone viral on social media
The US rapper's record label was allegedly used as a front for a crime ring and he was charged together with alleged gang members of Young Slime Life
Social media users who are following the trial shared mixed views, with some claiming that King Slime was the leader of the gang that apparently committed serious crimes
A clip of Young Thug looking defeated in court is doing the rounds on social media.
The US rapper, born Jeffrey Williams, is reportedly on trial for gang conspiracy. His case began this week.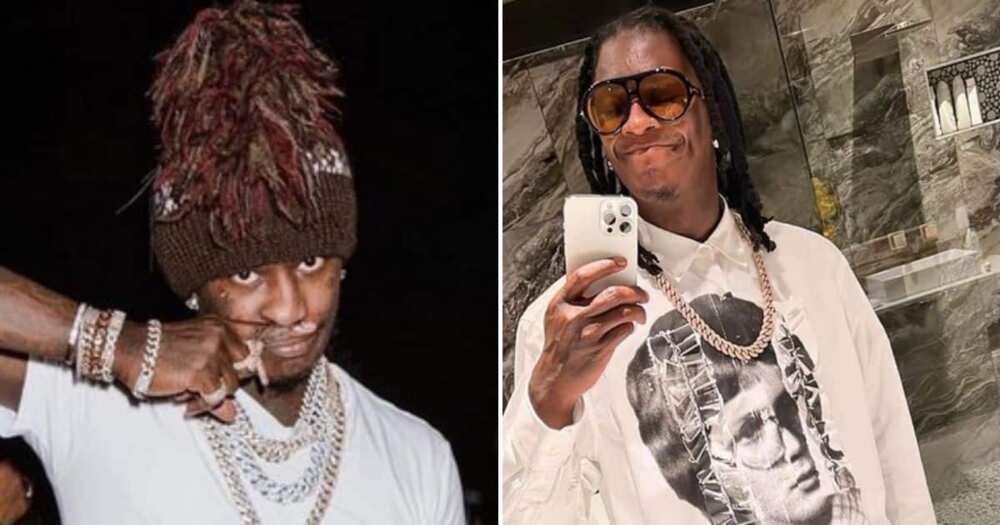 According to a report by News24, the hip-hop artist's record label was allegedly a front for a crime ring. The Atlanta artist is one of many people who were charged by a Georgia grand jury. The jury reportedly said those named belonged to a branch of the Bloods street gang, identified as Young Slime Life or YSL.
The video of Young Thug looking exhausted in court is trending on Twitter. Rap House TV captioned its post:
"Pray for King Slime aka Young Thug. Free Thugga the fast way."
Hip-hop fans share mixed reactions to the video of Young Thug
Peeps took to the comments section and shared mixed reactions to the clip of the superstar.
@DRIZZLY16 said:
"I love my people but we gotta stop acting like we ain't gone get caught up behind some stuff even if it happened a while back, karma comes back every time. Better stop acting like what goes around don't come around."
@MikeShep_ wrote:
"Getting up every morning early just to go to trial is exhausting."
@Garrett commented:
"He helped commit murder, yeah."
@justaboz0 said:
"He's the supposed leader of the gang, a raco charge works this. If you ask your underlings to commit murder the leader will take the fall more than the murderer Bc he's the leader, and he too can be charged without even killing anyone."
@billortiz123 wrote:
"It's Rico, he called the shots, it's the same as him actually doing it."
@marco4549 added:
"At the end of the day everyone wants to save themselves. Loyalty is great until you're facing serious time."
50 Cent claims Eminem had a bigger impact on hip-hop than Jay-Z
In other entertainment news, Legit.ng reported that 50 Cent has made it clear that Eminem is his favourite rapper. The In Da Club hitmaker apparently claimed that Eminem is bigger than Jay-Z in terms of making an impact in the rap scene.
This is not the first time the Den of Thieves actor has praised Em for his contributions to the hip-hop industry. Maybe it is because Slim Shady opened doors for him in the music business when he signed him.
Taking to Twitter, Daily Loud - a verified page that shares hip-hip news, shared a collage of Jay-Z, Eminem and 50 Cent. The entertainment handle captioned its post:
"50 Cent says Eminem has had a bigger impact on hip-hop than Jay-Z."
Source: Briefly.co.za