"This 'Daura' Is Tired": Charles Okocha Hails Daughter, Gushes Over Her for Making Him Proud in Hilarious Clip
Charles Okocha and his daughter have a special relationship and the actor doesn't hesitate to let everyone know how much he loves her
In a video sighted on his page, Okocha refused to let his daughter walk up to him and he gushed over her as he ran to her instead
The actor also gushed over he doesn't need to carry out a DNA test to know his daughter is his
Charles Okocha recently survived a ghastly accident, and his daughter Mercy rushed home from school to check on him.
In a video shared by Okocha himself, his daughter was seen coming down the stairs as she greeted him.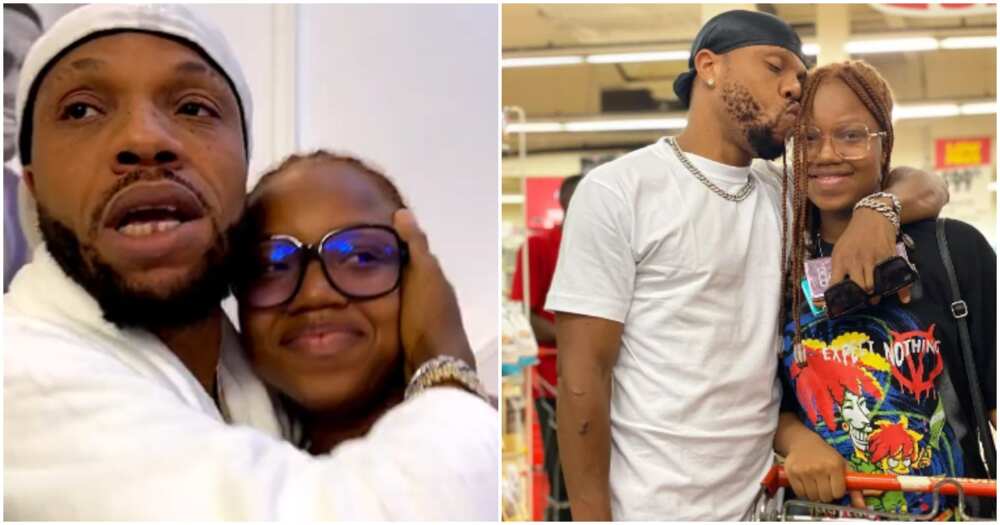 The actor immediately started hailing her in a funny accent, calling daughter 'daura' and went to meet her instead of her coming all the way to him.
He then held Mercy and looked at her over several time as he praised her for making him proud with her excellent results.
Like that wasn't enough, Okocha slso bragged about how he doesn't need a DNA test because of the striking resemblance between they share, just like twins.
The actor's hype man highlighted the video with his periodic slangs and commentaries about the father-daughter moment.
"My phenomenal daughter @mercy__okocha took a day out of school to see his daddy when she heard I had an accident love you forever ma twinny family is everything #priceless ❤️❤️❤️"
Watch the video below:
Reactions to the hilarious video
omalicha55:
"Doraaaaaaa no DNA needed "
officialarole:
"Daughter was just laughing like "Daddy naw" . God bless you and your daughter."
chasevibs:
"Lol. This your hype man dey crack me up always "
adesope_shopsydoo:
"Daddy's girl …… whoever is going to take on this princess in the future has serious competition to beat …. Her daddy loves her so she isnt going to be easily swayed."
faithmolly44:
"this daura is tired "
official_yanki_p:
"These kids are really going through a lot "
val.hilda:
"this girl is tired I know "
becca.ville:
"Which kind daddy be this , Dora Dora "
Charles Okocha gushes over daughter as he visits her in boarding school
Nollywood actor Charles Okocha hardly goes anywhere without making a scene, and it doesn't exclude his daughter's school.
In a video sighted online, the movie star showed up at his daughter's school to see her, and the young girl, followed by her friends, shyly ran to meet him.
Okocha embraced his child and covered her in kisses as he gushed over her in his usual 'jargon' manner.
Source: Legit.ng