The 10 Richest Musicians in Nigeria: See Who's Topping the List
If you have been wondering who the richest musicians in Nigeria are, look no further because this post will review the richest. It's no secret that the music industry in Nigeria has become one of the most profitable ventures in the country, especially as more and more artists receive international recognition, especially through winning major awards at prestigious events like the Grammy Awards and being featured on global award-winning albums.
So it only makes sense that some of the richest people in Nigeria are musicians! This article will look at who these top 10 richest musicians in Nigeria are and how they earned their fortunes. Get Latest Naija Music here.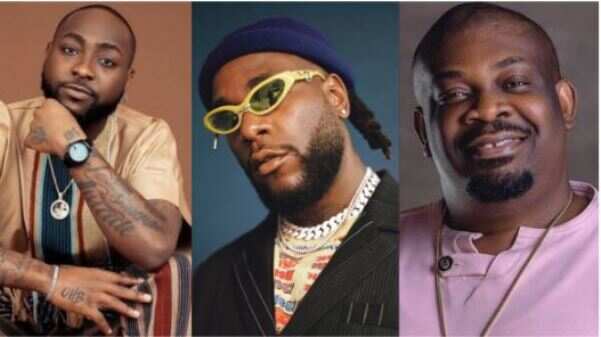 The 10 Richest Musicians in Nigeria:
1) Davido
David Adedeji Adeleke, better known by his stage name Davido, is a Nigerian artist. He is estimated to be worth $45 million. His rise to wealth was attributed largely to collaborations with top international producers and performances at some of Africa's biggest music festivals.
He began his career as a musician after signing with the record label Empire Mates Entertainment (E.M.E.) under its recording artiste Chinko Ekun in 2011; that same year, he released his debut studio album Omo Baba Olowo.
Davido entered the music industry when he released his debut album Duro, an alliance with Shizzi. In 2016, he founded his music label, DMW, where he signed Mayorkun.
He is the son of one of the wealthiest politicians in Nigeria, which points to his being born into wealth. But he made his fortune through numerous endorsement deals, not his father's money.
Davido has made waves in the industry and has won some accolades. He has endorsed deals with the likes of The MTN Group and Guinness Nigeria. He also has aspirations to become an ambassador for companies like Pepsi, AXE, and Infinix Mobile.
2) Wizkid
One of Africa's biggest stars and a social media icon, Nigerian singer Wizkid is undoubtedly one of Africa's biggest musicians. His estimated net worth is $38 million. This makes him not only one of his country's top musicians but also an international star.
His hit single One Dance featuring Drake charted at No. 1 on several Billboard charts, including R&B/Hip-Hop songs, Canadian Hot 100, and Billboard Hot 100, while earning him two Grammy nominations at the first-ever award show held by Recording Academy in South Africa. He has numerous awards and nominations, including a World Music Awards nomination for Discovery of The Year and MTV Europe Music Award for Best African Act.
In 2015, he was listed among Time Magazine's Most Influential People. He currently lives in London with his wife and son.
3) Don Jazzy
Collins, Michael Ajereh, also known as Don Jazzy) is a music producer with a net worth of $35 million. The producer has been instrumental in developing some of our favorite performers in the business, including Reekado Banks, Tiwa Savage, Rhema, and others.
Don Jazzy is the owner of Marvin Records, which is said to be worth $100 million. Don Jazzy is a music producer and composer who founded Marvin Records, which is reputedly worth $100 million.
He's a musician, composer, vocalist, entrepreneur, and brand ambassador. According to Forbes, he is one of the richest music producers known in Nigeria and also Africa, having a net worth of over 35 million dollars.
Don Jazzy actually began his career working with D'banj before launching his own record company. Don Jazzy, whose actual name is Michael Collins Ajereh, was born on November 26, 1982, in Abia State, Umuahia.
He has signed Tiwa Savage, Dija, Reekado Banks, Korede Bello, Dr Sid, Rema, DNA, and others to his record company.
He's not just a successful music producer but also a businessman. He is a co-founder of the well-known IT startup Floybt. He has received several honours and serves as a brand ambassador for various companies, including MTN, Johnnie Walker, Loya milk, Samsung Mobile, etc.
He has three mansions: one in Lekki, one on Banana Island, and one in Los Angeles. The music producer owns four automobiles, including a Porsche 911 Carrera, a Bentley Continental, a Cadillac Escalade, and a Mercedes Benz E350.
4) Burna Boy
With several hit songs under his belt and album sales well over 1.5 million, it's no surprise that music icon Burna Boy is topping our list of richest musicians in Nigeria. The artist has attracted fans worldwide with his unique blend of hip-hop and Afrobeat.
The impressive musician is currently tied for first place with Nigerian recording artist Davido, who has also sold more than 1.5 million albums to date. Combined, their net worth stands at $17 million.
Burna Boy, a.k.a. Damilola Ebunoluwa Ogulu, is a Nigerian musician and songwriter. His most well-known single, Like to Party, was released in 2012.
The singer signed to Bad Habit/Atlantic Records and Warner Music Group in 2017. Known both locally and internationally as Africa's giant.
According to Forbes, he's currently worth $17 million, and it's said that he also has other investments, properties, cars, and a ton of endorsement deals. Recently, he won the Best International Act Award at the 2019 BET Awards and is also up for the 2020 Grammy Awards, though he did not win.
5) 2 baba
His net worth has been estimated at $13 million. He began his career with the Plantashun Boiz but left the group for solo projects. He signed a contract with Kennis Music and released his first album, African Queen. His first song became wildly popular, leading to more publicity and interest in him in 2004.
2face Idibia was born on September 18, 1975, in Jos, Nigeria. His music career has spanned a while, but his rise to fame began when he won a Hot Hundred hit with African Queen. top 10 wealthiest musicians in Nigeria
Ever since his Album went to the top of the charts, he has received many accolades. His other achievements include winning Headies, BET, and MTV Music Awards.
He is estimated to be worth $16 million, which can be accounted for by many sponsorship deals with popular brands like Partner Mobile, Campari, Glo, etc.
6) p square
Peter and Paul, identical twins, are blood brothers who love doing things together. It is almost impossible to discuss Mr P without mentioning the now-defunct P-square.
His first big hit was Senorita, which allowed him to appear worldwide. The group, Peter & Paul Okoye, of Nigerian music business veterans, cannot be overlooked. Forbes recently released a report that put them in the top 10 richest musicians in Nigeria, worth $16 million.
Born on November 18, 1981, in Jos, Nigeria, he is the wealthiest musician in the country. He and his brother are popularly known as P-Square.
They are both musicians who started with a band called Plantashun Boiz before going solo. He has won several awards, including The Headies Award for Best New Artist in 2007 and MTV Africa Music Awards for Best African Act in 2008 and 2009
7) Olamide
Olamide Adedeji, a.k.a Olamide is a Yoruba young man from Lagos, Nigeria. The musician, Olamide, adds a touch of his mother language to his compositions.
When he started, he thought his music wouldn't sell to different locations, and one would be confused if he was actually making it in the music industry, but little did they know that he was making it faster in the industry.
Having a net worth of $14 million, a record company (YBNL), and honours for Best Indigenous Artiste, among other things. Olamide, known for his silky Yoruba raps, is also the king of street music. Olamide Badoo is the founder of the YBNL Nation record label.
Before creating his own, he started his career with the Coded Tunes record label. He became famous when one of his albums, "Eni Duro," was released in 2010, followed by "Rapsodi" in 2011.
With a net worth of 14 million dollars, he is one of Nigeria's wealthiest musicians, according to Forbes. He has received several awards and endorsements from Monster Energy Drink, Globacom, 9mobile, Sterling Bank, and Guinness Extra Stout.
Olamide's car collection in Lagos includes a Mercedes-Benz G Wagon, a Rolls-Royce Phantom and a Range Rover Sports V8.
8) Phyno
Nigerian rapper and songwriter Phyno are worth an estimated $12 million. The popular musician, whose birth name is Chibuzor Nelson Azubuike, has received numerous awards and nominations for his successful songs. Phyno had a hit with Alive, which he recorded with singer Flavour N'abania. The single was on Billboard magazine's charts for more than seven weeks.
He won two Nigerian Entertainment Awards for his work on Alive and was nominated for several other awards that year. That same year he topped a list of highest-earning musicians from Africa at number 28 worldwide, according to Forbes.
In 2015, Phyno released another album titled No Guts No Glory. It went gold within three months of its release. In 2016, he took home two AMAA awards for Best Rap Album and Best Collaboration.
Also, in 2016, it was announced that Phyno would be opening a recording studio called Phreezy in Lagos State. His net worth is estimated at $12 million, making him one of the richest musicians in Nigeria. checkout Latest BBNaija News.
9) Timaya
Timaya's real name is Inetimi Timaya Odon, He is a Nigerian singer and songwriter who founded Dem Mama Records. On August 15, 1977, he was born in Port Harcourt, Nigeria. His net worth is 10.5 million dollars.
At the time, Alfred Odom is extraordinary. Before starting his own (Dem Mama Soldiers), he didn't work for any label for very long before starting his own (Dem Mama Soldiers).
In 2005, he made his way into the music business by releasing the popular tune "Dem Mama," which was part of his first album.
He is one of Nigeria's richest artists, according to Forbes, with a net worth of $10.5 million. Timaya rose from the lowest levels of society. His early songs are about development, failures, achievements, and hardships. In 2005, he released "True Story," followed by "Gift and Grace."
Since he came to fame from a small beginning, he has had a success story. Hennessy Nigeria Plc, Glo and Teleco have him as brand ambassadors. He also possesses a few expensive items and homes.
10) Banky W
Bankole Wellington is a musician and music producer. Wizkid, Shaydee, and Skales are just a few of the acts he's signed in the past. He's been in the profession for quite some time, having started as a singer in his local church choir. He is the founder and CEO of EME Records, founded in 2002.
Without mentioning the E.M.E boss, this list would be incomplete. Banky W is a Nigerian singer, songwriter, actor, politician, and music producer with a net worth of $9 million, making him one of the country's wealthiest artists. Nigeria's Top 10 Wealthiest Musicians Olubankole Wellington is Banky W's real name, and he was born in the United States in 1981.
He is a well-known artist who has received several sponsorship agreements. He is said to have created Etisalat's first theme song, "0809jaforlife," and helped Wizkid rise to fame. Who is Nigeria's wealthiest musician?
With a net worth of $9 million, he is one of Nigeria's top ten wealthiest musicians. He is married to Adesua Etomi, a media personality, and actress. You can also read about Latest Celebrities Biography here too.
Conclusion
While no one should live off their music alone, it is great to make a living from what you love doing. Many Nigerian musicians have been at it for years, and most are still going strong; here are some of them.
Do you know any of these artists? Let us know in your comments section or via social media. Maybe we'll even feature your comment on our page - who knows? Enjoy!
[Sponsored]
Source: Legit.ng