CBN Invites US Tech Company to Revamp eNaira, Proposes $800m Transfer to Poor Nigerians
The Central Bank of Nigeria has approached R3, a US-based tech firm, to help eNaira revamp
The CBN is said to be in talks with the tech firm to help rebuild the CBDC after suffering sluggish adoption by Nigerians
The plan to reconstruct the eNaira has been on since 2021, with another financial software firm, Bitt
The Central Bank of Nigeria (CBN) seeks to revamp and drive the mass adoption of its digital currency, the eNaira and has contacted a New York-based tech company, R3, to help rebuild the CBDC and its underlying technology.
A report by Bloomberg states that the apex bank is in talks with new tech partners to develop a unique and enhanced system to manage the digital naira.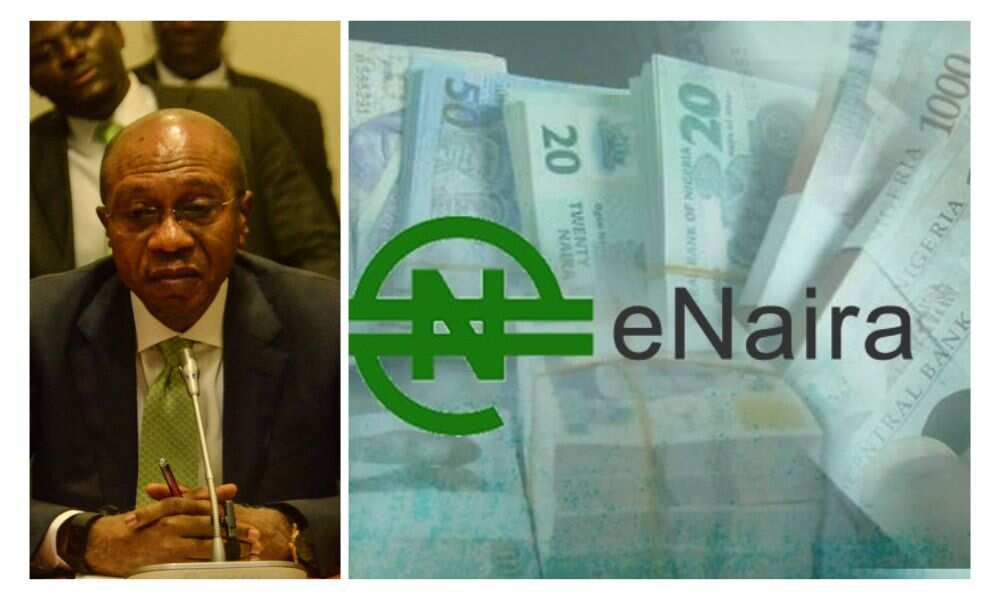 CBN seeks complete control of eNaira
The report stated that the new software would allow the CBN to have more control of the eNaira.
Per the report, the plan to revamp Nigeria's digital currency has been in the works since 2021, with a financial software company, Bitt, touted to be the one to drive the update initially.
The Bloomberg report also stated that the new partner would wait to replace Bitt and gradually help hand control to CBN.
Bitt stated that it was aware that the apex bank works with various partners for its tech innovations, affirming that it still works closely with CBN and currently developing other features and enhancements for the country's cybercash.
eNaira fails to attract large users, suffers sluggish adoption
The eNaira got off to a slow start and suffered neglect by Nigerians despite being the first CBDC in Africa.
The usage of CBN's e-money in Nigeria could not pick up at the expected pace as more Nigerian youths, who were its primary target, shunned it for cryptocurrencies.
The International Monetary Fund (IMF) said that only 8% of eNaira wallets had utilised the eNaira, averaging N53,000 in transactions.
The IMF noted that as of November 2022, eNaira had about 942,000 downloads in total.
The development comes as the CBN has proposed to the Nigerian government to use the eNaira for its $800 million social safety programme.
Use eNaira, internet banking as alternative to cash crisis, CBN tells Nigerians
Legit.ng earlier reported that the Central Bank of Nigeria had asked Nigerians to explore using eNaira and Internet banking as alternatives to the current cash crunch.
The bank's Director of Corporate Communications Department, Osita Nwanisiobi, represented by the Director of Capacity Development of the bank, Mohammad Abbah, said this at the recently concluded 44th Kaduna International Trade Fair.
The CBN spokesman said the payment infrastructure could handle voluminous transactions across all channels.
Source: Legit.ng