"One Gets N500K:" Governor Applauds as Foundation Donates N250 Million Poverty Alleviation in Kwara
The Yahaya Seriki Foundation has donated N250 million to empower Kwara indigenes
The Foundation revealed that it is part of its social responsibility to help in poverty alleviation
It gave scholarships, cash rewards, and other items to residents of the state to better their livelihoods
Pascal Oparada has over a decade of experience covering Tech, Energy, Stocks, Investments, and Economy.
To alleviate poverty and give Kwrara indigenes an improved livelihood, a non-governmental organization, Yahaya Seriki Foundation, has doled out N250m to 1,800 artisans, students, market men, and women, as well as petty traders from across the state.
According to the Foundation, it is part of fulfilling its mandate on poverty reduction, hunger, disease, illiteracy, environmental degradation, and discrimination against women in line with UN Millennium Development Goals.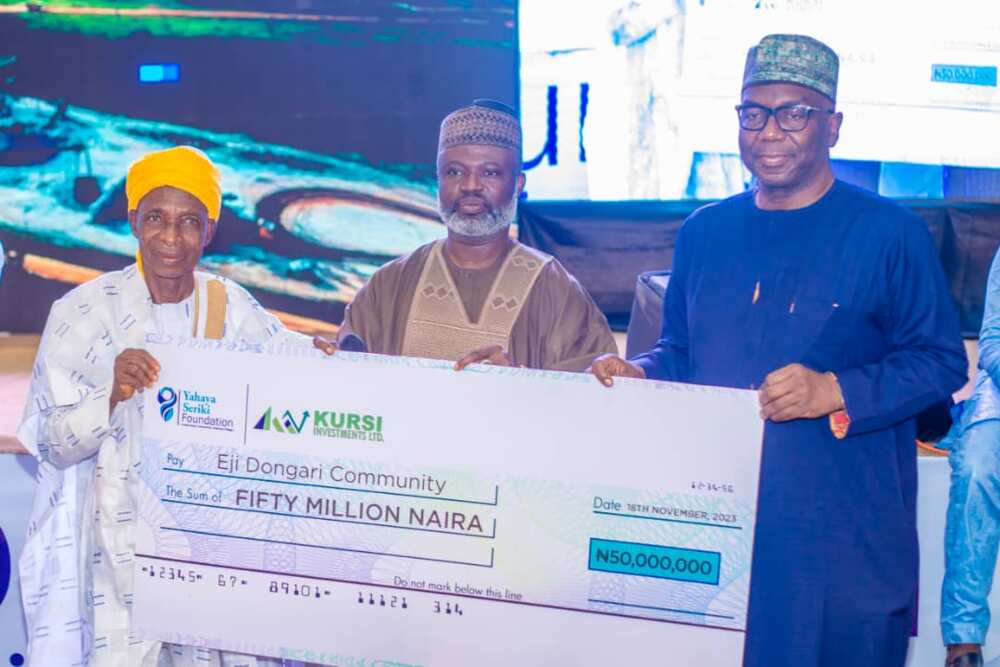 Firm employs 70% of Kwara indigenes.
Speaking at the event on Saturday, the Foundation's founder, Yahaya Seriki, a big player in the minerals sector, expressed gratitude to the state's people for his support over the years.
He said the mineral sector is highly capital intensive, leading his company to embark on exploration activities for over 15 years.
He expressed gratitude to the government of Kwara for providing the enabling environment for mining to thrive through adequate security.
He said at least 70% of those employed are from Kwara, a strategic move to ensure a decent livelihood, adding that it is not political.
About N250 million was donated for poverty alleviation
Cheques totaling N250m were issued to various categories of beneficiaries, targeting at least 1,800 state indigenes.
In the category of N500,000, Ameenat Alao Saadu, Ibraheem Rabiat Atonitenu, Adeoye Bola Elizabeth, Khadijat Sheriki, and others emerged as beneficiaries.
Similarly, Fatai Olajumoke Soma, Shaibu Balikisu, Oyewole Wale Femi, and others benefitted from the N250,000 category.
Several beneficiaries also emerged from the N50,000 category.
ThisDay reports, during a session of testimonial remarks, a geologist, Mr. Umar Habeeb Adeshina, said he had a scholarship for his doctorate studies at a foreign university.
Similarly, one Salihu Aishat Tobani, a laboratory scientist, was offered employment at KURSI Investment Ltd while Dr. Hammed Ayuba, a human resources benefitted from a PhD scholarship, among several others.
Governor applauds efforts of Foundation
The traditional ruler in Kwara State, Alh. Saheed Sauda Adifa was also issued a cheque of N50m for disbursement to his subjects.
In his remarks, the Governor of Kwara State, AbdulRahman AbdulRazaq, thanked the Foundation for supporting and collaborating with the state government to ensure poverty is fought among indigenes.
While applauding the selflessness of Yahaya Seriki, the Governor also thanked him for using his platform to meaningfully engage several youths of Kwara states, noting that such efforts help in nation-building.
Joy as Foundation donates palliatives, and education grants to students in the Ogun community
Legit.ng reported that a non-governmental organization, Pa Philip Akintoye Development Foundation (PAPADEF), on Tuesday, April 6, brought joy to the people of the Ado Odo community in Ogun state.
A non-governmental organization, Pa Philip Akintoye Development Foundation (PAPADEF), on Tuesday, April 6, brought joy to the people of the Ado Odo community in Ogun state.
Legit.ng reports that the foundation commissioned a borehole, distributed palliatives, COVID-19 personal protective equipment, education grants to students, a wheelchair to the physically challenged, and a host of other materials to members of the community.
Source: Legit.ng