No More N1,114/$: Naira Falls Again Against US Dollar Across All Foreign Exchange Market
The Naira continues its poor performance against the US dollar across all foreign exchange markets
This is despite the pledge from the Saudi Government to provide forex and ease the pressure on Naira
Tinubu's government has consistently spoken of plans to achieve a fair exchange rate value by December 2023
Dave Ibemere has over a decade of experience covering Business and the Economy
Nigerian currency, the Naira, depreciated further in the official and unofficial foreign exchange markets.
In the Nigerian Autonomous Foreign Exchange Market (NAFEM), which is the official market, the Naira depreciated by 6.9 per cent or N54.81 against the dollar to close at N850.22/$1, in contrast to Monday's exchange rate of N795.41/$1.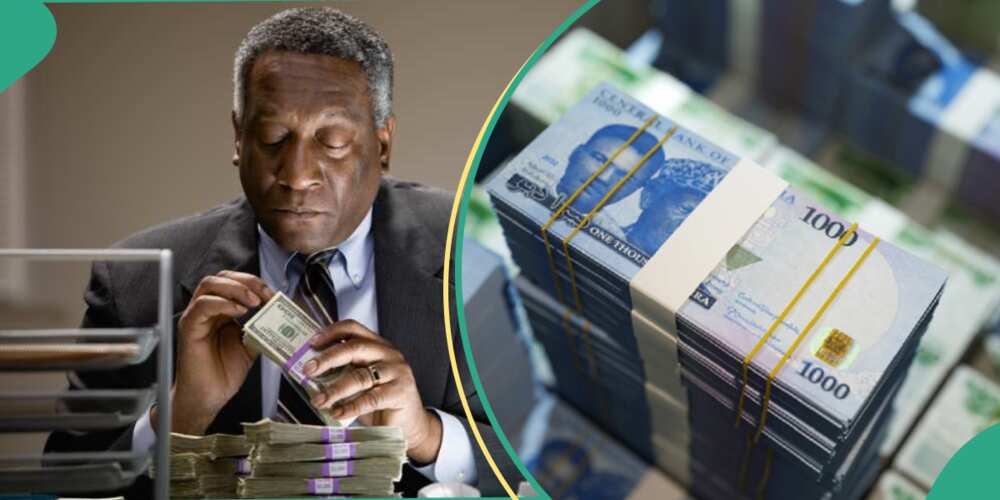 The depreciation happened despite an improvement in the supply of FX into the market on Tuesday, November 14, 2023.
According to data from the FMDQ Securities Exchange, the value of forex transactions increased on Tuesday by 16.3 per cent or $20.3 million to $143.55 million from the $123.25 million transacted on Monday.
Naira to the dollar at the black market
It was the same story in the Peer-to-Peer (P2P) window as the Naira lost N9 against the dollar during the trading day to sell for N1,114/$1 versus the previous day's rate of N1,105/$1.
Also, the Naira in the black market section of the forex market on Tuesday dropped further in value to close at N1,150/$1 compared with the preceding session's value of N1,140/$1.
Naira exchange rate against Euro
There was good news for the Naira against the British Pound Sterling and the Euro at the NAFEM official market.
Data from the Central Bank of Nigeria revealed that Naira gained N149.66 against the Pound Sterling yesterday to finish at N1,035.77/£1 versus the previous day's N1,185.43/£1 and against the Euro, it appreciated by N131.05 to quote at N903.13/€1 compared with the Monday's N1.034.18/€1.
Nigeria Customs sets new exchange rate to clear imported goods
Earlier, Legit.ng reported that Nigeria customs have adjusted the foreign exchange rate for clearing imported goods at Nigerian ports
The new rates are intended to reflect the depreciation of the Naira against the dollar across the foreign exchange markets.
With the new rate, the cost of imported goods will increase nationwide.
Source: Legit.ng