Nigeria Emerges Most Active Crypto Country Amid CBN Ban on Transactions
Nigeria has emerged as the most crypto-active country according to data collected from three search terms on Google Trends
Searches were for terms including "Buy bitcoin," "Trade crypto," and "How to buy bitcoin"
The result of the searches proves that Nigeria continues to maintain a leading position in the crypto-verse
Despite the challenging period in the cryptocurrency market known as the crypto winter, Nigerians have consistently demonstrated unwavering enthusiasm and curiosity regarding Bitcoin, Ethereum, and other cryptocurrencies.
According to Leverage Trading, Nigeria emerged as the country with the most notable interest in the three search terms as citizens continued actively participating in purchasing, trading, and exploring information about Bitcoin.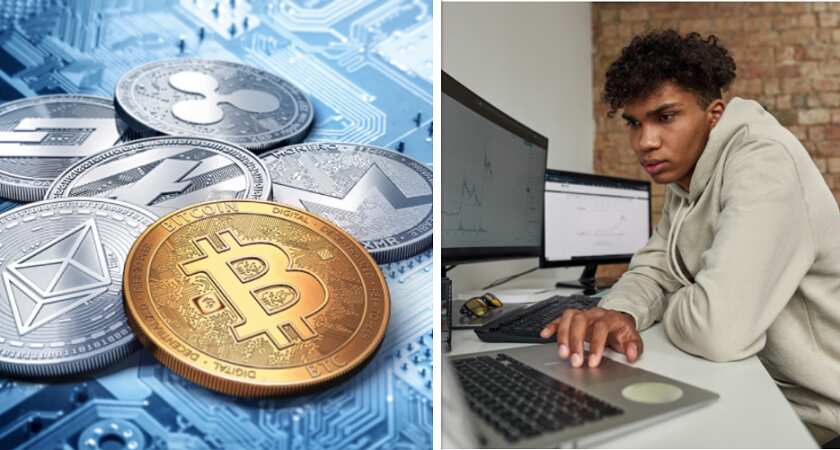 During the ongoing period of volatility in the cryptocurrency market, often referred to as the "crypto winter," market participants across the globe have adapted in diverse ways.
PAY ATTENTION: Share your outstanding story with our editors! Please reach us through info@corp.legit.ng!
Although most of 2022 witnessed a downward price trajectory, certain nations displayed resilience by persistently engaging in purchasing, trading, and acquiring knowledge about cryptocurrencies.
Nigeria leads in Google Trends search for crypto terms
During the period, an analysis of Google search volumes for several transactional cryptocurrency terms, including "Buy Bitcoin," "Trade Crypto," and "How to Buy Bitcoin", was conducted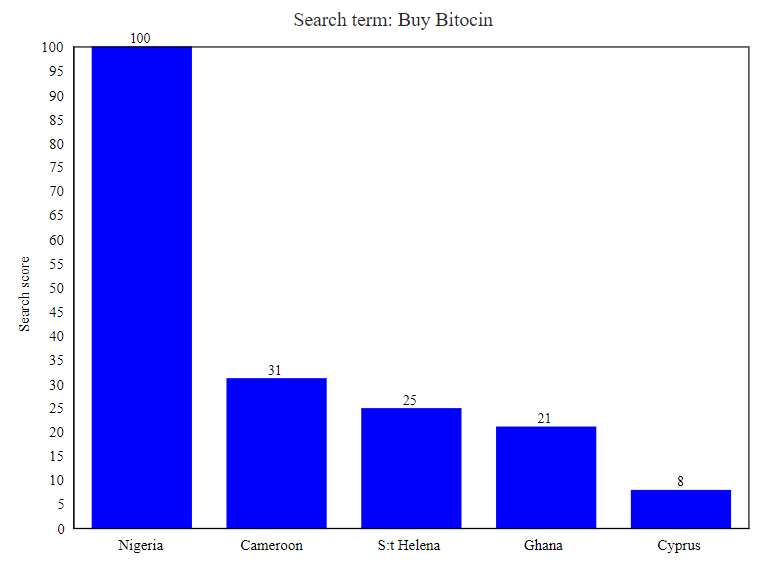 According to the Google Trends search scores for the search term "Buy Bitcoin," Nigeria emerged as the country with the highest level of interest, achieving a perfect score of 100.
This observation indicates that despite the challenging crypto winter and the continuous price decline, Nigerians displayed a remarkable inclination to invest in Bitcoin.
Notably, the presence of Cameroon, St. Helena, Ghana, and Cyprus on the list suggests that these countries also maintained involvement in the cryptocurrency space, albeit to a lesser degree.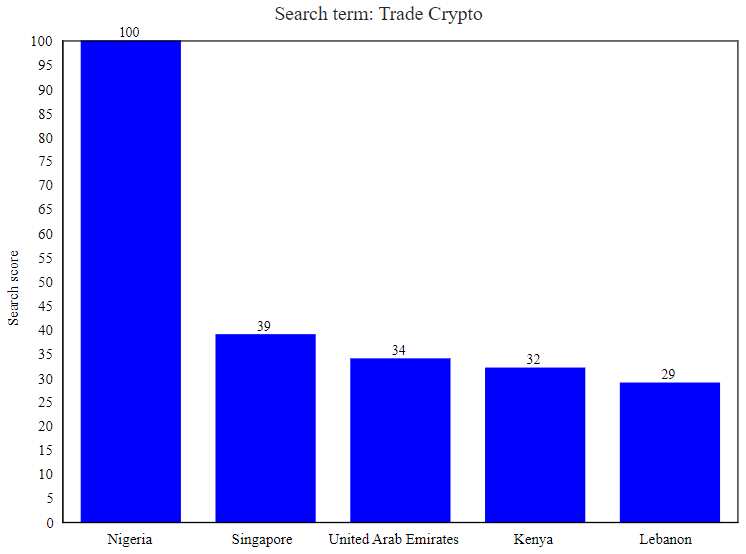 Regarding the search term "Trade Crypto," Nigeria once again emerges as the frontrunner, achieving a perfect score of 100, indicating a strong inclination to buy and trade digital currencies.
Singapore, Lebanon, the United Arab Emirates, and Kenya also displayed notable activity during this period, despite the predominantly declining prices.
These countries displayed resilience in their active involvement in crypto trading, underscoring their unwavering interest in digital assets.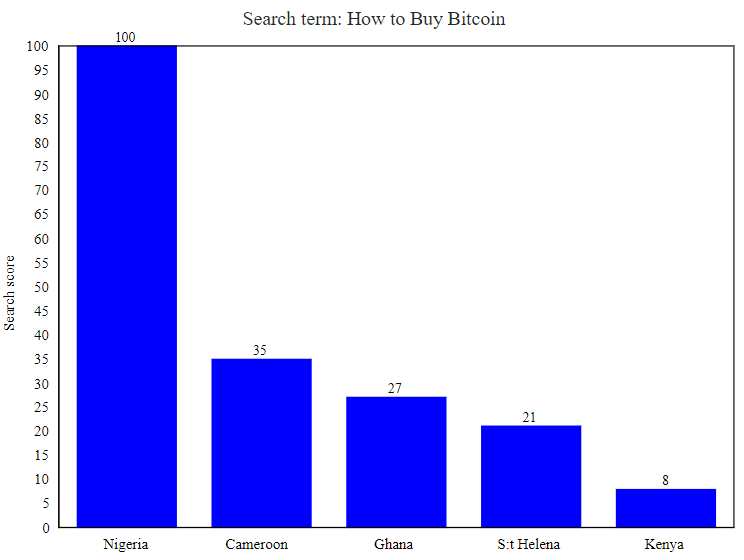 When examining the search term "How to buy Bitcoin," which typically indicates a desire for educational information, Nigeria maintains a leading position with a perfect score of 100.
This further underscores the country's consistent and enduring interest in expanding its knowledge of the dynamic cryptocurrency market.
Additionally, Cameroon, Ghana, St. Helena, and Cyprus also appear on the list, showcasing their active pursuit of information related to buying Bitcoin, even amidst the challenging period of the crypto winter.
Why Nigerians are still interested in crypto despite market liquidity
In spite of the Central Bank of Nigeria's directive to deposit money banks and other financial institutions to refrain from enabling cryptocurrency transactions, there continues to be a notable increase in the popularity of digital currencies.
This trend gained traction, particularly in a nation grappling with a significant poverty rate, escalating inflation, and a rapidly devaluing currency. Cryptocurrencies emerged as a more favourable means to safeguard funds and preserve their financial worth.
During the peak of the cryptocurrency surge, a report by global research firm Morning Consult revealed that approximately half of Nigerian adults engage in cryptocurrency trading on a monthly basis, making it the highest proportion among any population worldwide.
According to Quartz, the notable increase in enthusiasm towards cryptocurrencies observed in Nigeria can be attributed to the nation's rapidly expanding population.
In fact, Nigeria has been identified as one of the eight countries expected to undergo significant population growth by 2050, as projected by Axios in their latest report in 2022.
Other factors responsible for the remarkable increase in cryptocurrency adoption are difficulties with remittance processes and the emergence of local cryptocurrency exchanges.
Commenting on the trend, Nnamdi Uzo, a marketing agent of Nigerian crypto exchange, Quidax, told Legit.ng that the interest in crypto amongst Nigerians is not going away anytime soon.
He said:
Nigeria consistently emerges as an actively engaged nation across all three search terms, indicating a growing appetite for alternative financial solutions.
Despite the market downturn and heightened volatility, Nigerians are still eager to purchase, trade, and expand their crypto knowledge. This I can confirm going by the patronage of our exchange.
Similarly, Singapore, Lebanon, the United Arab Emirates, and Kenya have also exhibited continued activity during this period of recession. These regions have demonstrated their unwavering commitment to crypto trading, defying the challenging market conditions.
Nigerian cryptocurrency experts, traders tip bitcoin to recover in 2023
In related news, Legit.ng reported that crypto experts, traders and enthusiasts had predicted a potential rise in the price of Bitcoin and other cryptocurrencies in 2023.
Given the current market liquidity, many crypto enthusiasts remain unperturbed and are hopeful of a recovery in the price, just like it did in 2020 and 2021.
It would be recalled that the recovery of crypto in the above-mentioned years gave way to the emergence of some crypto millionaires across the globe.
Source: Legit.ng