Top 10 PoS Service Companies in Nigeria and Step-by-Step Guide to Setting Up Agency Banking
PoS operators have become the heavyweights of the recent cash crisis in Nigeria
The Central Bank of Nigeria licenses companies and banks to provide agency banking to Nigerians
These companies help merchants and businesses to set up their businesses in strategic locations
According to reports, e-payment transactions in Nigeria have surged by 55% in January of 2023 alone.
Data from Nigeria Interbank Settlement System (NIBSS) indicates that the volume of transactions performed electronically by Nigerians increased to 541 million.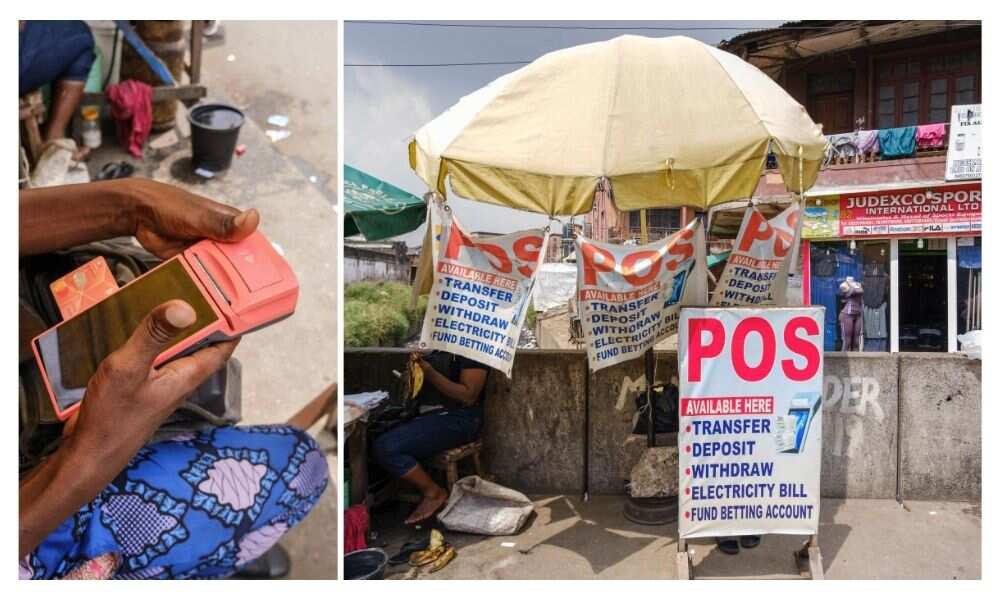 Maasive surge in PoS business in Nigeria
This includes Points of Sale, popularly called PoS services.
PAY ATTENTION: Share your outstanding story with our editors! Please reach us through info@corp.legit.ng!
Agency banking or PoS business is relatively new in Nigeria, introduced by the Central Bank of Nigeria (CBN) to drive financial inclusion.
Apart from driving financial inclusion, the policy also aids the cashless drive of the CBN to help reduce the amount of cash in circulation.
But the recent cash crisis in Nigeria, caused by the redesign of the naira by the CBN, has made agency banking all the more lucrative in the country.
As the cash crisis bites hard and Nigerians scramble for available cash, PoS business and operators are reaping the rewards of the crunch.
PoS charges surge above 30 per cent in Nigeria
Before the crisis, PoS operators pegged their charges at two per cent of the total sum on withdrawal or deposit. But the problem has driven the costs above 30 per cent, making the operators the kingpins of the cash crunch.
Despite threats by CBN and state governments to arrest and prosecute PoS operators over excessive charges, the operators have continued to charge cut-throat prices, blaming it on the scarcity of cash.
The CBN has licensed banks and companies in Nigeria to operate agency banking by making PoS machines available to merchants and businesses for the seamless drive of its cashless policy.
How to Become a POS Agent
Starting a POS business is a simple procedure that may be finished in two weeks to a month if you fulfill the host bank's standards.
Startup Capital
To start a business could range from N80-100,000, including money to get the POS machine.
Strategic Location
A strategic location involves many individuals who need to make basic financial transactions.
Remote communities, student environments, marketplaces, and areas with few banks and automated teller machines (ATM) points might be ideal sites to start a company.
Get a Shop or Kiosk
The shop will function as the people's local or nearest financial institution, where they may do simple withdrawals, payments, bank transfers, and so on.
You should construct your shop or kiosk to alert visitors that you run a POS business.
You may do this by placing a small board in front of your business to warn consumers who seek a POS terminal from a distance.
Get the POS Machine
The machine is also one of the essential tasks of the business. According to experts, there are two ways of getting a POS machine: through commercial banks and other finance agents, BusinessDay reports.
The cost of acquiring the POS machine varies between issuing agents and how strong or advanced the connection runs. Getting a POS machine from a bank requires complying with CBN directives.
Requirements for obtaining a POS machine
According to the CBN, an active driver's license or an international passport is required for launching a POS firm.
A registered business name, POS location, passport pictures, account number, phone number, business email address, and bank verification number are also required (BVN).
Other essential needs are passport photos, a Bank Verification Number (BVN), references to current accounts, and proof of business registration (CAC Certificate)
You will receive the POS equipment after your application is accepted, and you can begin delivering your services to consumers.
Here are some PoS companies and banks
First bank
Ecobank
Opay
Paga
Wema Bank
Baxi Box
Palmpay
Bankly PoS
Monie Point PoS
Nomba PoS
Nigerians make N318 trillion worth of cashless transactions between January-November 2022
Legit.ng reported that cashless transactions in Nigeria rose to N318.66 trillion between January and November of 2022, as the Central Bank of Nigeria continues to intensify its cashless policy.
This is according to the Nigeria Inter-Bank Settlement System from data it gathers by monitoring amounts processed Point of Sales terminals (PoS) and the Nigeria Instant Payment System.
The new figure marks a 45.75% increase compared to the N224.79 trillion it recorded in the corresponding period of 2021.
Source: Legit.ng