"ATM Points Are Full of Criminals": UK Issues Advisory to Citizens Over Cash Crisis in Nigeria
The United Kingdom has issued an advisory to its citizens in Nigeria over the ongoing cash crisis
The country asked its citizens to be cautious when visiting ATM points or banking halls to withdraw cash
It also said there had been a spike in criminal activities around ATM points in the country
The United Kingdom Foreign, Commonwealth, and Development Office has issued a travel advisory to citizens in Nigeria regarding the current naira scarcity.
In the advisory, posted on its website and seen by Legit.ng, the country urged its citizens in the West African country to be cautious when visiting ATMs and banks, stating that there has been a spike in criminal activities in such places.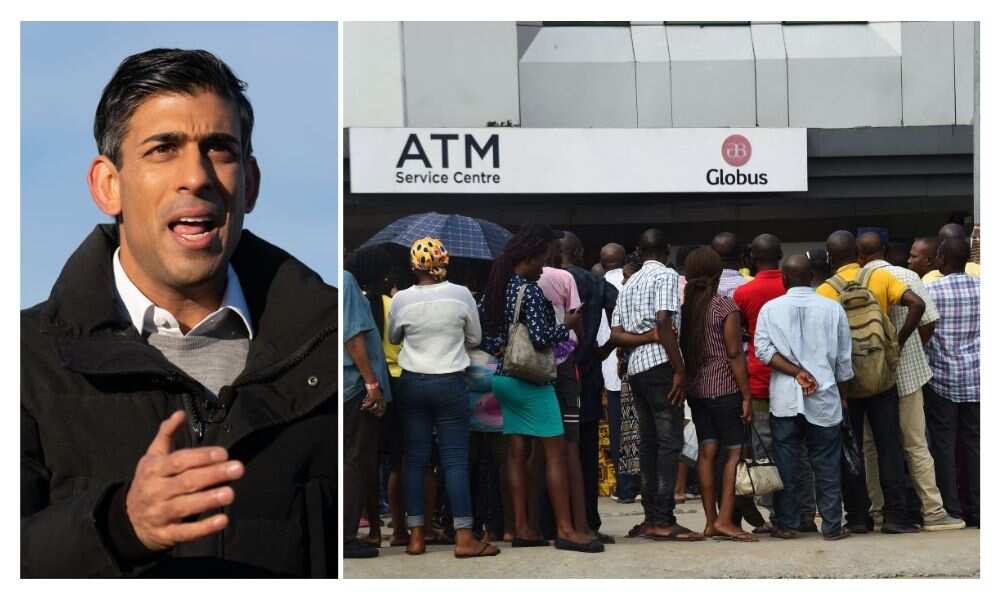 Nigerians depend heavily on cash
Referring to Nigeria as a cash economy, the UK said there is an increase in credit and debit card uses, especially in big cities.
The advisory reads in part:
"If you intend to use cash, ensure you bring enough foreign currency to cover costs. It is illegal to change money on the street and travellers' cheques are difficult to cash.
"Credit card fraud is common, so take care if using your card. You should take advice from your card issuer before travelling if you intend to use your credit or debit card in Nigeria.
"The Central Bank of Nigeria (CBN) has directed the redesign and issue of new N200, N500, and N1'000 naira notes. This has led to shortages of cash, which are likely to persist for a period.
"You are encouraged to check notes provided by currency exchange vendors will be valid for the duration of your travel to Nigeria and to follow local CBN guidelines."
The country asked its citizens in Nigeria to be watchful, take precautions, and avoid crowded places when withdrawing cash.
Citing recent violent outbreaks in Nigeria over cash scarcity, the UK said urban centres can be affected by violent clashes.
The UK said:
"There have been outbreaks of violence in southwest Nigeria due to cash shortages, and there is a risk of other urban areas being impacted across the country."
"Therefore, the UK government further urged travellers in Nigeria to "exercise their judgment, including being aware of any large crowds or potential disturbances".
There have violent protests over cash scarcity in parts of Nigeria, with bank facilities being torched and vandalised by angry protesters.
BusinessDay reports that bank staff estimated damages caused by violent attacks on their facilities around the country to be about N5 billion.
UK Govt releases list of companies approved to sponsor skilled Nigerians ready to Relocate
Legit.ng reported that the United Kingdom had released a list of organizations licensed to sponsor skilled immigrants through the temporary worker immigration route.
The companies approved by the UK will provide an option for intelligent Nigerians who are not financially buoyant to achieve their 'Japa' dream, which has become popular, particularly among Nigerian youths.
Japa is a phrase that captures the desire of Nigerians to seek greener pastures abroad.
Source: Legit.ng