Naira Scarcity: Protesters Take to Streets in Ibadan, Vandalise Banks as Buhari Asks for More Time
Angry Nigerians have taken to the streets to violently protest the scarcity of the new naira notes
Some new-generation banks have been targeted in the streets of Ibadan, leaving the health status of some staff unknown
Meanwhile, President Buhari has requested for more time to make an important decision on the new naira notes
Irate mob protesting naira scarcity targeted commercial banks in Ibadan on Friday, February 3, 2023.
One of the banks affected is Wema Bank with a video circulation on social media showing the damage. Another is Access Bank.
Protesters also barricaded major roads across the state capital and chanted anti-government songs.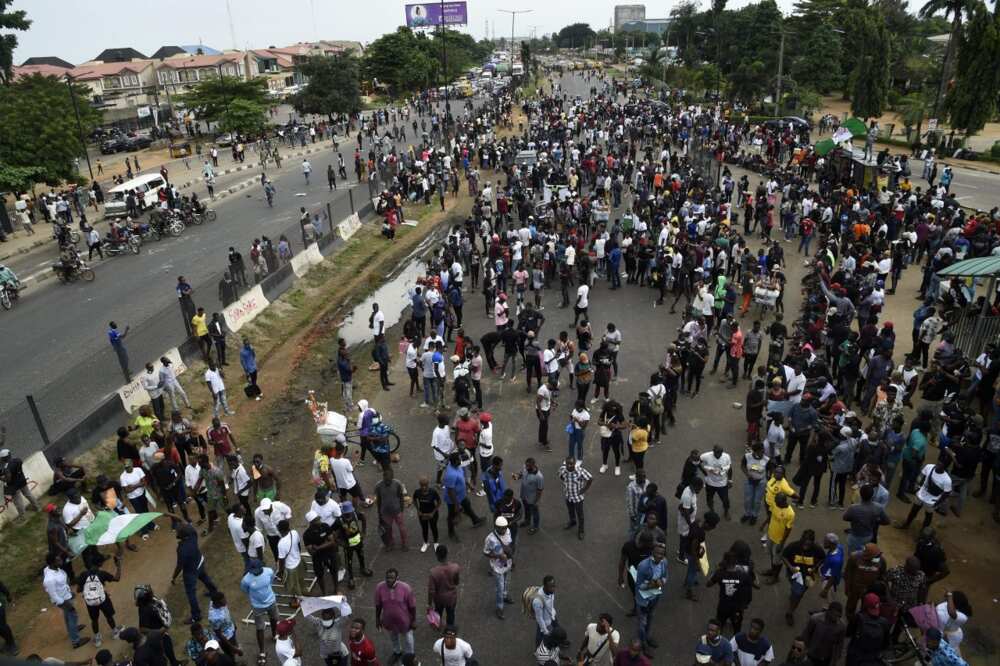 Ibadan protest gets violent
Affected routes include; Iwo road, Gate, and other routes in Ibadan North East local government area.
Some of the angry youths were heard shouting out of frustration in Yoruba language: "lori owo wa" which translates to "despite being our money".
Also, the government secretariat was targeted with the protesters seen in another video trying to break in.
Many civil servants inside the government secretariat panicked as many were seen hanging around different spots in case of an unforeseen eventuality.
Also, tyres were burnt in front of the secretariat by the angry mob to register their anger.
DailyTrust reports that the Executive Assistant on Security to Governor Seyi Makinde, CP Sunday Odukoya (rtd), condemned the act, saying the situation in the country affects everybody equally and should not be the reason anybody should hide under such to destroy or vandalise government property.
The new naira notes
In October last year, the governor of the Central Bank of Nigeria (CBN), Godwin Emefiele, announced the plan to redesign the N200, N500, and N1,000 notes, and asked Nigerians to deposit their old notes before January 31, 2023 when they would cease to be legal tender.
Although the deadline has been shifted to February 10, many Nigerians have found it difficult to obtain the new naira notes.
Legit.ng had earlier reported that Point of Sales (POS) operators have also unofficially put their charge rate of N5,000 to N10,000 between N500 and N1,000.
Buhari asks for time
President Muhammadu Buhari on Friday, February 3, 2023 asks Nigerians to give him seven days to resolve the cash crunch that has become a problem across the country.
The president stated this when he met with the Progressive Governors Forum who came to the Presidential Villa to seek solutions to the cash crunch which they said was threatening the good records of the administration in transforming the economy.
A statement by Presidential spokesman, Garba Shehu, said the President Buhari said the currency re-design will give a boost to the economy and provide long-term benefits while expressing doubts about the commitment of banks in particular to the success of the policy.
POS operators adjust prices
Meanwhile, PoS operators all over the country have adjusted their charges for cash withdrawals.
Legit.ng spoke to some POS operators around the Lagos metropolis and they all confirmed an increase in charges.
Nigerians are expected to return their old naira notes before the deadline of February 10, 2023, according to the Central Bank of Nigeria
Source: Legit.ng