Like the UK, Canada Lists Companies Eligible to Sponsor Nigerians, Sets Criteria
The Canadian government has released its criteria for immigrants wishing to relocate to the country
The government said immigrants with bright business ideas can enter the country via its Visa Start-up Programme
Prospective immigrants must obtain the funding of three classes of investors to be eligible for the programme
The Visa Startup Programme by the Canadian government allows foreign business owners to establish businesses in Canada and apply for permanent residency.
The programme is also meant for active investors in firms and expanding businesses looking to establish a presence in the country.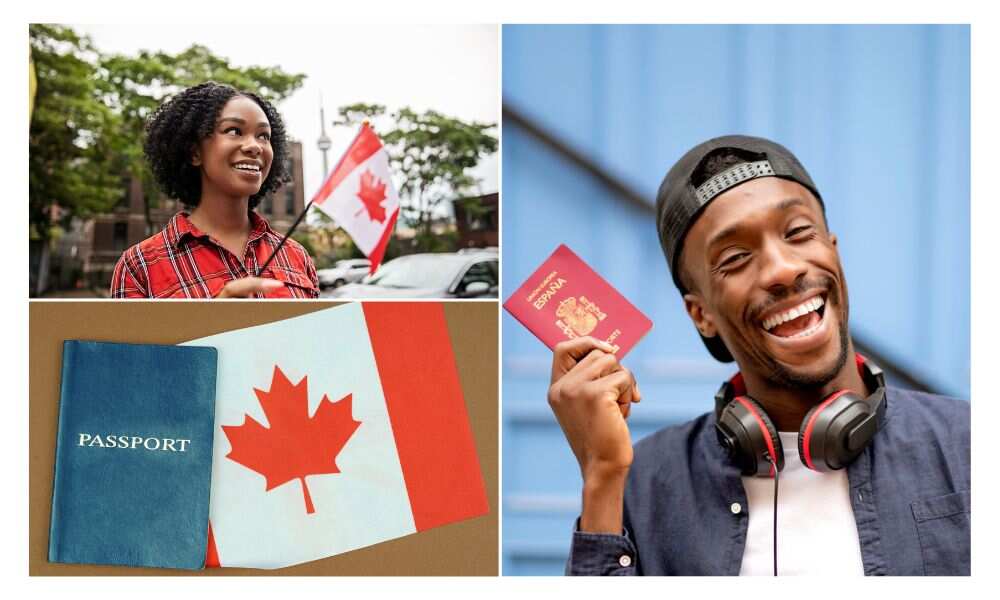 Canada has the best amenities and is ranked one of the safest countries in the world
The North American country is one of the wealthiest countries in the world with a high per capita income and a top trade market.
PAY ATTENTION: Сheck out news that is picked exactly for YOU ➡️ find the "Recommended for you" block on the home page and enjoy!
It is often rated as one of the best places to live in the world. It is famous for its high living standards, clean environment, low crime rate and top-notch infrastructure. Residents also have a high standard of living with affordable healthcare and other perks.
According to a report, one of the benefits of the residence by investment programme is that investors' families are included in visa applications without an age limit barrier or requirement to prove net worth.
Criteria for Start-up Visa Programme
The startup visa programme allows for citizenship after 1,095 days of physical presence in the country.
To get permanent residency in Canada, foreign business owners must submit a creative start-up proposal approved by a specified organisation.
Applicants must choose business incubation with no minimum investment required, raise 75,000 Canadian dollars via angel investment in the business or 200,000 Canadian dollars from a venture capital fund, depending on the state of the business.
Optional consulting fees apply for all three options including government fees, business structure, document processing and immigration filing.
Investors must have English or French language proficiency at the CLB/IELTS 5 level as well as good health with no criminal record.
To begin the application, candidates need to draft and submit a business proposal for review and approval by a specified business organisation.
After the proposal, the candidate gets a letter enabling them and their families to apply for permanent residency immediately after the approval from a business incubator, angel investor or venture capital fund.
Candidates must have lived in Canada for two out of the five years required to keep permanent resident status. It takes between 12 and 31 months to complete the process.
Applicants with business ideas or ventures must get the support of either a venture capital fund, angel investor groups and/or business incubators.
The approved organisations are business groups that have been designated by the Programme to invest in or support potential start-ups.
The organisations determine which business proposals to review via their proposal processes and evaluation standards.
Candidates must get approval from the following groups to invest at least $200,000.
7 Gate Ventures
Apex Innovative Investments Ventures
Arete Pacific Tech Ventures (VCC) Corp
BCF Ventures
BDC Venture Capital
Celtic House Venture Partners
Extreme Venture Partners LLP
First Fund
Golden Venture Partners Fund, LP
iNovia Capital Inc.
Intrinsic Venture Capital
Lumira Ventures
Invest Nova Scotia
PRIVEQ Capital Funds
Real Ventures
Red Leaf Capital Corp
Relay Ventures
ScaleUp Venture Partners, Inc.
Tangentia Ventures
Top Renergy Inc.
Vanedge Capital Limited Partnership
Version One Ventures
WhiteHaven Venture
Westcap Management Ltd.
Yaletown Venture Partners Inc.
York Entrepreneurship Development Institute (YEDI) VC Fund
Candidtaes must secure one or more investors linked to these groups to agree to invest a minimum of $75,000-
Canadian International Angel Investors
Ekagrata Inc.
Golden Triangle Angel Network
Keiretsu Forum Canada
Oak Mason Investments Inc.
TenX Angel Investors Inc.
VANTEC Angel Network Inc.
York Angel Investors Inc.
For business incubators, candidates must be accepted into one of these programs
Alacrity Foundation
Alberta Agriculture and Forestry
Agrivalue Processing Business Incubator
Food Processing Development Centre
Alberta IoT Association
Biomedical Commercialization Canada Inc. (operating as Manitoba Technology Accelerator)
Brilliant Catalyst
Creative Destruction Lab
DMZ Ventures
Empowered Startups Ltd.
Extreme Innovations
Genesis Centre
Highline BETA Inc.
Invest Nova Scotia
Innovation Cluster – Peterborough and the Kawarthas
Innovation Factory
Interactive Niagara Media Cluster o/a Innovate Niagara
Invest Ottawa
Knowledge Park o/a Planet Hatch
L-SPARK
LatAm Startups
Launch Academy – Vancouver
LaunchPad PEI Inc.
Millworks Centre for Entrepreneurship
NEXT Canada
North Forge East Ltd.
North Forge Technology Exchange
Pacific Technology Ventures
Platform Calgary
Pycap Inc (o/a Pycap Venture Partners)
Real Investment Fund III L.P. o/a FounderFuel
Roseview Global Incubator
Spark Commercialization and Innovation Centre
Spring Activator
The DMZ at Ryerson University
Think8 Global Institute
Toronto Business Development Centre (TBDC)
Treefrog
TSRV Canada Inc. (operating as Techstars Canada)
University of Toronto Entrepreneurship Hatchery
VIATEC
Waterloo Accelerator Centre
York Entrepreneurship Development Institute
UK govt releases list of companies approved to sponsor skilled Nigerians ready to relocate
Legit.ng reported that the United Kingdom has released a list of organizations licensed to sponsor skilled immigrants through the temporary worker immigration route.
The companies approved by the UK will provide an option for smart Nigerians who are not financially buoyant achieve their 'Japa' dream, which has become popular, particularly among Nigerian youths.
Japa is a phrase that captures the desire of Nigerians to seek greener pastures abroad.
Source: Legit.ng