Emefiele Allegedly Planning to Resign After Return From Abroad
The Nigerian government is allegedly planning to replace Governor of the Central Bank of Nigeria, Godwin Emefiele
According to reports, Emefiele would be allowed safe entry into Nigeria and be made to resign.
Emefiele would reportedly be confronted with allegations of his alleged misdeeds
The Governor of the Central Bank of Nigeria, Godwin Emefiele will be allowed a safe return to Nigeria so he could resign his position after he was allegedly confronted with evidence of allegations against him, a BusinessDay report stated.
The apex bank's governor on President Muhammadu Buhari's entourage to the US-Africa Leaders' Summit in Washington in December last year.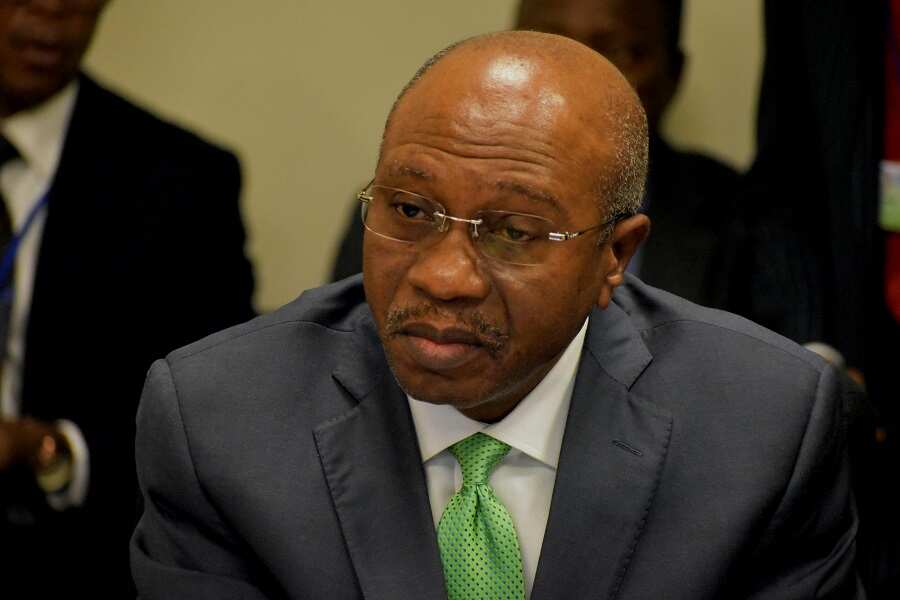 DSS seek a court order for Emefiele's arrest
Emefiele delayed his trip back to Nigeria after Nigeria's secret police sought a court order to arrest him on charges of fraud and terrorism financing.
PAY ATTENTION: Follow us on Instagram - get the most important news directly in your favourite app!
BusinessDay reported quoting 'a very well-connected government source' as saying that part of the deal with the embattled Emefiele is for him to return and be forced to resign after being presented with evidence of the allegations against him.
According to the source which has not been verified by Legit.ng, Emefiele's issue has polarised opinions with some in government and security who want Emefiele arrested upon arrival into Nigeria and prosecuted but might also be given a soft landing.
Federal government to begin search for new replacement
His expected resignation will pave the way for the appointment of a replacement with some saying that it will be improper for the government to name a new governor with just four months left in the life of the administration.
Emefiele was appointed Governor of the CBN in 2014 by ex-President Goodluck Jonathan after Sarah Aalde completed Sanusi Lamido Sanusi's term after he was sacked by Jonathan.
Emefiele is the first governor to serve two terms spanning two governments.
In December, reports emerged that the Department of State Security (DSS), filed an application and sought permission for Federal High Court in Abuja to arrest and detain Emefiele.
Emefiele's alleged misdeeds
According to the DSS early investigations shows different acts of terrorism financing and fraud-related activities don by Emefiele which accused him of involvement in economic crimes of national security importance.
A Federal High Court in Maitama in Abuja issued an order stopping the DSS from arresting, detaining or questioning Emefiele.
Earlier reports on the CBN governor returning to Nigeria proved untrue.
Important CBN policies that will affect Nigerians from January as Emefiele's tenure winds down 2023
Legit.ng reported that in 2023, Nigeria will mark another milestone in its democratic journey, all things being equal.
The country will transit from one civilian rule to another, marking 23 years that civilians have held power since 1999.
Alongside the political changes that would herald 2023 will come economic policies and programmes shaping the country's economy.
Source: Legit.ng