"You Can Reach US": Nigeria Customs Cautions Nigerians on Job Recruitment, Auction Sales Adverts
Nigeria Customs has warned against fraudulent activities of imposters impersonating officials offering auctions and recruitment
Customs warned that fraudsters are impersonating high-ranking officials to manipulate and deceive the public
Adverts of car, food items auctions, and recruitment are shared across social media on daily basis
Dave Ibemere has over a decade of experience covering Business and the Economy
The Nigeria Customs Service(NCS) has called on Nigerians not to fall victim to fictitious ongoing recruitment and auction adverts on social media.
In a statement posted on X, the spokesperson of the service, Abdullahi Maiwada, revealed that the fraudsters are impersonating its senior officers.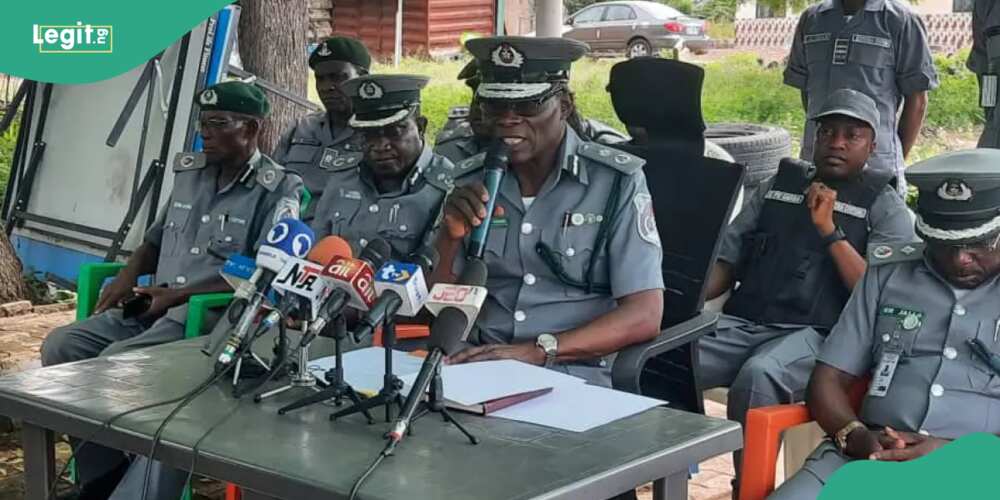 The NCS further asked the general public to verify any financial commitments related to seized goods or recruitments from its social platforms or visit any Customs formation nationwide.
The statement reads in part:
"The Nigeria Customs Service (NCS) is issuing a crucial scam alert regarding the escalating activities of fraudulent entities preying on unsuspecting individuals through social media platforms, falsely claiming association with the NCS for purposes of auctions or recruitment.
"Recent events have brought to our attention a surge in scams orchestrated by deceitful individuals impersonating high-ranking officials within the NCS.
"These fraudulent tactics exploit the public's trust, promoting fictitious auctions and sham recruitment drives purportedly endorsed by our service."
What happens to goods seized by Customs?
Customs also noted that all seized/overtime goods have laid down Standard Operating Procedure (SOP) for disposal in line with the Nigeria Customs Service Act, 2023, Punch reports.
The Service said that while these items might be in its custody, NCS officials are only authorised to conduct auctions or recruitment with the requisite legal backing in line with its processes and procedures.
The statement added:
"The NCS unequivocally asserts that auctions of seized goods are never conducted via any social media platform. Any such claims on social media should be treated as fraudulent and promptly reported.
"For accurate and updated details about the Nigeria Customs Service and its operations, we strongly encourage the public to verify information exclusively through the official NCS website, Additionally, you can reach out to our help desk line.
"Our commitment remains unwavering in protecting the public from fraudulent activities. We implore everyone to exercise vigilance and prudence when approached with offers or announcements regarding Customs auctions or recruitment.
"Any suspicious activities should be reported to the nearest Customs office or through our official communication channels for immediate assistance.
Nigeria Customs sets new exchange rate to clear imported goods
Ealier, Legit.ng revealed that Nigeria customs have adjusted the exchange rate for clearing imported goods at Nigerian ports
The new rates reflected the depreciation of the Naira against the dollar across the foreign exchange markets.
With the new rate, the cost of imported goods will increase further in the coming days
Source: Legit.ng