Tinubu Gives Orders as Nigeria Owes Emirates, Other Foreign Airlines $783 Million
Money belonging to foreign airlines trapped in Nigeria has hit about $783 million
IATA's regional director for Nigeria and the Middle East disclosed this recently and said the association met with the Nigerian government
The statement by IATA said the new minister of aviation and aerospace development assured of continuous engagement
The International Air Transport Association (IATA) has stated that as of August 2023, trapped funds belonging to foreign airlines in Nigeria have now hit $783 million.
IATA's Regional Vice President for Africa and the Middle East, Kamil Al Awadhi, disclosed this in a statement stating that the association recently engaged with the Nigerian government.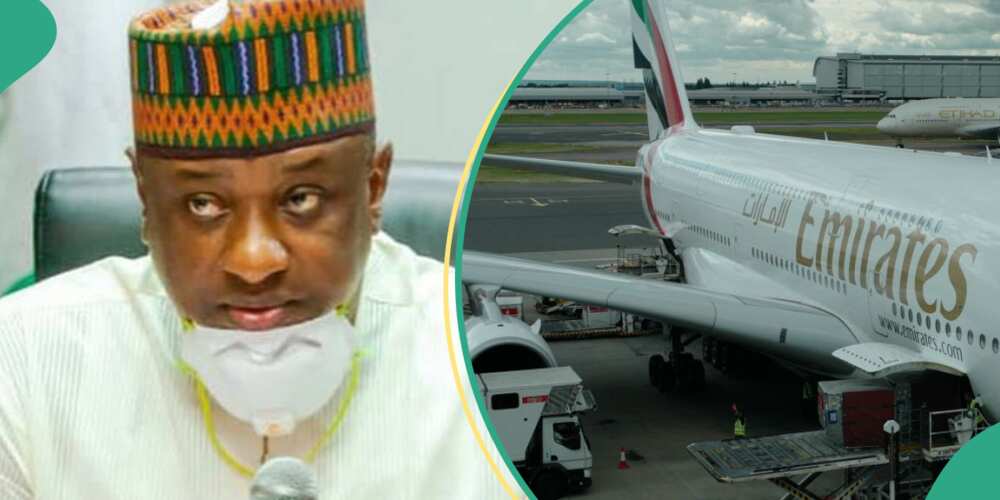 CBN cites forex challenges in repatriating foreign funds
Foreign airlines operating in Nigeria have been unable to repatriate their funds due to Forex scarcity complaints by the Central Bank of Nigeria (CBN), according to previous reporting by Legit.ng.
PAY ATTENTION: Follow us on Instagram - get the most important news directly in your favourite app!
IATA's Al Awadhi stated that he met with Nigeria's new aviation and aerospace development minister, Festus Keyamo.
Punch reports that Awadhi called on the new government for continued and closer consultation with foreign airlines while developing short and long-term solutions for forex access, as Nigeria accounts for $783 million for airlines' blocked funds.
The IATA statement said the organisation is impressed with the commitment of the Federal Airport Authority of Nigeria to boost infrastructure at the Lagos Murtala Muhammad International Airport in 12 months.
It said IATA raised concerns over the Lagos airport's safety, security, and passenger service level.
FG promises to engage foreign with airlines
Recall that Keyamo revealed recently that President Bola Tinubu had ordered a quarterly meeting between the Central Bank of Nigeria (CBN) and foreign airlines to find means of repatriating the trapped funds.
Nigeria is one of the most indebted countries to foreign airlines globally.
Emirates Airlines reportedly suspended its operations in Nigeria due to the trapped funds, with other airlines threatening to exit Nigerian airspace.
Emirates Airlines vows to never return to Nigeria over indebtedness to foreign airlines
Legit.ng reported that Emirates Airlines says a large part of its revenue trapped in Nigeria is yet to be made available.
According to the airline's statement released on Friday, March 17, 2023, the Nigerian government called for a committed strategy to enable foreign airlines operating in Nigeria to recover their funds.
In November last year, Emirates suspended operations in Nigeria over the country's indebtedness to foreign airlines, which was over $600 million.
Source: Legit.ng