Ahead of Dangote Refinery Launch, NNPC Sets Dates for PH, Warri, Kaduna Refineries to Start Operations
NNPC has provided an update on the ongoing plans to reopen three government-owned refineries in Port Harcourt, Warri and Kaduna
This is coming as Dangote Refinery is scheduled for launch by President Muhammadu Buhari on Monday, May 22, 2023
The refinery, located in Lekki, Lagos, has brought a lot of excitement to the government and private sector
Ahead of the highly anticipated launch of Dangote Refinery, the Nigerian National Petroleum Corporation Limited (NNPCL) has announced the commencement of operation dates for the Port Harcourt, Warri, and Kaduna refineries.
In a previous report, Legit.ng revealed that the three refineries, with a combined installed capacity of 445,000 barrels per day, had remained inactive for years.
The situation had compelled the NNPCL to rely on imports to meet the country's petrol needs.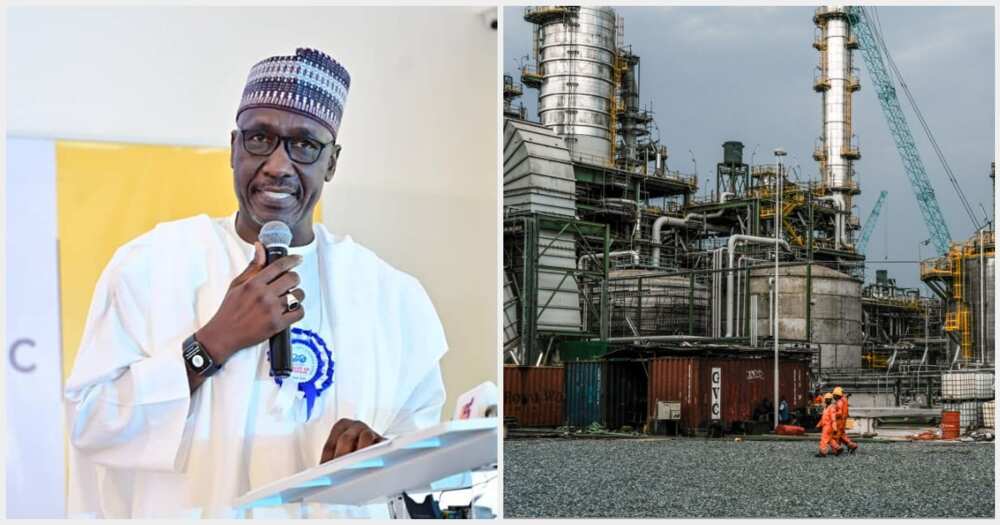 Hope for Nigerian refineries
Mele Kyari, the group chief executive officer (GCEO), in an interview with Dailytrust, promised that the Port Harcourt refinery in Rivers State would be ready for operations by December 2023.
Kyari also assured that by the first quarter of 2024, the Kaduna and Warri refineries would start producing fuel.
His words:
"Port Harcourt will start producing fuel this year, and by the first quarter of next year, Kaduna will start producing fuel."
The NNPCL boss further stated that the refineries would undergo complete rehabilitation to elevate them to world-class status.
The development marks a crucial step towards Nigeria's goal of self-sufficiency in refining petroleum and reducing its dependence on imported fuel.
Cost of repairing refineries
Kyari also revealed that the ongoing repairs of the refineries were done with borrowed funds, and repayment is tied to their performance.
Checks show that the contracts for the refineries' repairs were awarded in 2021 for $2.7 billion.
The Port Harcourt refinery complex was awarded to Tecnimont SPA, an Italian firm, for $1.4 billion in March 2021.
The contract for the rehabilitation of the Kaduna refinery was awarded together with that of the Warri refinery to Messrs Saipem SPA and Saipem Contracting Limited in August 2021, amounting to $1.4 billion.
$897.6 million would be spent to repair the Warri refinery, while the Kaduna refinery would require $586.9 million.
Dangote refinery set for launch
Meanwhile, Dangote Refinery, the world's largest single-train facility, will be inaugurated on Monday, May 22, 2023.
President Muhammadu Buhari has been billed to be at the commissioning of the event in Lagos.
The Nigerian National Petroleum Company holds a 20% stake and will supply half of the crude required.
Source: Legit.ng