GTB, Zenith Lead 8 other Nigerian Banks on Social Media With Over 16million Followers
Nigerian banks have begun to make an impact on and offline via various touchpoints
GTB, Zenith Bank and United Bank for Africa have some of the largest followers on social media
The social media platforms commonly used by the banks include Facebook, Twitter, Instagram and YouTube
In a bid to bring banking closer to its customers and resolve customer issues faster, Nigerian banks have established a robust social media presence across all platforms.
The tier 1 banks, apart from leading in market capitalisation, customer deposit and other metrics, have also stamped their presence on social media with ample followership.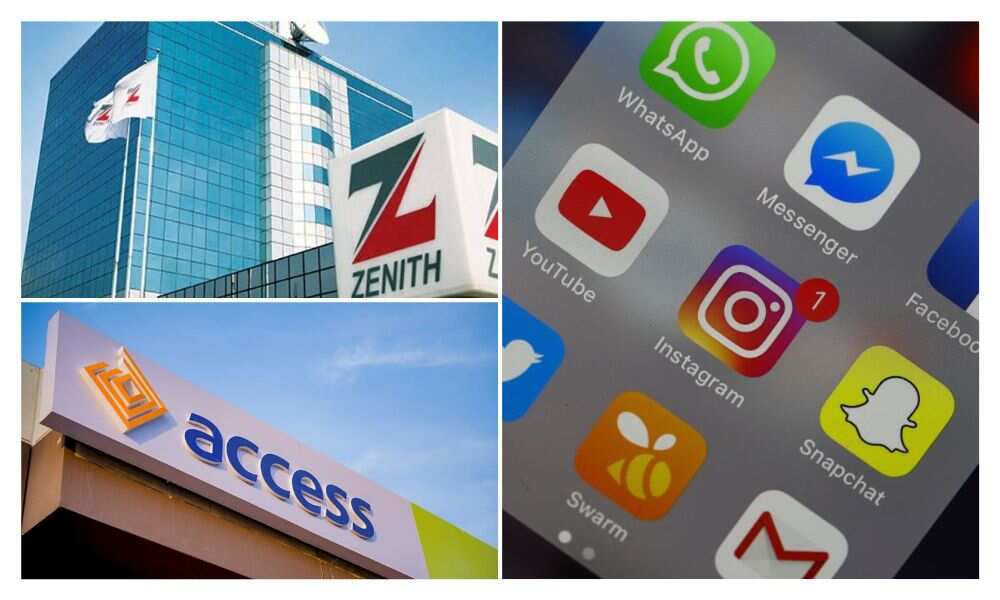 The three musketeers
Guarantee Trust Bank, Zenith Bank and United Bank for Africa, are the top three banks in Nigeria which have maintained a huge following in cyberspace.
PAY ATTENTION: Follow us on Instagram - get the most important news directly in your favourite app!
The banks have successfully leveraged social media to reach their customers and easily resolve complaints that would otherwise have lingered if addressed in person.
The banks also leverage social media to provide timely updates about the latest trends, product launches, events and other important announcements to their customers.
They prioritise social media over in-person interaction and continuously churn out digital products that allow them to engage their customers in the comfort of their homes, as well as harvest important feedback.
Nigerian banks ranked among 100 banks with social media presence globally
According to reports, about 11 banks in Nigeria made the list of the top 100 banks in English-speaking countries in 2019 utilising robust social media engagements.
Banks' deployment of social media is recent despite decades of operations and the leading tier 1 banks successfully and rapidly expanding their social media presence.
The major social media platforms, Facebook, Twitter, Instagram, YouTube and LinkedIn are some of the popular platforms used by these banks.
The leading banks with social media following
Using Crowdtangle Intelligence, the social media monitoring tool, Legit.ng curated Nigerian banks with the highest social media followers across three dominant platforms.
GTBank: The bank has the largest number of social media followers across three main platforms. It also has the highest number of YouTube views and subscribers, as well as Instagram, Twitter and Facebook followers.
In total, the bank has amassed 1,676,773 followers on Twitter, 720,151 Instagram followers and over 6 million Facebook followers and page likes.
Zenith Bank: The bank takes the second position on the list with Twitter followers amounting to 1,324,373, Instagram: 494,828 followers, and Facebook followers to the tune of 6,087,385.
UBA:
Twitter followers: 817,196
Facebook followers and likes: 2.8 million and
Instagram: 318,686 followers.
First Bank:
Twitter: 579,996 followers
Instagram: 697,801 and
Facebook: 2.8 million followers and page likes.
Access Bank:
Twitter: 1,324, 373 followers
Instagram: 494,838 followers
Facebook: 2.6 million followers and page likes
Stanbic Bank:
Twitter: 310,103 followers
Instagram: 122,909
Facebook: 1.1 million followers and page likes.
Union Bank:
Twitter: 221,587
Instagram: 106,371 followers
Facebook: 1,058,653 followers and page likes
Fidelity Bank:
Twitter: 196,773 followers
Instagram: 134,040 followers
Facebook: 1.038,239 followers and page likes
FCMB:
Twitter: 147,927 followers
Instagram: 152,119
Facebook: 1,634,836 followers and page likes
Sterling Bank:
Twitter: 118, 244 followers
Instagram: 106,773 followers
Facebook: 641,131 followers and page likes
Despite also growing their social media following to drive engagements, the banks have understood the importance and effectiveness of social media presence following the preponderance of fintech firms seeking to take the lead by offering cutting-edge services and excellent customer service.
UBA, Zenith, GTB, 6 other Nigerian banks downgraded by Moody's as fraud reports increase by over 200 per cent
Recall that Legit.ng reported that Moody's Investors Service, an international rating agency had devalued nine banks in Nigeria following its downward review of the country's rating last week.
The agency downgraded the nine banks from B3 to Caa1, the long term deposit ratings, issuer ratings and the senior unsecured debt ratings, according to a statement by Moody on Tuesday, January 31, 2023.
A Daily Trust report said the New York-based agency stated that the devaluation of the the long term ratings of the banks shows a combination of two reasons - the weakening operating environment, reflected in the agency's rating of Nigeria's economy from 'Very Weak to Very Week+, and the link between country's creditworthiness from B3 Caa1 and the banks balance sheets based on their holdings of sovereign debt securities.
Source: Legit.ng