More Money For Tinubu's Government as Nigeria Retains Spot as Africa's Leading Oil Producer
The Organisation of Petroleum Exporting Countries (OPEC) named Nigeria a leading oil producer in Africa for October
In a recently released report, OPEC said Nigeria produced about 1.38 million barrels per day in the period under review
OPEC said other countries in Africa with high crude output are Angola, Libya, and Algeria
Pascal Oparada has over a decade of experience covering Tech, Energy, Stocks, Investments, and Economy.
Nigeria returned as Africa's top oil-producing country in Africa for October 2023.
The Organisation of Petroleum Exporting Countries (OPEC) listed Nigeria as the continent's top oil producer in its oil market report released on Monday, November 13, 2023.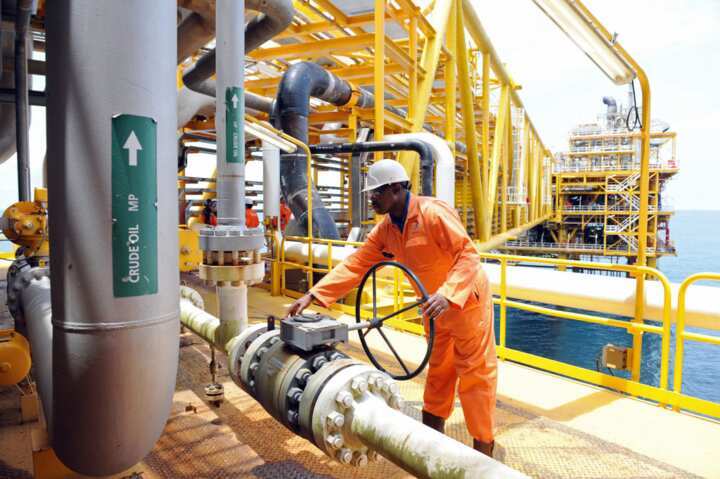 Nigeria leads Libya, Angola, others in Africa
The report said oil production figures from leading producers in Africa listed Nigeria as number one, with 1.32 million barrels per day; Libya, with 1.18 million barrels daily; Angola, with 1.14 million barrels per; and Algeria, with 961,000 barrels daily.
Total OPEC's crude oil production averaged 27.90 million barrels per day in October 2023, higher by 80,000 barrels daily monthly.
Crude oil production rose mainly in Angola, Iran, and Nigeria, while output in Libya, Saudi Arabia, and Kuwait declined.
The OPEC report said the forecast for oil demand growth in 2023 has seen a marginal increase, now at 2.5 million barrels daily.
Oil prices dip amid record production
The report shows a recent drop in oil prices, caused primarily by financial speculators' significant reductions in net long positions throughout October.
Additionally, the OPEC report revealed Nigeria's inflationary pressure, stemming from removing subsidies and naira devaluation.
The optics accelerated inflation, with rates growing to 26.7%, a significant rise from August's 25.8% figure.
According to the OPEC report, the demand for crude in 2023 remained steady at 29.1. Million barrels per day, showing a marginal increase of 0.6 million per day compared to the same period in 2022.
OPEC revealed that in the first quarter of this year, crude production averaged 28.8 million, exceeding demand by 0.4 million barrels per day.
In the second quarter, OPEC's crude production slowed to 28.3 million barrels per day, declining below demand by 0.1 million barrels per day.
In the third quarter, the global oil body saw a substantial reduction in crude output, averaging 27.6 million barrels per day, a 1.0 million per day decline.
The OPEC report highlights a development regarding petrol exports from Europe to West Africa.
This decline was attributed to reduced refinery output during maintenance and a notable drop in demand, leading to substantial stock increases in the Atlantic Basin.
Analyst predicts positive impact for naira
The development may impact positively on the naira as Nigeria scouts for scarce Forex.
An investment banker, Lawrence Ifedi, revealed in an interview with Legit.ng that increased oil output would mean increased Forex.
"Nigeria needs all the Forex it can get. It is a good development that Nigeria has enhanced its oil output.
"The effect on the naira will be visible because the CBN will release it into the Forex market, thus strengthening the naira," he said.
OPEC had predicted that new refineries in Nigeria would boost crude oil sales in the continent.
Boost for naira as Nigeria retains position as Africa's biggest oil producer for 3rd straight month
Legit.ng earlier reported that OPEC also announced Nigeria as the top African oil producer for September 2023.
OPEC disclosed this in its monthly oil market report released on its website and obtained by Legit.ng.
According to OPEC, Nigeria produced 1.390 million barrels per day of crude oil in September, based on secondary sources.
Source: Legit.ng