Price of 12.5kg Cooking Gas Hits N12,500 as Marketers Project N18,000 Before December
The cost of cooking gas has increased from N10,000 to N12,00 for a 12.5kg
The reason, gas retailers say, is due to the activities of terminal operators who complain of high Forex
The retailers reveal that the price of the commodity could rise to as high as N18,000 by December if measures are not taken
If measures are not put in place soon to tame the rising cost of cooking gas, Nigerians could soon pay N18,000 per 12.5kg for the product.
The development comes as the price of 12.5kg, which was less than N10,000 a few months ago, now sells for N12,500.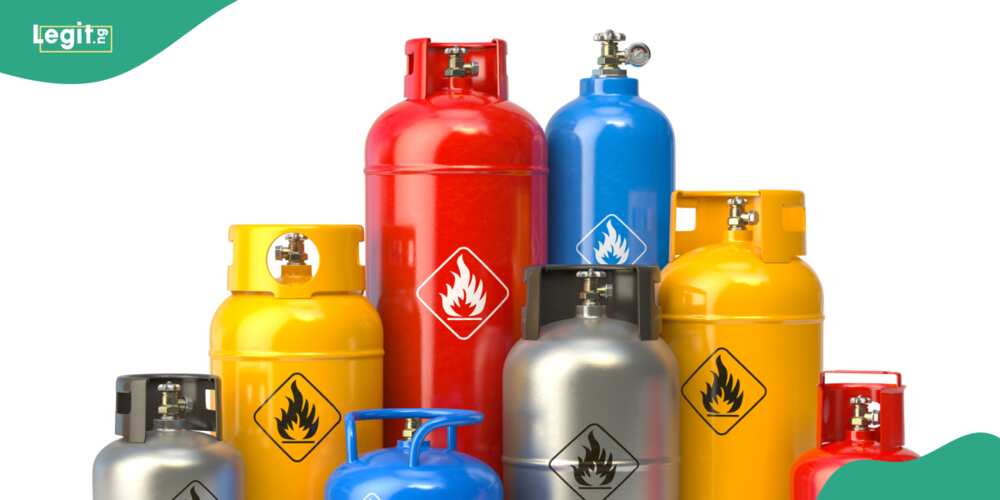 Retailers complain about terminal owners
Checks reveal that gas retailers increased the commodity's price from N10,000 in September to the current price of N12,500.
PAY ATTENTION: Share your outstanding story with our editors! Please reach us through info@corp.legit.ng!
According to Punch, the President of the Nigerian Association of Liquified Petroleum Gas Marketers (NALPGM), Olatubosun Oladapo, cautioned that 12.5kg of gas could rise to as much as N18,000 by December if the Nigerian government did not check the actions of terminal owners.
Nigerians pay N1,000 for 1kg of gas, which they bought between N600 and N700 per kilogramme a few months ago.
Oladapo revealed that despite the retailers' meetings with the Nigerian government, more needs to be done as the commodity price rises.
He revealed that retailers get 20 metric tons of gas for about N14 million at the depots.
He also said it now costs about N1.7 million to take gas from Lagos to the North due to the high cost of diesel.
In September, terminal operators hiked the price of cooking gas from N9 million to N10 million per 20 metric tons to the current N14 million.
Cooking gas prices could hit 18,000 per 12.5kg by December
Oladapo said there is a ridiculous price increase going on by the terminal operators.
He also said if the government fails to intervene, the commodity's price may be out of the reach of many Nigerians.
He stated that terminal operators hide under the guise of high exchange rates to hike prices, thereby inflicting pain on consumers.
States with highest and lowest prices of cooking gas
In July, the National Bureau of Statistics (NBS) said the cost of refiling a 5kg cooking gas cylinder fell by 6.7% monthly to N4,068 in June 2023 from N4,361 in May 2023.
On a year-on-year basis, the price of cooking gas plummeted by 3.56% from N4.218 in June last year.
Kwara State recorded the highest average price for refiling a 5kg cylinder at N4,750, followed by Niger with N4,691 and Zamfara with N4,683.
Ondo, however, recorded the lowest price at N3,288, followed by Ekiti and Nasarawa states with N3,288 and N3,365, respectively.
The statistical body said the North-Central zone had the highest average retail price for refiling a 5kg cooking gas at N4,422, followed by the North West with N4,260, while the South West recorded the lowest at N3,709.
Also, the average retail price for refiling 12.5kg of cooking gas dropped by 4.35% monthly to N9,123 in June 2023 from N9,5378 in May 2023.
Gas prices begin to rise in September
In early September, NBS said the cost of cooking gas jumped by 9% to N745 per kilogram, exacerbating the hardship already felt by Nigerians.
In an earlier report by Legit.ng, the NALPGM announced that starting from mid August 2023, Nigerians would have to pay extra for cooking gas.
"No More 14K For 12.5kg": Nigerians react as price of cooking gas falls, share receipts
Legit.ng also earlier reported that the drop in cooking gas prices in Nigeria triggered reactions from Nigerians on social media.
Several Nigerians took to Twitter, now X, to display receipts of cooking gas purchased on June 1, 2023.
Per the receipts displayed by Wale Adebayo, a writer, the prices sold between N9,375 and N13,000 in May now go for N6,950 for 12.5kg of cooking gas.
Source: Legit.ng