"No More N5,500": All Eyes on Dangote as BUA Crashes Cement Price to N3,500 Per Bag
BUA Group has announced a reduction in its cement from the current N5,500 to N3,500 per bag
The company revealed that the move follows its earlier promise to reduce its prices
BUA stated that the reduction affects its ex-deport price and would become effective October 2, 2023
In what analysts say is a brewing cement war in Nigeria, the BUA Group has taken a significant step in crashing the price of their cement from N5,500 to an ex-factory price of N3,500 per bag.
The company announced the development in a statement on Sunday, October 1, 2023, stating that the new price takes effect from Monday, October 2, 2023.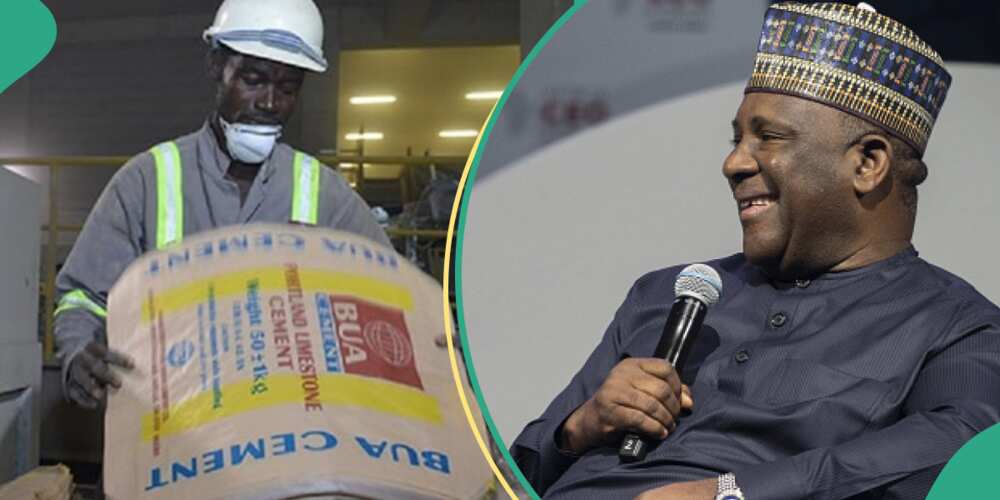 BUA reportedly fulfils its promises
The statement refers to its earlier pronouncement regarding its desire to crash prices upon implementing its new lines at the end of the year to spur development in the building materials infrastructure industry.
Daily Trust reported that the company stated that from now on, all its ex-factory prices will be sold at N3,500 per bag so Nigerians can begin to enjoy the benefits of the price reduction before the completion of its plants.
The partly reads:
"Upon completion of the ongoing construction of our new plants, which would increase our production volumes to 17 million metric tonnes per annum, BUA Cement PLC intends to review these prices further in line with our earlier pronouncements by the first quarter of 2024.
"NOTE: all pending, undelivered orders paid for at the old prices will be reviewed downwards to N3500/bag in line with the new pricing from October 2, 2023. Our licensed dealers are also enjoined to ensure end-users benefit from this reduction in ex-factory prices as we will monitor field sales to ensure compliance."
Manufacturers worry about increases in prices
Recall that the BUA Group Chairman, Abdul Samad Rabiu, had stated that the company would crash its cement price to ease the pains of Nigerians.
Manufacturers had raised the alarm about the plans of the Nigerian government to begin the construction of concrete roads, stating that the move would cause an increase in the price of cement from its current price of N5,500 to N9,000 per bag.
Dangote speaks on reported plan To slash cement price from N5,500 to N2,700 on October 1
Earlier, Legit.ng reported that Dangote Group, the parent company of Dangote Cement, has denied reports that it plans to reduce cement prices by 50.9 percent on October 1, 2023.
In various messages shared on multiple social media platforms, including WhatsApp groups, Dangote Cement was reported to have planned to reduce the price of cement.
The rumoured planned reduction in price of Dangote cement comes on the heels of recent announcement by Abdul-Samad Rabiu, the Chairman of BUA Group.
Source: Legit.ng