"N5,000 Per Bag Not Sustainable": Nigerian Builders Ask FG to Slash Cement Price
Nigerian Institute of Building has called on the government to intervene in the rising price of cement
The institute noted that the escalating price was occasioned by bad foreign exchange
It asked the government to either subsidise or collaborate with the industry to reduce prices
The federal government needs to intervene and lower the price of cement in the country, the Lagos Chapter of the Nigerian Institute of Building has said.
The institute stated this at a briefing in Lagos state ahead of its 32nd Builders Conference tagged, "Safe and Sustainable Building Production Management.
The appeal comes after the BUA Group announced a significant step in crashing the price of their cement from N5,500 to ex-factory price of N3,500 per bag.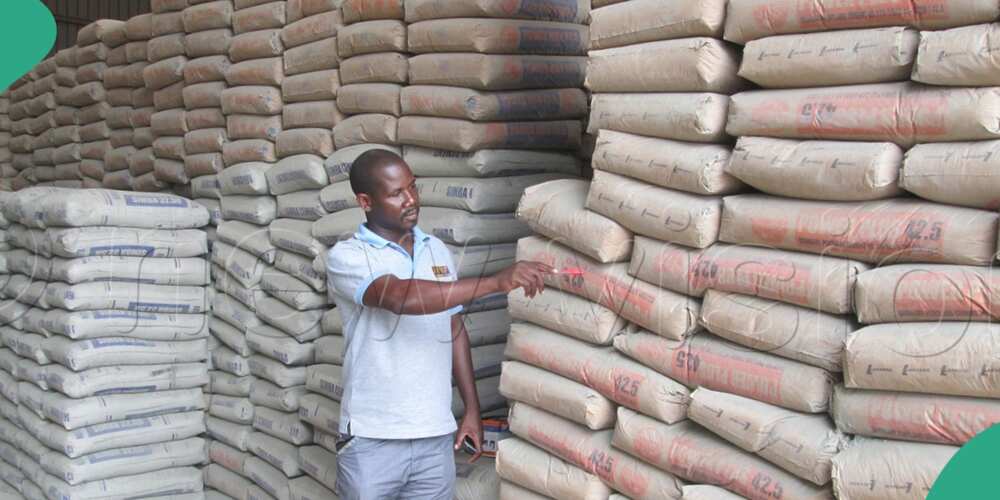 Cement price out of control
The Punch reports that Adeoye Thomas, vice chairman of the NIOB Lagos State Chapter, said the cement prices were out of control.
He attributed the development to poor foreign exchange, adding that this has taken a toll on producers.
Thomas asked Nigeria to emulate developed nations. He claimed governments in such nations usually step into the situation to prevent it from deteriorating.
He also said if government subsidies are required, they should be given to avoid cutting corners and prevent more building disasters.
He said:
"Buying cement at the rate of N5,000 or more is not sustainable. Hence, buildings would keep on collapsing as developers just want to make a profit, and they do this also by engaging quacks and using substandard materials."
He argued that the government should either get involved by providing subsidies or working with the industry.
Also speaking, Ogundare Abiodun, the honorary secretary of NIOB's Lagos State Chapter, stated that government intervention is required in areas where the cost of production might be decreased, particularly for raw materials.
He claimed only 10% of the materials used to make cement are imported, with the other 90% produced domestically.
Abiodun said the government should focus on costs associated with producing locally to help lower the cost of production.
Recently, the Cement Producers Association of Nigeria also warned the federal government's against proposed plan to build concrete roads.
The association said the development could increase the cost of cement from its present N5,000 per bag price to N9,000.
Dangote Speaks on Reported Plan To Slash Cement Price From N5,500 to N2,700 on October 1
In an earlier report by Legit.ng, Dangote Group, the parent company of Dangote Cement, denied alleged plan to reduce cement prices by 50.9 per cent on October 1, 2023.
Several reports had claimed the company was planning to reduce its cement price.
But speaking with Legit.ng, Anthony Chiejina, the Group Chief Branding and Communications Officer of Dangote Industries Limited, described the reports as fake news.
Source: Legit.ng