Ghana Planning to Export Electricity to Nigeria as National Grid Collapses Twice in 1 Week
Ghana is planning electricity export to Nigeria as part of its plans to expand energy access
Ghana's head of the General and Transmission Unit, Hanson Monney, stated that the country has achieved 80% energy access
He said as soon as Nigeria fixes its grid challenges, it will begin to receive electricity from Ghana
Ghana is set to export electricity to Nigeria, Africa's largest economy, to grow its power industry and achieve 100% universal energy access.
The country's head of the Generation and Transmission Unit at the Ministry of Energy, Hanson Monney, disclosed this during his presentation in Lagos at the Nigeria Energy Leadership Summit.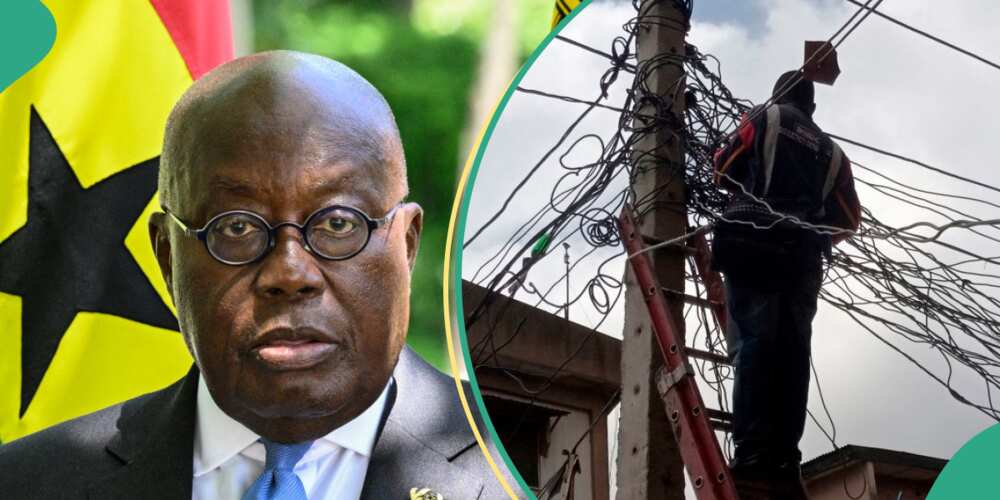 Ghana has 80% energy access
He stressed that Ghana has achieved an impressive 80% to 85% universal energy access through robust policy formulation and implementation.
PAY ATTENTION: Follow us on Instagram - get the most important news directly in your favourite app!
He revealed that as soon as Nigeria could fix its grid problem, it could receive electricity imports from Ghana.
According to Nairametrics, Ghana is pursuing different energy alternatives, such as grid energy, mini-grids, and solar energy, to achieve universal access to power by 2024.
Monney stated that reaching universal energy access in the West African country, especially in remote areas, riversides, or lakeside communities, presents enormous challenges due to geopolitical restrictions.
He said the country is trying to scale energy access to Ghana's renewable energy access, which is how the government planned 2022 to climb its renewable energy scheme.
Industries in Ghana subsidise residential areas
He noted that one of the fundamental challenges in Ghana's power sector is financial sustainability, as the country grapples with huge debts and excess capacity procurement.
High electricity taxes are also a significant worry to Ghana, and Monney revealed the significance of making electricity cheap, especially for industries.
He stated that industries in Ghana have been subsidising residential areas, saying that it should be the other way around, stressing that enterprises need to remain viable to stay afloat and provide jobs for people.
Also, Monney revealed gas supply and security challenges in Ghana and expressed gratitude to Nigeria for supporting its gas needs.
He said the country is facing an 80-day shutdown of its gas supply, particularly affecting the power sector.
Ghana is actively addressing gas supply challenges as it advances electricity access.
The development comes as Nigeria experienced a national grid collapse twice in one week under President Bola Tinubu.
Nigeria grapples with erratic power supply and is ranked low among African countries with robust electricity access despite its vast population.
The country is also exporting electricity to neighbouring countries of Niger, Togo, and the Benin Republic.
Niger, others owe Nigeria N132.2bn in electricity bills as ECOWAS threats loom over neighbouring country
Legit.ng reported that The Nigerian Electricity Regulatory Commission (NERC), neighbouring countries of Niger, Togo, and Benin have failed to pay over N132.2 billion in electricity bills owed to Nigeria from 2018 to the first quarter of 2023.
A breakdown of quarterly reports by NERC showed that the amount owed is part of the N180.8 billion to the customers, out of which they paid N48.57 billion, representing 26.8% of the payment.
The Transmission Company of Nigeria (TCN) spokeswoman, Ndidi Mbah, also confirmed the development to TheCable.
Source: Legit.ng