"World's largest": 19 Major Facts About Dangote Refinery You Should Know
After several years of delays, Dangote Refinery will soon commence operations in Nigeria
The refinery is the world's largest Single-Train 650,000 barrels per day petroleum refinery with KTPA Polypropylene Plant
The refinery will meet 100% of the Nigerian requirement for all refined products and end fuel scarcity
The long-awaited Dangote Refinery is completed and set for commissioning in Lagos on May 22, 2023, by President Muhammadu Buhari.
The project which has taken many years to come to fruition due to several setbacks including the coronavirus pandemic, importation of equipment, funding issues, and others.
However, the completion and commencement of operations will be a big relief to Nigeria which has for decades relied on the importation of refined crude due to the inefficiency of its refineries.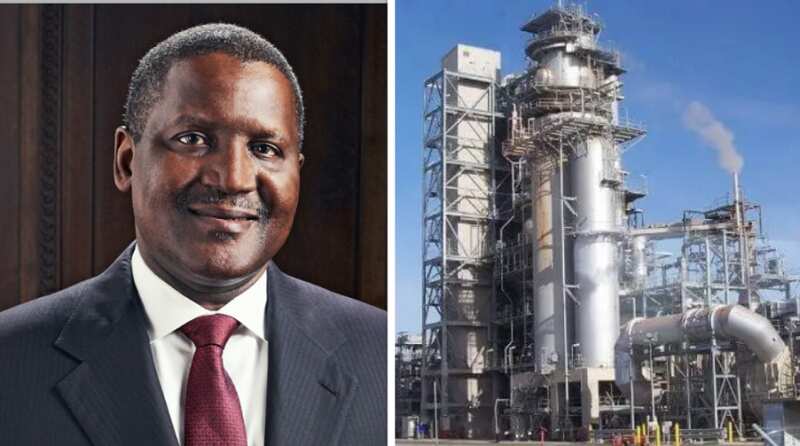 Owned by Alhaji Aliko Dangote, Africa's richest billionaire, the refinery is only one of his many business enterprises across the African continent.
PAY ATTENTION: Share your outstanding story with our editors! Please reach us through info@corp.legit.ng!
As Nigerians await to enjoy the full benefits and potential of the refinery, Legit.ng highlights some of the facts about the refinery:
1. It is located in Ibeju-Lekki, Lagos covering a land area of approximately 2,635 hectares
2. World's largest Single-Train 650,000 barrels per day petroleum refinery with KTPA Polypropylene Plant.
3. The refinery is powered by a 435 MW Power Plant.
4. At full capacity, it can meet 100% of the Nigerian requirement of all refined products and also have surplus for export.
5. Designed for 100% Nigeria crude with flexibility to process other crudes.
6. Self-sufficient marine facility with ability for freight optimisation. Largest single order of 5 SPMs anywhere in the world.
7. Diesel & gasoline from the refinery will conform to Euro V specifications.
8. The refinery design complies with World Bank, US EPA, European emissions norms and Department of Petroleum Resources (DPR) emission/effluent norms.
9. Incorporates state-of-the-art technology.
10. Designed to process large variety of crudes including many of African Crudes, some of the Middle Eastern Crudes and the US Light Tight Oil.
11. 65 million cubic metres of sand dredged, costing approximately 300 million euros, using the world's largest dredgers.
12. Bought 332 cranes to build up equipment installation capacity.
13. Built the world's largest granite quarry to supply coars aggregate, stone column material, stone base, stone dust and material for break water (10 million tonnes per year production capacity).
14. Developed a port and constructed two quays with a load-bearing capacity of 25 tonnes/sq metre to bring over dimensional cargoes close to the site directly.
15. Constructed two major quays in the port with a capacity to handle up to Panamax vessels to export, two quays to handle liquid cargoes. The port will have 6 quays, including a roll-on/rill-off quay.
16. In the course of the civil works, 700 piles were drilled on some days, with total number of piles up to 250,000.
17. It has 177 tanks of 4.742 billion litres capacity.
18. Dangote is one of the few companies in the world executing a Petroleum Refinery and a Petrochemical complex directly as an Engineering, Procurement, and Construction (EPC) Contractor.
19. Training of 900 young engineers in refinery operations abroad. Mechanical Engineers trained in the GE University in Italy. Process engineers trained by Honeywell/UOP for six months.
Expert says Dangote Refinery operations will drop Nigeria's petrol importation
Interestingly, the Nigerian National Petroleum Company Limited (NNPC) has a 20% stake in the refinery, an arrangement that will make it easier for it to access most of its crude from Nigeria.
With the commencement of refining activities, oil and gas sector experts believe that the importation of petrol to Nigeria will experience a significant drop in the coming years.
Bimbo Ogundipe, an energy analyst with Costall Energies told Legit.ng that the coming onboard of Dangote Refinery will not only drop Nigeria's petrol importation but may put an end to fuel scarcity.
Nigeria has largely depended on imported fuel for a long time, and it would be a relief to significantly drop the level of importation of the product. Nigeria is a crude oil-producing nation and it's about time we are fully seen as such. More importantly, the problem of fuel scarcity could eventually become a thing of the past if the product is refined here.
Moreso, if it lives up to expectation, the refinery's output will cover for more than double of Nigeria's refining capacity.
This will thus establish Nigeria as a nation self-sufficient in refining of petroleum products and also save the country from over-importation with the country's scarce forex.
Aliko Dangote lists the benefits of his refinery to Nigeria's economy
In a related news, Legit.ng reported that Aliko Dangote, Africa's richest man and the founder of Dangote Group, spoke out about the benefits of his new oil refinery as it prepares to commence operation in Nigeria.
Dangote was interviewed by the Economist Magazine's 'The World Ahead 2023', where he discussed the potential of the refinery that is set to be commissioned on May 22, 2023.
In the interview, Dangote highlighted the economic benefits of the refinery, stating that it will reduce Nigeria's dependence on imported fuel and save the country billions of dollars in foreign exchange.
Source: Legit.ng