Fuel Subsidy Removal: Get Ready to Buy Petrol at N600 Per Litre, Stakeholders Warn Nigerians
The fuel subsidy regime in Nigeria is about to come to an end as the administration of President Buhari winds up.
The in-coming president, Bola Tinubu had earlier in his manifesto and campaigns declared that he would put an end to fuel subsidy in Nigeria,
However, stakeholders have warned that Nigerians should prepare to buy petrol at a higher price should the fuel subsidy be removed.
As the debate for and against fuel subsidy removal continues, experts in the sector have hinted that the pump price of petrol could go up as much as N600 per litre if the subsidy for the product is removed.
For decades, the Federal Government has subsidised fuel and fixed retail prices of petroleum products. Despite rising global oil prices, Nigeria's fiscal deficit continued to widen in 2022, mainly due to the high costs it pays on fuel subsidy.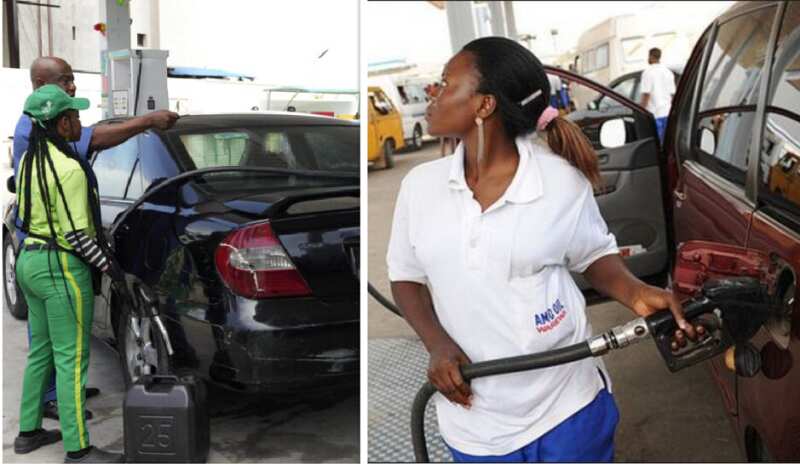 Interestingly, Nigeria's neighbour, Ghana, in March 2023, successfully removed fuel subsidy in the country. This follows 10 years of subsidy reforms and regulatory measures to ensure stability across its downstream sector.
Nigeria's fuel subsidy regime is marred by serious allegations of sharp practises and corruption that has drained Nigeria of trillions of nairas. These intrigues were highlighted by Legit.ng in a previous article.
Fuel subsidy removal in Nigeria
Last year, the Minister of Finance, Budget and National Planning, Mrs. Zainab Ahmed hinted that the fuel subsidy regime would end before President Muhammadu Buhari rounds up his administration in May 2023.
At its last Monetary Policy Committee in March 2023, Mr Godwin Emefiele, the governor of Nigeria's Central Bank also confirmed that the Federal Government's plan for the removal of fuel subsidy was already in motion.
In-coming president-elect, Bola Tinubu who is a strong advocate of subsidy removal had his in his manifesto and during campaigns maintained his resolve to withdraw subsidy. He stated that the funds realised from the fuel subsidy removal would be used for targeted infrastructural and social welfare programs.
Currently, Nigerians are paying between N185 - N220, depending on the filling station and location across the country for a litre of petrol. This price is even possible because the government covers for more than 50% of the real cost of petrol consumed by Nigerians.
Nigeria, an oil-producing country, has enough crude oil but lacks functional refinery to refine the product. As a result, it eports its crude oil to foreign refineries and then imports back refined petroleum products for domestic consumption.
According to the NNPC, the landing cost for a litre of petrol is about N448. Reports also stated that Nigeria consumes about 68 billion litres of petrol daily and Nigeria spends about N400 billion every month on fuel subsidy.
This claim by the NNPC has however been faulted by the Comptroller General of Nigerian Customs Services, Hameed Ali who said that the claim can not be scientifically substantiated.
The inconsistencies in the amount spent on subsidy and the economic imbalance has forced many Nigerians to call for an end to the subsidy regime.
Nigerian's to pay higher price for fuel
If Nigeria consumes about 68 million litres of petrol daily. This means that an average of 19 billion litres of petrol is consumed in Nigeria every month, with revelation that the government set aside N3.36 trillion to spend on fuel subsidy between January and June, 2023.
If the government subsidises for more than half of the full cost, this would mean that Nigerians would have to pay more if and when subsidy is withdrawn.
Given that global oil prices went up and Nigeria was still unable to run a functional refinery, Nigerians would be expected to cover the full cost of petrol, including logistics.
In a previous Legit.ng report, the secretary of the Independent Petroleum Marketers Association of Nigeria IPMAN) in Abuja-Suleja, Mohammed Shuaibu, said the product will be scarce and would sell for up to N800 if the subsidy is removed without necessary measures.
Bimbo Ogundipe, an energy analyst with Costall Energies, said that ending the subsidy regime will bring a lot of hardship on Nigerians as they would be left to make up for the part of the cost that the government usually covers.
He said:
There's no way the pump price will not double if not even triple when the fuel subsidy is removed. The oil markets would have to sell to consumers for a higher price. You can imagine the trickle effect that would have on Nigerians when they have to buy fuel for as much as N500-N600. Transportation would increase. Food prices will also increase in the market. That's how it will affect the prices of almost every goods and services.
Johnson Ujime, a member of the Petroleum Retail Outlets Owners Association of Nigeria (PETROAN) told Legit.ng that though the removal of fuel subsidy is a good thing in the long term, but the short term consequences will be hard for Nigerians.
He said:
Personally, I'm fully in support of fuel subsidy removal, so long as the government does it gradually and fixes the bottlenecks in the oil industry. To be honest with you, I don't see how the consumers will pay any less than N600 per litre when subsidy is removed.
Many stakeholders have been calling for the full deregulation of downstream sector. Deregulation, they claim will allow for the opening of the sector to competition and removal of entry barriers in the supply and distribution of petroleum products.
Government palliatives to ease the difficulty of subsidy removal
Only about two months to the end of President Buhari's administration and it is yet to give a definite date for the removal of fuel subsidy. If it doesn't happen by the end of May, then the burden will fall on the incoming administration of Bola Tinubu.
As the government plans to effect the fuel subsidy removal, it is only imperative to consider how to mitigate the impending effect of this will have on the citizens.
Last week, the Finance Minister announced that the government has secured $800 million from the World Bank for the provision of palliatives to vulnerable Nigerians ahead of the fuel subsidy removal.
Governor El-Rufai says fuel subsidy must be removed
The governor of Kaduna state, Nasir El-Rufa'i says there is a need to remove subsidies in other to allow other sectors of the federation to thrive and flourish.
According to Legit.ng, the former FCT minister revealed that the payment of subsidies by the federal government was no longer as sustainable as it was years ago.
He revealed that at least N6 trillion spent on fuel subsidies over the past 6months supersedes the entire budget of Kaduna state.
El-Rufa'i said these funds can be channelled towards other sectors and also help developmental infrastructures and reforms that will help salvage the current economic state of the country.
Source: Legit.ng