Jimoh Ibrahim's N69bn Debt to AMCON Might Land him on Top of Biggest Debtors' List in Nigeria in January
Jimoh Ibrahim is among those said to be owing Asset Management Corporation of Nigeria (AMCON) the sum of N4.4 trillion
AMOCON has threatened to name and shame the individuals, organisations and institutions tying down monies belonging to it
In January 2022, AMCON will release the names of those who owe it and how much they except they renegotiate with it
Barring any last-minute negotiations, Billionaire businessman, Jimoh Ibrahim's name will appear on the list of debtors to AMCON in January when the asset recovery body said it make public the names of those indebted to the organisation.
Jimoh Ibrahim is indebted to the Asset Management Corporation of Nigeria (AMCON) to a tune of N69 billion and has lost an appeal to have his assets seized by AMCOM recovered.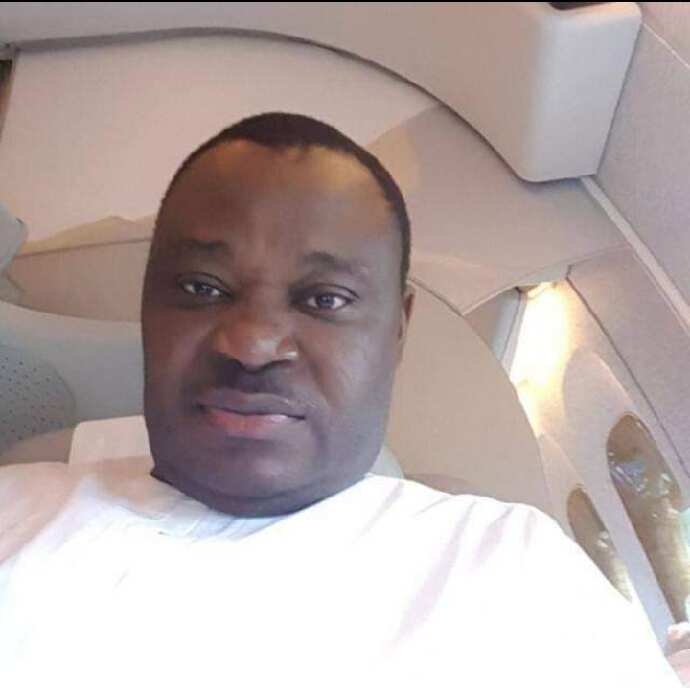 A lost case?
Last Friday, December 10, 2021, the appeal court, Lagos division, dismissed his appeal challenging AMCOM over the seizure of his assets.
The spokesman for AMCON, Jude Nwauzor said in a statement that the ruling is another victory for AMCON and the required good news for the asset recovery agency.
On Thursday, November 4, Justice Rilwan Aikawa, in his ruling, upheld the arguments of AMCON's lawyer, Kemi Pinheiro, a senior advocate of Nigeria, that AMCON made "full and substantial disclosure of all material facts," reports by TheCable indicated.
AMCON has said it will release the names of chronic debtors on January 5 and asked them to come for renegotiation of their debts or risk national embarrassment when their names are published in national dailies.
The biggest debtor?
Jimoh Ibrahim's name may feature on top of the list which AMCON is set to release in January.
According to AMCON, about 350 Nigerians, entities and institutions owe a total of N4.4 trillion in debt.
Crazy about properties?
The billionaire, who is said to have amassed landed properties in choice and plush areas in Nigeria is having a running battle with the asset recovery body over his seized assets.
Most of the companies taken over or acquired by him either liquidated or went bankrupt, hence his assets are more in landed properties.
In November 2020 the asset recovery agency took over Ibrahim's assets among which are NICON Investment Limited building, Muhammadu Buhari Way, Central Business District, Abuja; NICON Hotels Limited building, Port-Harcourt Crescent, off Gimbiya Street, Abuja; and the NICON Lekki Limited building, Customs Street, Lagos.
Assets seized from Ibrahim include Abuja International Hotels Limited building located at Hospital Road, Lagos; another property at Muhammadu Buhari Way, Abuja.
Also, the former Allied Bank building on Mile 2, Oshodi Express Way, Apapa Road, Lagos; Energy House located on Awolowo Road, Ikoyi, Lagos; NICON Building at Madeira Street, Maitama, Abuja; a Residential Apartment at Victoria Garden City, Lagos.
Other assets taken from Ibrahim are NICON Hotels building at Plot 3, Road 3, Victoria Garden City, Lagos; as well as the NICON Luxury Hotel's building, Garki I, FCT, Abuja.
The court, in addition asked the agency to take possession of all bank accounts owned by Ibrahim and his companies plus Global Fleet Oil & Gas Limited and NICON Investment Limited, all of which are defendants in Suit No. FHL/L/CL/776/2016 presided over by Justice Aikawa on Wednesday, November 4, 2020.
Also, the court ordered AMCON to take possession of all stakes belonging to Ibrahim and his two other companies that are domiciled in Nigerian Re-Insurance Company Plc, NICON Insurance Company Plc, Nigeria Stockbrokers Limited (NSL), and NICON Trustees Limited, a report by Channels Television said.
Companies forfeited to AMCON
Meanwhile, Legit.ng has reported how the Asset Management Corporation of Nigeria (AMCON) had seized some organizations belonging to a Nigerian businessman, Jimoh Ibrahim.
AMCON also seized NICON Insurance Limited and the Nigeria Reinsurance Corporation and changed their management.
The seizure was made due to an alleged N69.4 billion debt owed by Ibrahim. It was gathered that the Bureau for Public Enterprises is also involved in the reorganisation of the firms.
Source: Legit.ng