Nigerian Government Borrows Over N6trn To Save Naira From Further Depreciation, Repayment Date Approaches
The value of the Naira may have been far worse if it hadn't been for different interventions with money borrowed by the Nigerian government over the years
This was revealed by the Debt Management Office during a presentation to the National Assembly on the borrowed monies for 2021
The Central Bank of Nigeria is able to service foreign currency needs from investors, exporters, and Nigerians, thanks to its external reserves
In an effort to save Naira from further depreciation to foreign currencies, the Nigerian government has augmented the external reserves with over N6.32 billion ($15.36bn) borrowed funds in recent years.
The Director-General of the DMO, Ms. Patience Oniha, disclosed this at a workshop held on Monday in Abuja.
The Workshop titled understanding Nigeria's Public Debt Management was organized for the Secretariats of the Senate Committee on Local & Foreign Debts and House Committee on Aids, Loans & Debt Management.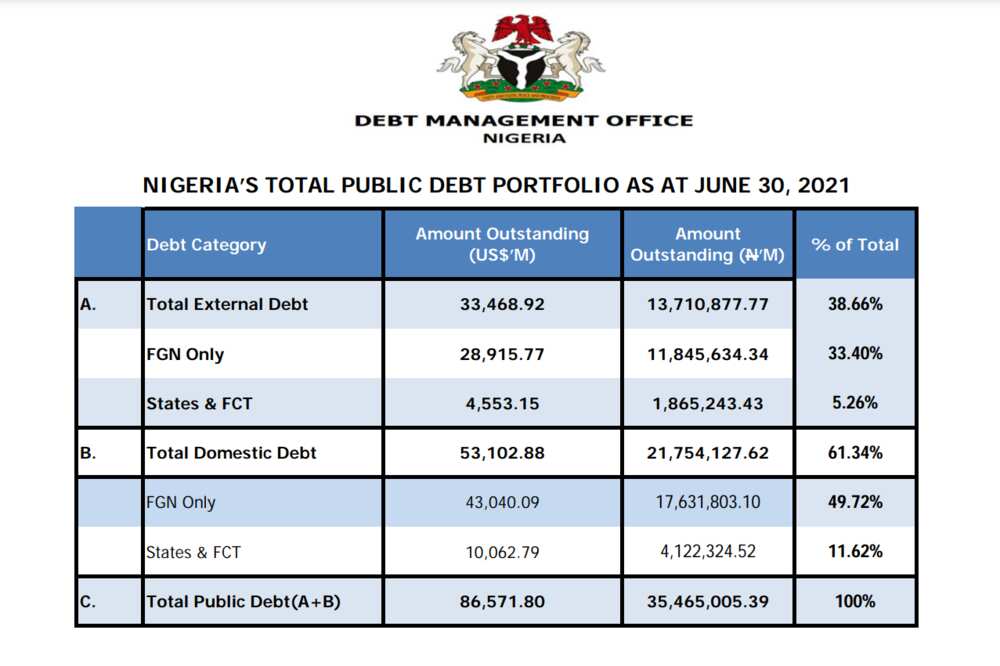 How money was raised to defend the Naira
The DMO explained that money used to defend the Naira was raised from external borrowings between January 2011 and September 2021, Vanguard reports.
PAY ATTENTION: Install our latest app for Android, read best news on Nigeria's #1 news app
She said:
"There was more to external borrowings than just raising funds to finance budgets deficit, borrowed funds are also used to strengthen the nation's foreign reserves, thereby firming up that nation's currency at the foreign exchange market.
"This year alone $4 billion out of the $6.18 billion approved external borrowing in the 2021 budget has been realized.
"So we're working with transaction advisers and keeping an eye on the market for the remaining $2.18 billion. We will raise the money if we believe the market is good and our supervisors agree. However, when it comes to borrowing sources, we have a few possibilities. We've put forth a lot of effort to fund the 2021 budget."
On the domestic front, the DMO boss revealed over N2.8 trillion have been borrowed this year and an additional N350 billion is expected.
"The remaining we would raise from an FGN bond auction in December, we still have one more month to go. So we are almost there."
Debt sustainability
The DMO boss assured that Nigeria is still within the acceptable threshold at 21.61 per cent Debt-to-GDP ratio, which she noted is much less than the 40 per cent limit set by the nation for itself and the 55 per cent recommended by the World bank.
She said, however, that the nation has to pay more attention to the revenue, as according to her, revenue meant for development is used to service debt.
Source: Legit.ng