Nigerian Farmers Finding it Difficult to Repay CBN's ABP Loan as Insecurity Increases Default by 22% to N463bn
The Anchor Borrowers Programme (ABP) is a programme designed to create economic linkage between smallholder farmers and reputable large-scale processors
The programme which was launched by President Muhammadu Buhari on November 17, 2015, was to enhance Nigeria's agricultural sector
It was designed with a view to increasing agricultural output and significantly improving the capacity utilization of agricultural firms.
Farmers who subscribed to the Central Bank of Nigeria's Anchor Borrowers' Programme are struggling to repay N463 billion collected from the apex bank.
CBN revealed this in its March 2021 CBN Economic Report for April.
According to a report from Punch, the unpaid loan as at March 2021, is a 22 percent increase when compared to the N378.5bn tit stood at the end of November 2020
The ABP was launched on November 17, 2015, by the President Muhammadu Buhari, to reverse the country's negative balance of payments, especially in the area of food.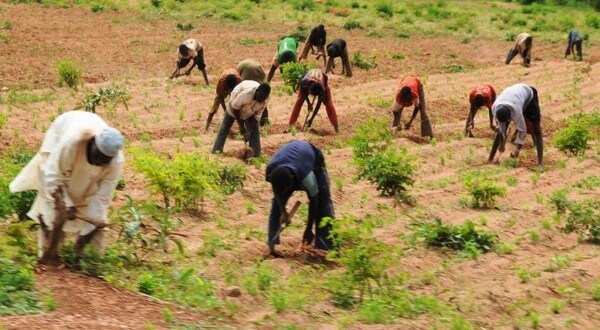 PAY ATTENTION: Install our latest app for Android, read best news on Nigeria's #1 news app
Beneficiaries of the programme include farmers cultivating cereals (rice, maize, wheat, etc.), cotton, roots and tubers, sugarcane, tree crops, legumes, tomato, and livestock.
Loans are disbursed to the beneficiaries through deposit money banks, development finance institutions, and microfinance banks, which the programme recognizes as participating financial institutions.
What CBN said on ABP
According to the CBN report, from the inception of the ABP in November 2015 to March 31 this year, the sum of N615.4bn had been disbursed to 3.04 million farmers.
The report, however, showed that only N152.3bn had been repaid by the beneficiaries while the outstanding loans stood at N463 billion
It said
"For the Anchor Borrowers' Programme, the sum of N615.4bn had been disbursed to 3,038,899 beneficiaries, out of which N152.3bn was repaid"
The Punch newspaper had in August reported that the CBN's unpaid loan as of November 2020 stood at N378.5bn.
As of the period, the apex bank had disbursed a total of N497.2bn to finance 2.3 million projects under the programme, but received only N118.7bn in repayment.
CBN spends N58.61billion to print 2.518 billion Naira notes
In a related story Legit.ng reported that the Central Bank of Nigeria has revealed it spent N58.61 billion printing Naira notes for circulation in the country.
According to CBN 2,51 billion pieces of banknotes of various denominations was printed to satisfy the currency needs of the economy.
The amount spent in 2020 for printing, however, is a significant drop when compared with what CBN spent in 2019, 2018.
Source: Legit.ng