Emefiele Expresses Delight Two Billionaires, Otedola and Odukale, are Battling for First Bank Leadership
For the past two months, Femi Otedola and Taiwo Hassan-Odukale have been battling for First Bank leadership
While First Bank designated Hassan-Odukale the largest shareholder, PenCom claimed that a portion of Taiwo's shares did not belong to him
CBN Governor Godwin Emefiele has finally reacted to the leadership battle by declaring First Bank to be too large to fail
The Governor of the Central Bank of Nigeria (CBN), Godwin Emefiele, has expressed satisfaction with the power struggle for control of First Bank Holdings the parent company of First Bank.
Femi Otedola and Taiwo Hassan Odukale have been at odds over who holds the most shares in First Bank.
Reacting to FBN leadership tussle, Emefiele said the tussle is not only a positive development but shows that CBN has been taken the right step to keep First Bank alive.
Emefiele made his feelings known after the last Monetary Policy Committee (MPC) meeting for 2021 held on Monday 22nd and Tuesday 23rd November 2021.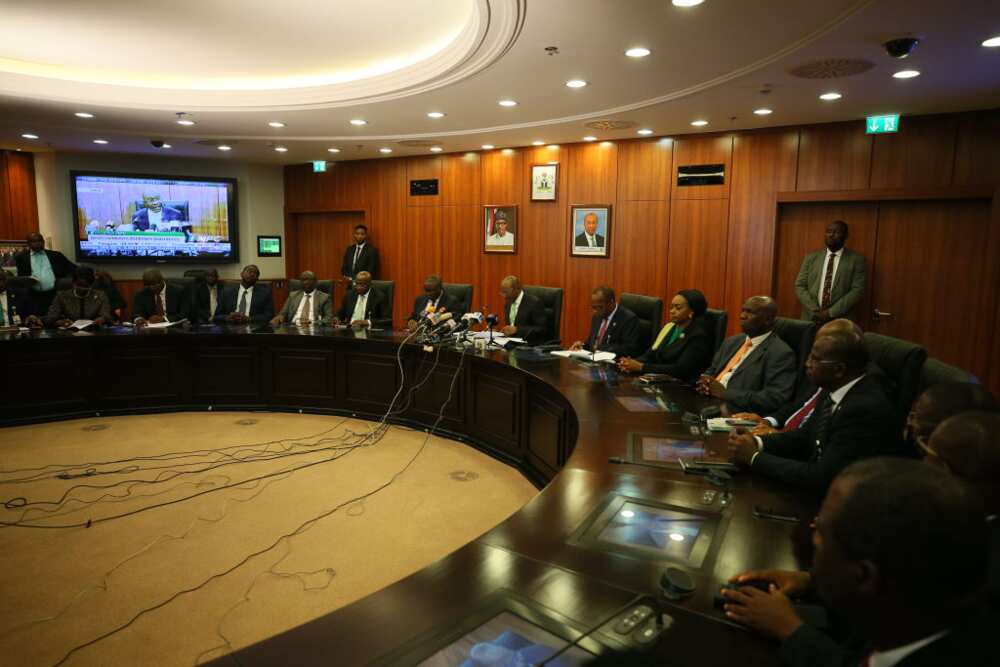 He also added that if something bad occurs to First Bank, it signifies something bad has occurred to the Nigerian financial system.
Emefiele said:
"We all know that First Bank is too enormous to be owned by a single person. They should consider themselves as representing others when operating the banks."
"The battle for the leadership of Nigeria's oldest bank is healthy because, as I have stated, the share price of First Bank was at N2 six years ago due to an aggressive build-up of NPLs. We accepted it. Everyone was fleeing First Bank's stock at the time.
"Everyone can see that First Bank, the money-making powerhouse, is back on its feet now that we've cleaned up the balance sheet." They are all vying for profit. They are currently competing for the shares of First Bank."
Investors lose N2.6 Billion in 24 Hours
In a related story, Legit.ng had earlier reported how Femi Otedola lost N2.6 billion in 24 hours amid tussle over the leadership of First Bank Holdings.
Femi Otedola and Tunde Hassan-Odukale has been at loggerheads on the control of the bank with Femi Otedola.
As the leadership tussle rumbles on, the shares of FBN Holdings dropped in value from N12.4 per share it closed to N11.65 per share.
Source: Legit.ng