France hit by new strikes, protests over pension reform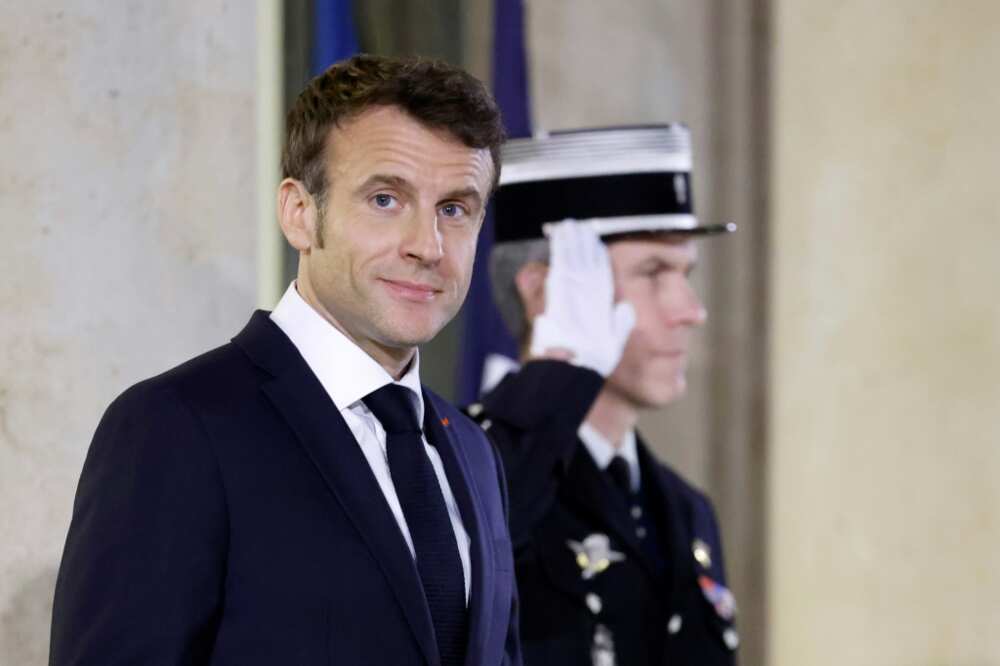 Fresh strikes hit trains, schools and refineries in France on Tuesday over an unpopular pension reform pushed by President Emmanuel Macron, with nationwide protests planned for later in the day.
A third day of union-backed demonstrations since January 19 is set to test momentum for the protest movement which has vowed to block Macron's bid to raise the retirement age.
"We are dealing with a president -- because he is at the heart of all this -- who, with his over-sized ego, wants to prove that he is capable of passing this reform," the head of the hardline CGT union, Philippe Martinez, told RTL radio.
Macron put raising the retirement age and encouraging the French to work more at the heart of his re-election campaign last year, but polls estimate that two-thirds of people are against the changes.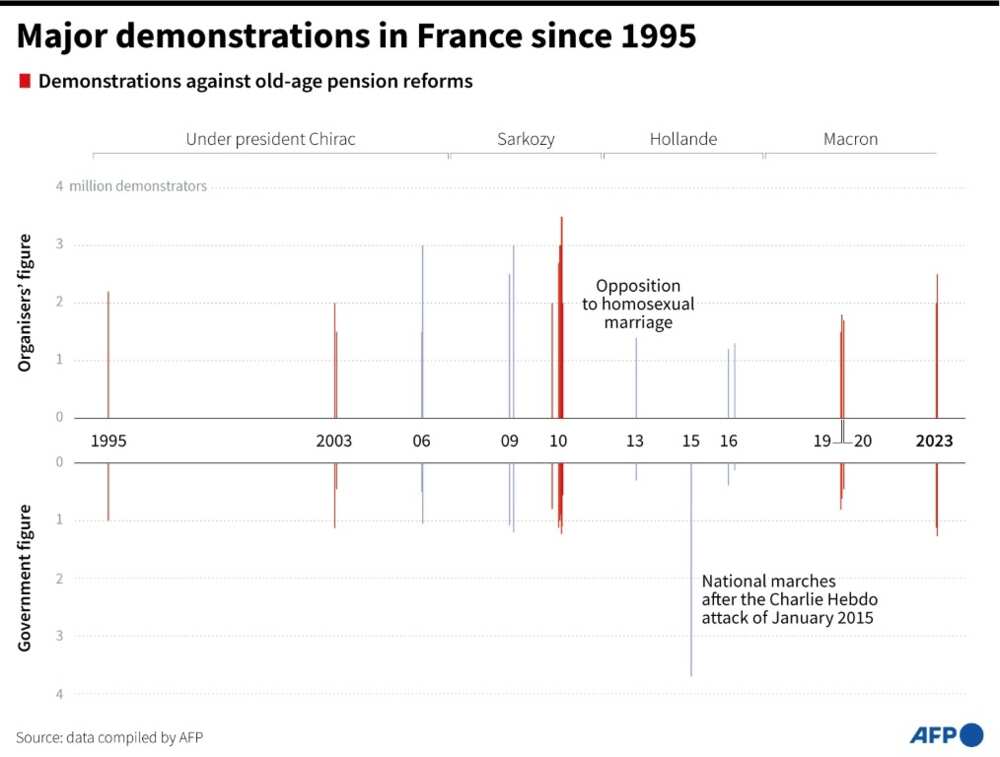 Lawmakers began debating the reform, which would see the age for a full pension raised from 62 to 64 and the mandatory number of years of work extended for a full pension, during a stormy session in parliament on Monday.
Last week's demonstrations brought out 1.3 million people across the country while a first round on January 19 saw 1.1 million, according to the police.
A security source told AFP that between 900,000 and 1.1 million people were expected on Tuesday.
The crowds so far have been the largest anti-government protests since 2010 during pension reform by right-wing former president Nicolas Sarkozy.
'Reform or bankruptcy'
Trains and the Paris metro again faced "severe disruptions", while around one in five flights at Orly airport south of the capital were expected to be cancelled.
But the overall level of disruption, including in schools, was expected to be lower than on the previous two days.
Around half of long-distance trains were running, the state railway company said.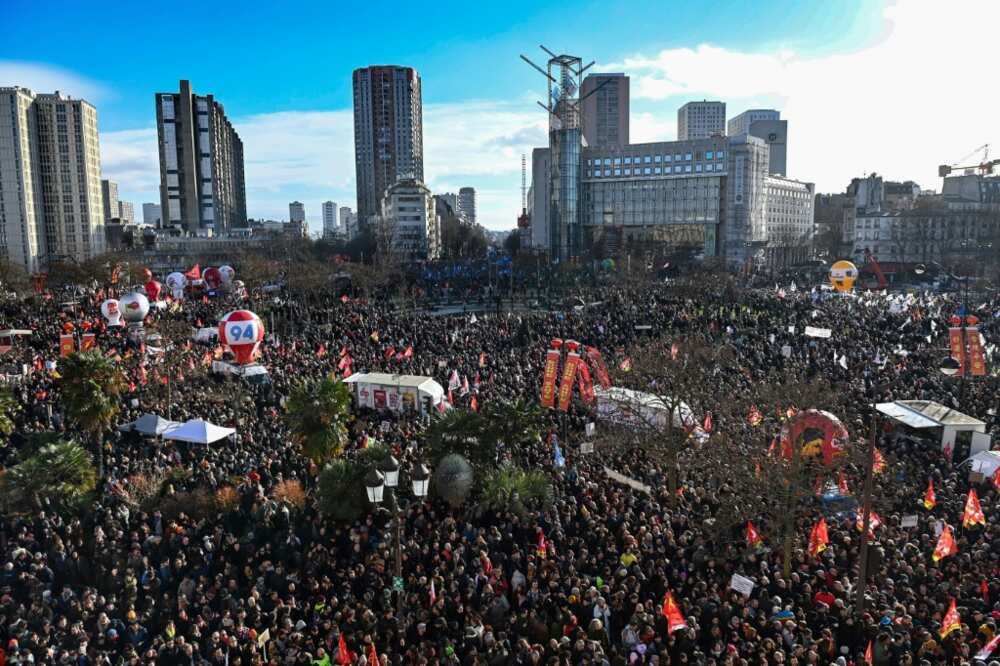 "It's ok, it's manageable," Sylvain Magnan, a 23-year-old told AFP at the main station in the city of Marseille on the Mediterranean. "I just took a later train."
Around one in two workers at oil refineries run by energy giant TotalEnergies had stopped work, the company said, but stocks at petrol stations are sufficiently high to handle any temporary pause in deliveries.
Macron's proposals would bring France closer into line with its European neighbours, most of which have retirement ages of 65 or more.
But the government has struggled to defend the overhaul as necessary or fair, given that the system is currently in balance and that low-skilled workers are said by many economists to bear the brunt of the changes.
"It's reform or bankruptcy," Public Accounts Minister Gabriel Attal said in parliament on Monday, leading to criticism from opponents that he was exaggerating.
Forecasts from the independent Pensions Advisory Council show the pensions system in deficit on average over the next 25 years.
'Unfair'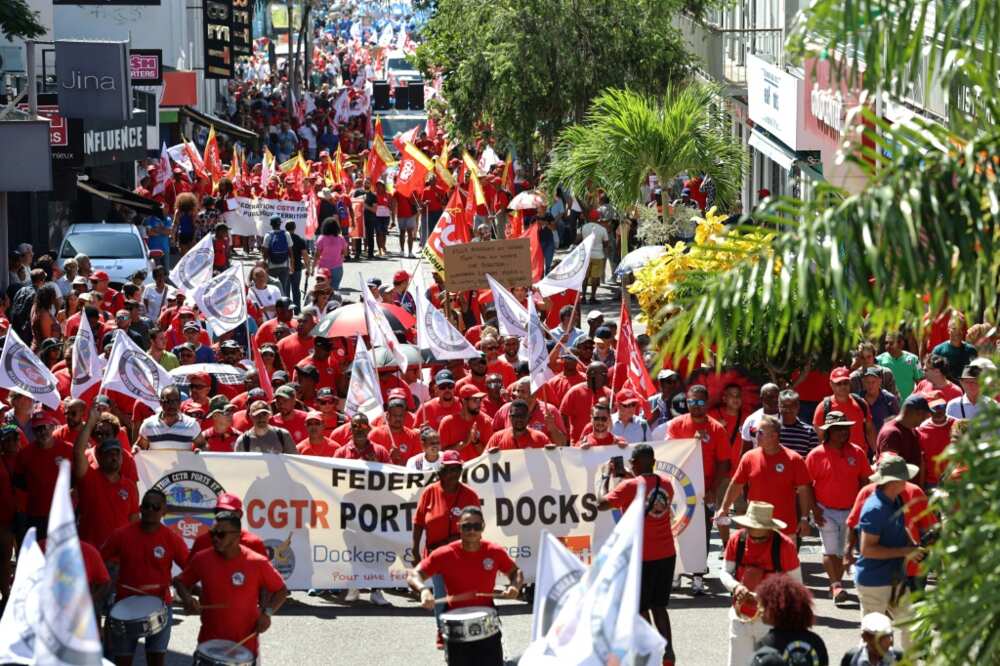 The changes would lead to annual savings of around 18 billion euros ($19.5 billion) by 2030 -- mostly from pushing people to work for longer and abolishing some special retirement schemes.
France's spending on pensions is the third highest among industrialised countries relative to the size of its economy. The country is number one in terms of overall public spending, according to data from the Organisation for Economic Co-operation and Development.
In parliament, the government will need to rely on the right-wing Republicans opposition party to pass the draft legislation, without having to resort to controversial executive powers that dispense with the need for a vote.
Macron's allies are in a minority in the hung National Assembly after elections in June.
Prime Minister Elisabeth Borne on Sunday offered a key concession, saying people who started work aged 20 or 21 would be allowed to leave work a year earlier.
Republicans' head Eric Ciotti has promised his backing, in theory giving the government the numbers needed to pass the legislation.
But the left-wing opposition group and the far-right nationalist and Eurosceptic party of Marine Le Pen are staunchly opposed and have filed thousands of amendments.
Speaking in parliament on Monday, Le Pen said the government's reform "unfair" and "dictated by your desire to please the European Commission."
Source: AFP