50 New week quotes to motivate and inspire you to great things
Life can be overwhelming sometimes, and starting a new week can be challenging. These challenges and obstacles can make starting the new week dreadful. However, a word of encouragement can go a long way in motivating someone at the beginning of the week. These are new week quotes to inspire you and your loved ones.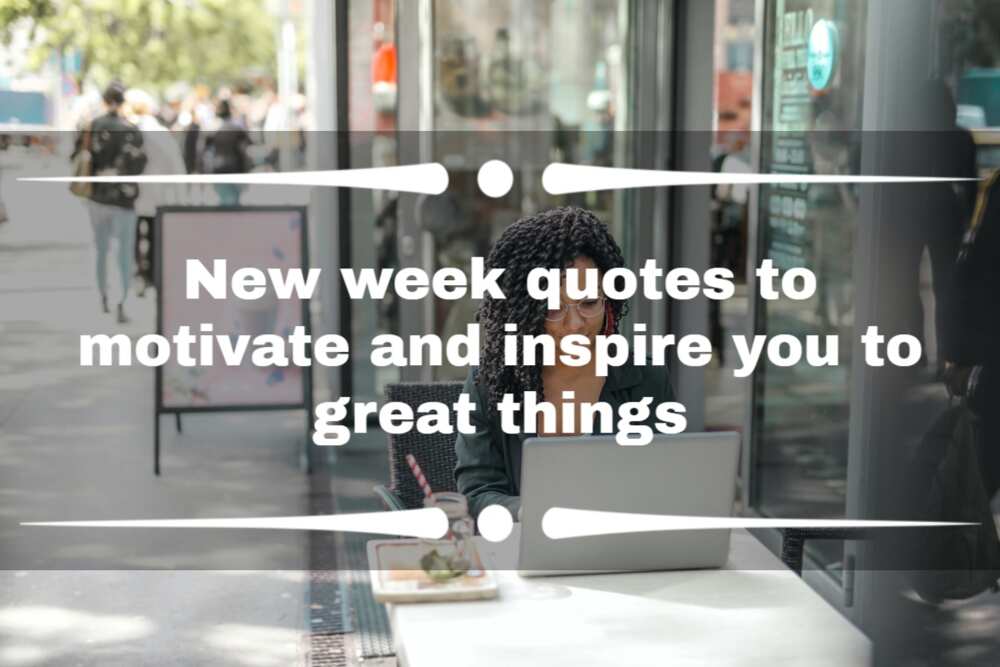 Returning to work after a long weekend can be tricky, especially if the last week did not go well. However, you can look forward to a new week with the right mindset. Reading and sharing blessed week quotes is one way to get your mood right. Here are inspiring quotes to start the week.
Best new week quotes
Each new week brings new opportunities and new beginnings. Below is a list of quotes to get you started.
Always take some of the play, fun, freedom and wonder of the weekend into your week and your work. — Rasheed Ogunlaru
All men tend to become angry and irritated at the start of the week. It is the start of the week but is the end of all fun and happiness in life. — Venus Rivers
Monday is the day that opens up the week for many opportunities. — R.K. Narayan
It's a good week to have a good week.
The best weeks start on Monday. — Nice Peter
A bad day doesn't mean a bad week or a bad month, or a bad year. — Anuj Jasani
Today is a new day. Don't let your history interfere with your destiny. — Steve Maraboli
Every Monday's challenge is maintaining the same vitality every day of the week. — Byron Pulsifer
It's a new week; a new day means new possibilities.
Positive new week quotes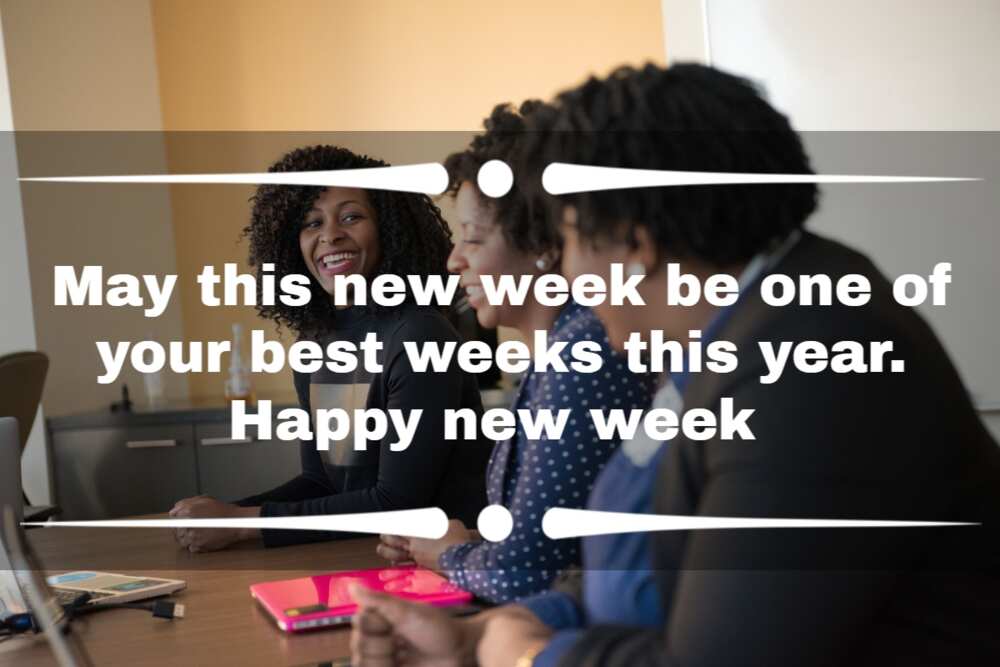 Words are powerful, and positive words are needed to start your week right. Below are lovely quotes to help you start the week positively.
When the week begins, try to let your best overcome your worst, which is the best. Do your best to have a good week and never be weak. — Ernest Agyemang Yeboah
The middle of the week is a great time to reflect on what was done and still needs to be done before the end of the week. — David Dweck
Practice kindness seven days a week, and spread kindness whenever you speak. —Charmaine J. Forde
Be mindful. Be grateful. Be positive. Be true. Be kind. — Roy T. Bennett
A week is a long time in the life of a child. — Maxwell Grantly
It takes a week to write a book, but it takes years to register a good one. — M.F. Moonzajer
All days of the week are typical, that's all, nothing less. — Deyth Banger
If life were a book, every day would be a new page, every month would be a new chapter, and every year would be a new series. — Elizabeth Duivenvoorde
Today is your opportunity to do the tomorrow you want.
Happy new week quotes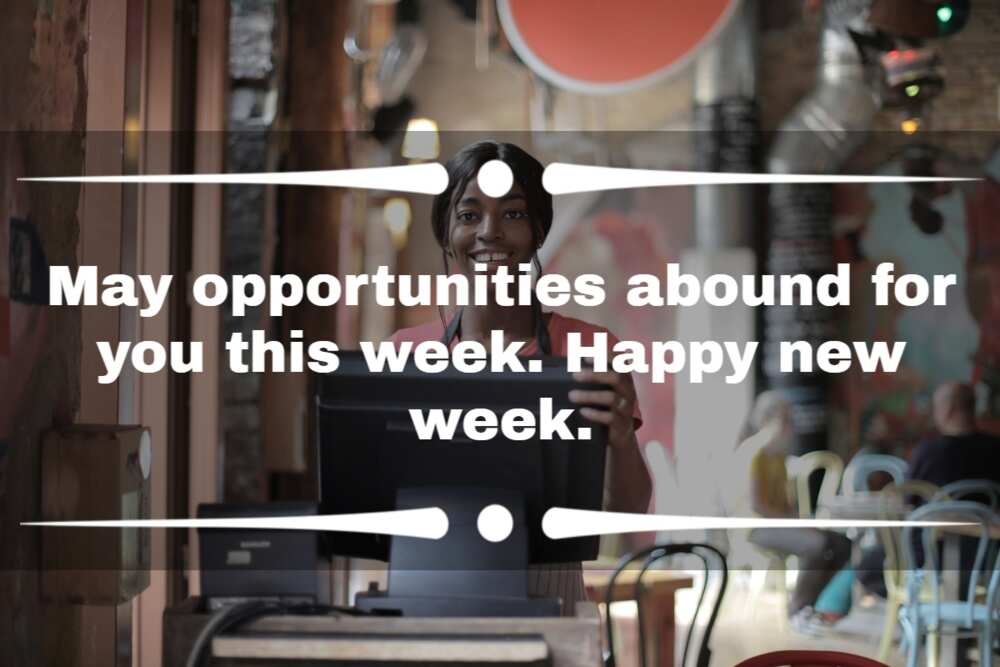 To tap into new week opportunities, you need to start the week in the right mind frame. Here are the new week's wishes you can share with your loved ones.
When you start each day with a grateful heart, light illuminates from within.
May this new week be one of your best weeks this year. Happy new week
Be happy for this moment. This moment is your life. — Omar Khayyam
Forget the past; embrace the future and the possibilities it presents. Have a great week.
You shouldn't lose three things this week; your faith, courage, and smile. Happy new week.
Everything that happens in your life happens for a reason. You are also placed there for a reason. You have a purpose to accomplish. Happy new week!
Forget about the failures of the past week. This week is an opportunity to do better. Look ahead. Be great.
May this week be a blessing to your life, and may every door that leads to your success open. I wish you a great week ahead.
New week motivational quotes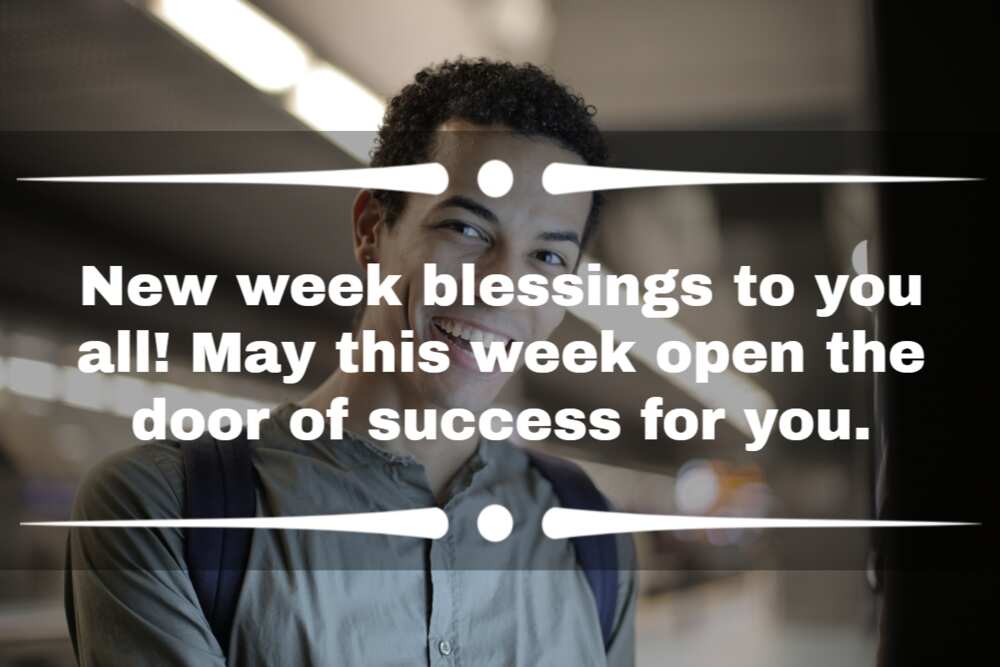 Starting a new week after the weekend can feel exhausting, and inspirational quotes will give the needed motivation. Below are some great new week inspirational quotes.
A good plan violently executed now is better than a perfect plan executed next week. — George S. Patton
You can't 'should've' done something. You can only do something. Renew yourself. Release that attachment. Today is a new day. — Steve Maraboli
The week is full of rainbow fruit. — Anthony T. Hincks
Live today. Not yesterday. Not tomorrow. Just today. Inhabit your moments. Don't rent them out until tomorrow. — Jerry Spinelli
Monday is for people with a mission. — Christina Imre
Renew, release, let go. Yesterday's gone. There's nothing you can do to bring it back. Today is a new day. — Steve Maraboli
Success is to wake up each morning and consciously decide that today will be the best day of your life. — Ken Poirot
Wake up on Monday and start your day with awesomeness, and you will get happiness back. — Jim Butcher
New week blessings quotes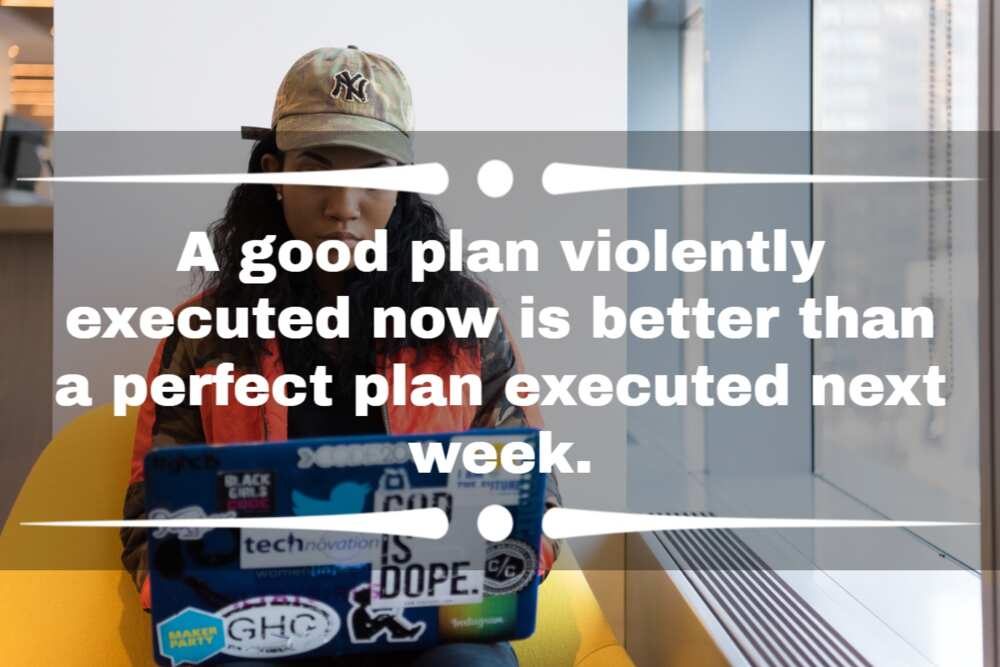 At the beginning of the week, receiving good week quotes and blessings can motivate and re-energise you to perform well in your ventures. Share these with some quotes with your loved ones.
Say goodbye with a smile to the old one and welcome a new week in your life. Explore the beauties it has in store for you! Have a blessed week!
This week, all your hope shall become a reality. You shall experience greatness like never before. Have a wonderful week.
This new week shall be memorable for you. I am wishing you a wonderful new week! May this morning be the start of great things this week!
New week blessings to you all! May this week open the door of success for you. I wish you a great week.
Forget the past and embrace the new week's hope and courage. Do what makes you happy and enjoy every moment. Wishing you a lovely week, my friend.
Embrace the week with enthusiasm and energy. Never miss any opportunity. Have a blessed week!
The journey to success starts with you. Focus on your goal, and leave the worries. You'll succeed. Have a blessed new week!
Forget about all the failures and make your days full of joy, prosperity, and happiness—happy new week.
Short new week quotes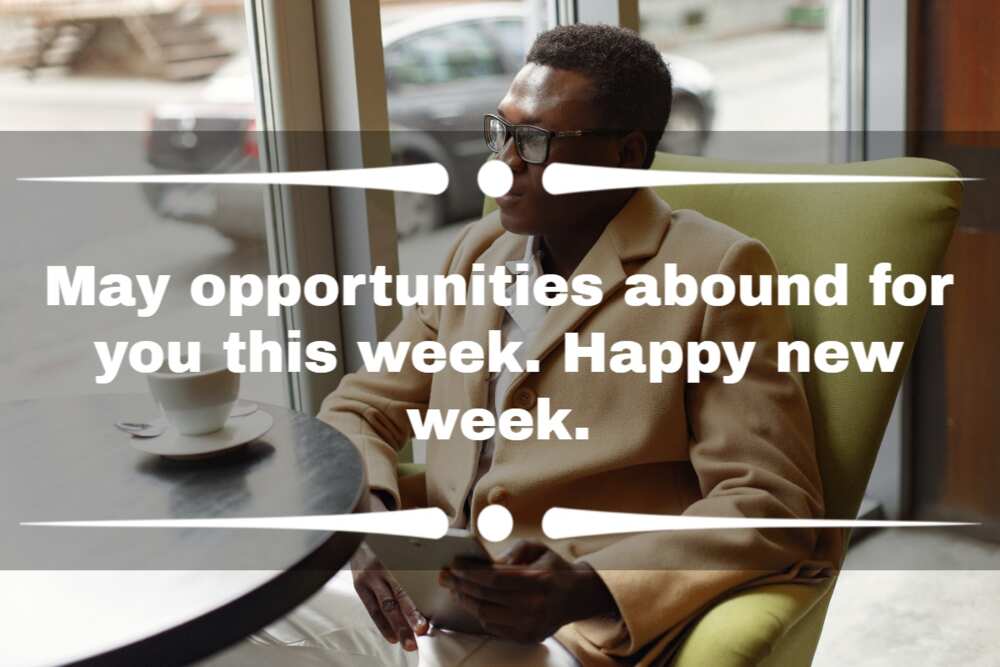 A new week presents a fresh start for people to regroup and reorganise. With motivational quotes, you can accomplish a lot. Below are short great week quotes to start the week.
Don't sweat tomorrow. You haven't even met. — Steve Maraboli
Holler, teammate, it's a new week. May it be great for us. Happy new week.
I don't wish it were easier. I wish you were better. — Jim Rohn
Forget yesterday. It has already forgotten you. — Steve Maraboli
Open your eyes and your heart to a truly precious gift: today. — Steve Maraboli
Here's to a week of possibilities. Happy new week.
May opportunities abound for you this week. Happy new week.
Think smart, work smarter. Achieve great results. Happy new week.
Starting a new week is an opportunity to accomplish your goals and plans. However, positivity is needed to get you excited about the fresh start. Above is a comprehensive list of new week quotes to inspire you and your loved ones.
Legit.ng recently published an article about grandchildren quotes. Being a grandparent is the wish of many people. It is a fulfilling experience to see the next generation in your lineage. If you are a grandparent, you can share these grandchildren's quotes with your grandkids to let them know how you feel.
Having grandkids is one way of ensuring a generation continues. Grandparents love to shower their grandchildren with love. Sending them quotes is a great way to express your love and appreciation for them. Here are amazing grandchildren quotes you can share with your grandkids.
Source: Legit.ng