Hereditary's Milly Shapiro bio: Age, family, medical condition
Milly Shapiro is an American actress who received a Tony Honor for Excellence in Theatre for her performance in Matilda The Musical. She gained further recognition in Hollywood for her performance in the horror film Hereditary.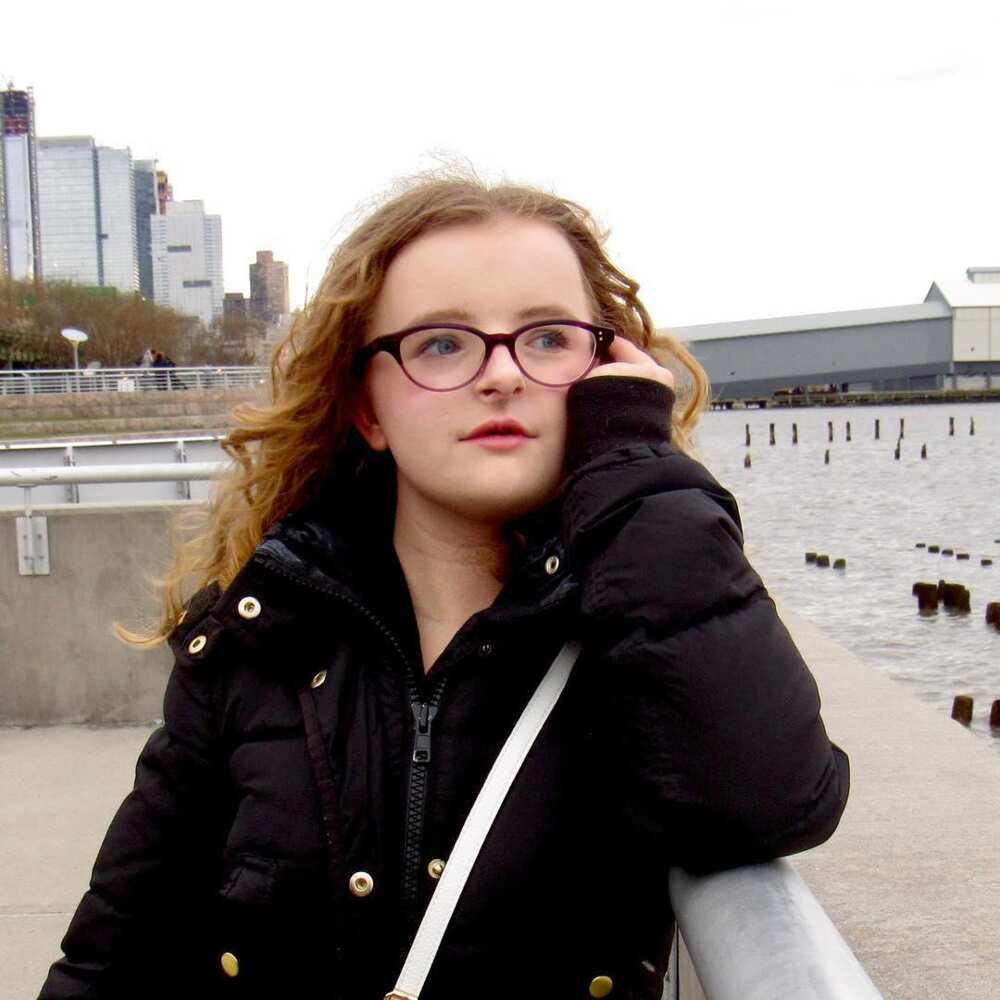 Even though Milly is only a teenager with less than ten acting credits, she has achieved feats in her career that many actors could only wish for.
Profile summary
Name: Amelia Lee Shapiro
Date of birth: July 16, 2002
Age: 18 years
Place of birth: Tampa, Florida, United States
Nationality: American
Zodiac sign: Cancer
Weight: 40kg
Height: 147cm
Occupation: Singer and actress
Net worth: $200,000
Milly Shapiro bio
Amelia Lee Shapiro, popularly known as Milly Shapiro, was born on July 16, 2002, in Tampa, Florida. Milly Shapiro age is 18 years. Her parents, Eric and Michelle Shapiro, are business owners.
Amelia attended the Community Montessori school until she was 10 years old. She also attended the Profesional Children's School in New York. She graduated from high school in May 2020, and she is preparing for college.
Being inspired by older sister Abigail Shapiro, who is a dancer, actress, and singer, Amelia began taking vocal lessons at the age of three and began performing at five. She moved to New York when she got the role of Matilda in Matilda the Musical.
Career
Milly's acting career began in 2013 with her role in Matilda The Musical. She played the lead role of Matilda Wormwood alongside such actors as Oona Laurence, Sophia Gennusa, Bailey Ryon.
In 2016, Milly played Sally Brown in the first off-broadway all-youth production of You're a Good Man, Charlie Brown.
Milly Shapiro movies and TV shows
The actress has five acting credits and has won various awards for her performances. Here is a list of her movies and TV shows.
Movies
Monkey Bars: In post-production
Hereditary (2018): Charlie
Short productions
Broadway Kids Against Bullying: I Have a Voice (2016)
TV series
JJ Villard's Fairy Tales (2020): Princess Jezebel/Goldilox
Splitting Up Together (2018): Emma Rebbeca
Awards
The actress has been nominated for eight awards for her role in Hereditary. She has also won a Tony Honor for Excellence in Theatre for her performance in Matilda The Musical.
She has a Grammy Award nomination for Best Musical Theatre Album for Matilda the Musical.
Milly Shapiro Hereditary role
In 2018, the young actress starred in the horror film Hereditary. The movie received positive reviews from critics, with Rolling Stone calling it a "horror landmark" and the "scariest movie of 2018".
Shapiro played one of the main characters in the movie, Charlie Graham, who is a troubled adolescent with strange hobbies. She paints pictures of her recently deceased grandmother and cuts a dead pigeon's head with scissors to turn it into a toy.
Emotionally removed from her overly caring mother Annie and her older brother Peter, she is ​​empty-eyed, chewing on a chocolate bar and making a strange click sound with her tongue, and often wanders alone.
Annie was played by Australian actress Tony Collette-Galafassi, and American actor Alex Wolff played Peter.
When the teenage actress was asked about her character Charlie she said,
Charlie is kind of an other-worldly being, she very strange, very odd, and her whole way of thinking is kind of off. I was really interested in playing this character because she does think in an entirely different way so I had to kind of create a whole new mindset to step into.
Hereditary is a horror film that tells the story of Annie Graham's family, as they begin to unravel the terrifying secrets of their family after moving into their matriarch's house following her burial. The movie was written and directed by Ari Aster.
The movie has won 44 awards and has received 104 nominations so far. Hereditary was also a box office success as it grossed $80.2 million worldwide against its $10 million production cost.
How old was Milly Shapiro in Hereditary?
Milly Shapiro was 14 years old when she played Charlie. Although Hereditary was first released in January 2018, its filming was done in 2017.
What disease does Milly Shapiro have?
The actress suffers from a genetically inherited medical condition called Cleidocranial Dysplasia. Another popular actor, Gaiten Matarazzo who plays Dustin Henderson in the fantastic series Stranger Things, has the same condition as Milly Shapiro condition.
A person with this illness is born with missing or underdeveloped clavicles, which affects the structure of the face, skull, and teeth.
It is also distinguished by a high, prominent forehead, and shorter height compared to other family members. Milly Shapiro disease is incurable.
What is Milly Shapiro Syndrome?
Milly Shapiro Cleidocranial Dysplasia is different from the Shapiro syndrome which is a rare neurological disease with symptoms such as excessive sweating, polydipsia, hypothermia, nausea, and more.
Milly does not suffer from Shapiro syndrome; what she has is Cleidocranial Dysplasia.
Milly Shapiro disability is not a hindrance to her desire to follow her dreams. The young actress does not consider this to be her flaw.
She has come to terms with this condition. It is almost impossible to forget Milly Shapiro face as she has an adorable baby face even as a teenager.
Milly Shapiro net worth
The actress has a net worth estimated to be around $200,000.
Interesting facts about Milly Shapiro
The actress loves horror movies, the Harry Potter universe (she prefers Slytherin among the four houses), and anime (The Dark Butler, The Jellyfish Princess, and Tokyo Ghoul).
Milly attends festivals dedicated to anime culture, and she is interested in Japanese street fashion Harajuku.
She is an avid reader. She likes books of completely different genres.
She also likes fishing, boxing, swimming, and cooking.
She loves to spend her weekends with her two dogs.
Milly doesn't like hummus.
For breakfast, she loves brewing English tea with a few bags per cup.
Her favourite number is seven.
She has a slim figure. Her height is about 147 centimeters and she weighs 40 kilograms. She has blue eyes and blond hair. Her shoe size is 37.
The actress is active on social media, where she posts personal photos, communicates with fans, and thanks them for their invaluable support. She is on Instagram as @millyshapiro and on Twitter as @MillyShapiro. She as also on TikTok, and she has over 70k followers on the platform.
Milly Shapiro is a rising star in Hollywood. She is known for her unique spirit and passionate approach to the characters she plays. We hope that the next phase of her career is filled with greater achievements.
Source: Legit.ng