Milly Shapiro is a theater actress who debuted in the horror film Hereditary in June 2018. Earlier she received accolades, and the Tony Honor for her participation in the Broadway play Matilda The Musical. Who is this young lady and how did she manage to become famous so fast?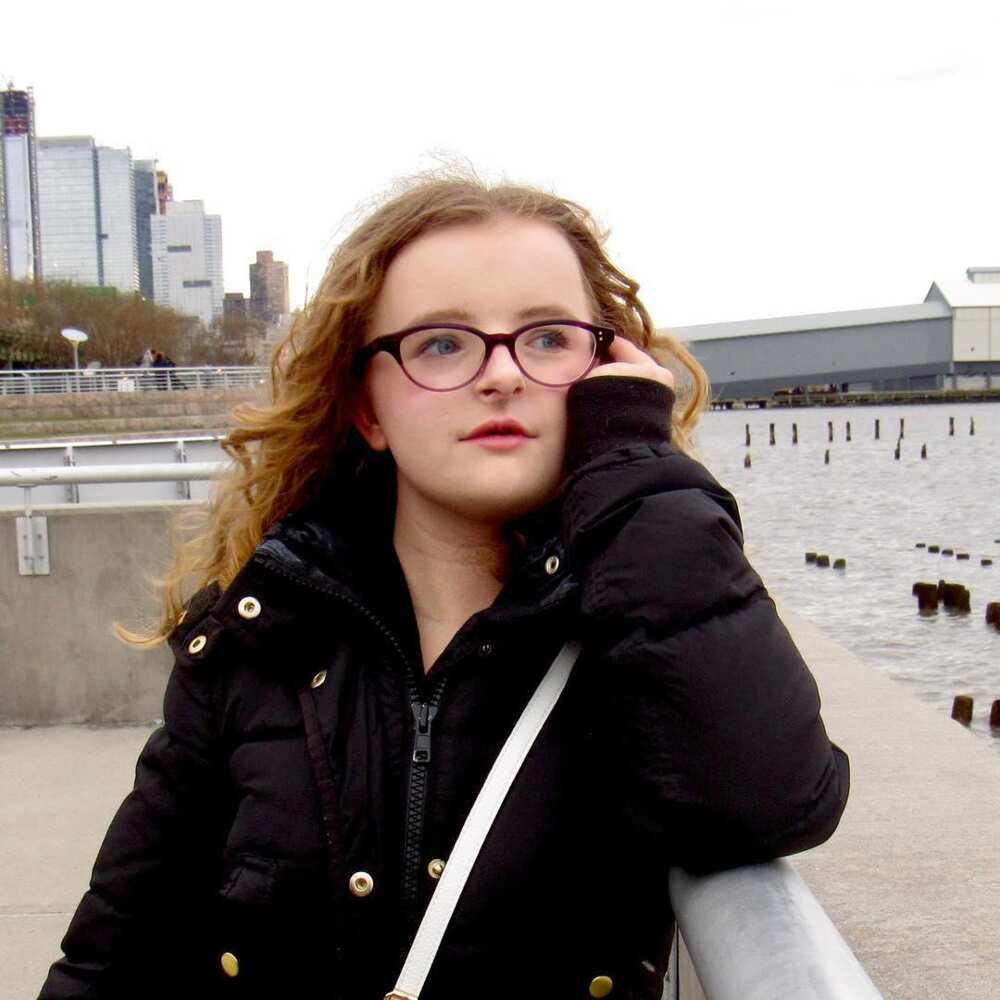 This girl is so unique that it is impossible to forget her sweet baby face. It seems that she has a great future because she has showed extraordinary talent in the early stages of her acting.
Milly Shapiro age and bio
Amelia Lee Shapiro or simply Milly Shapiro was born on July 16, 2002, in Tampa, Florida. Her parents Eric and Michelle Shapiro are business owners in their hometown.
Being inspired by older sister Abigail Shapiro, who is the vocalist and actress in Broadway, she started singing at the age of 3 and performing at 5. Talking about her early education, Amelia attended a Montessori school for up to 10 years. Then the family moved to New York to continue her career as an actress and singer.
Since then, Shapiro sisters have organised a series of concerts at the 54 Below restaurant in support of the anti-bullying movement. The girls performed a duet called Sisters Shapiro. They composed and released their debut album Live Out Loud: Live at 54 Below, and then the minion Time Reveals.
READ ALSO: Alexis Knapp: height, baby daughter, movies
Milly's acting career began in 2013 with participation in the musical Matilda The Musical in the Sam S. Schubert Theater, where she played the lead role Matilda Wormwood alongside such actors as Oona Laurence, Sophia Gennusa, Bailey Ryon. For this role, the young talent was nominated for a Grammy Award and won the Tony Honor for outstanding achievements in the theater.
In general, the musical was nominated for 12 awards, winning in the following categories: Best Musical, Best Scene Design, and Best Light. In 2016, the girl performed Sally Brown in You're a Good Man, Charlie Brown of the York Theater.
Milly Shapiro Hereditary
In 2018, the young actress made her big debut in the horror film Hereditary. Western film critics have called the movie the most horrible horror of the 21st century, and Milly`s heroine — one of the most remarkable children-filmmakers on a par with Samara Morgan from Bell, Regan MacNeil from Exorcist and Omen.
Shapiro played the key role Charlie Graham, who is a troubled adolescent with strange hobbies. She paints pictures of her recently deceased grandmother, and cuts a dead pigeon's head with scissors to turn it into a toy.
Emotionally removed from her overly caring mother, Annie (played by American actress Tony Collette) and her older brother Peter (Alex Wolff), she is ​​empty-eyed, chewing on a chocolate bar and making an eerie "click" sound of her tongue, and often wanders alone. The girl said the following about this character:
Charlie is kind of an other-worldly being, she very strange, very odd, and her whole way of thinking is kind of off. I was really interested in playing this character because she does think in an entirely different way so I had to kind of create a whole new mindset to step into.
The film Hereditary is a horror film with elements of a detective story about the influence of the past on real life when family secrets are revealed, and various "skeletons in the closets" of the inhabitants of a seemingly quiet and peaceful house rise to the surface. The film is written and directed by Ari Aster.
Milly Shapiro disability
The girl suffers from a rare genetic disorder called Cleidocranial dysplasia. A popular actor Dustin Henderson(real name Gaiten Matarazzo), who played in the fantastic series Stranger Things has the same condition.
A patient with the illness is born with missing or underdeveloped clavicles, which affects the structure of the face, skull, and teeth. Also, it is distinguished by relatively low growth compared with relatives, weak pelvic bones, and a high, prominent forehead. This disease is incurable.
Milly does not consider this to be her flaw. She has long come to terms with this condition and considers her appearance to be memorable and unusual. The girl came out with a protest against the bullying of other people with such a disease. Amelia leads an active lifestyle and does not pay attention to the problem.
Milly Shapiro interesting facts
There are also many positive facts from the personal life of the actress and singer. The girl loves horror movies, the Harry Potter universe (she prefers Slytherin among four faculties) and anime (The Dark Butler, The Jellyfish Princess, and Tokyo Ghoul).
Besides, Milly attends festivals dedicated to anime culture and is interested in Japanese street fashion Harajuku. In her social networks, you can see a lot of photos in thematic outfits.
The girl is an avid reader. She likes books of completely different genres. Milly also likes fishing, boxing, swimming, and cooking. She loves to spend the weekend with her two dogs.
Shapiro prefers everything except hummus. For breakfast, she loves brewing English tea with a few bags per cup.
Her favourite number is seven.
Millie has a slim figure. Her height is about 147 centimeters, and weight is 40 kilograms. She has blue eyes and blond hair. Her shoe size is 37.
After the success of the debut film, Shapiro managed to play the cameo role of Emma Rebecca in the comedy series Splitting Up Together. Now, the actress is in search of her ideal project for 2019 and continues to go to auditions actively.
Although there are very few roles in the filmography of the actress, she continues to develop her professional skills and is sure that she will always have something to learn. Milly Shapiro is known for her unique spirit and passionate approach to everything. The girl is active on social networks like Instagram and Twitter, where she posts personal photos, communicates with fans and thanks them for their invaluable support.
READ ALSO: Elise Jordan MSNBC bio: age, height, measurements, husband