- Niger Delta militant group sent a heavy blast and lighting into the sky in Rivers state over the weekend
- The group pledged to continue with the attacks until the human rights of the Niger Delta people are not observed
- The militants also warned President Buhari that they are planning to move the country from recession to depression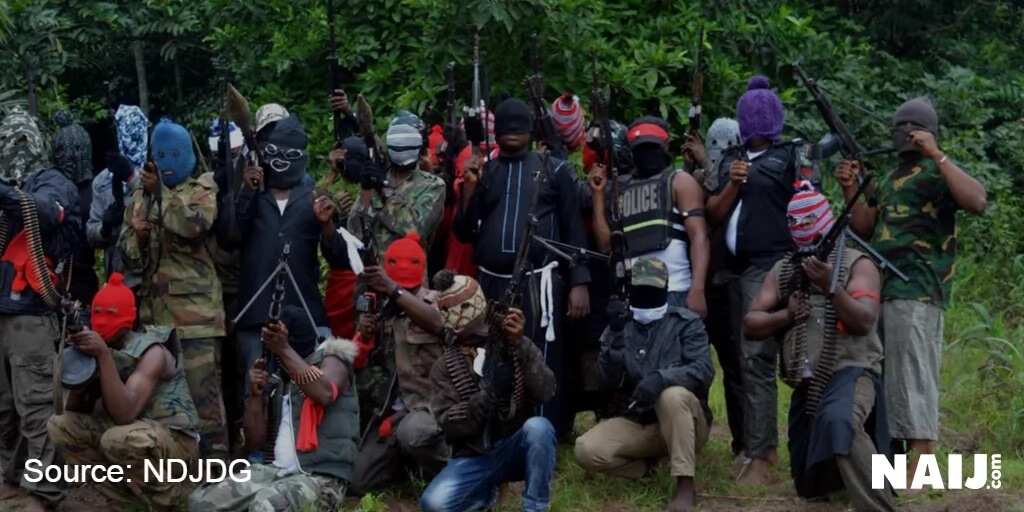 One of the Niger Delta militant groups blew up another oil facility at B-Dere in Gokana local government area of Rivers state.
Niger Delta Justice Defence Group (NDJDG) disclosed about this in a statement signed by its general commander and made available for Legit.ng.
READ ALSO: Niger Delta militants strike again, mock Buhari's army
The group said that the attack came as continuation of militants' campaign against the different human rights abuses.
The statement reads: "In continuation of our campaign against the various human right abuses, rape, maltreatment and the deliberate harassment of the innocent and peace loving NIGER DELTA PEOPLE orchestrated by the Nigerian government, we (Niger Delta Justice Denfence Group, NDJDG) sent a heavy blast and lighting into the sky last night, 9.30pm at B-Dere in Gokana local government area of Rivers state Nigeria.
"This is our warning to the Buhari-led FG to stop harassing innocent and law abiding sons and daughters of Niger Delta and commence talks with us. "Else, we shall continue our offensive (OPERATION CROCODILE TEARS) against the government and force the country's economy from its current recession status to depression. Justice must prevail!"
READ ALSO: Buhari's administration cannot be trusted
Another militant group Niger Delta Greenland Justice Mandate, on September 26, said it would not join in the ceasefire declared by other militant groups in the Niger Delta owing to the alleged insincerity of the President Buhari-led administration.