- Some Boko Haram militants, soldiers and Civilian JTF members died in Borno towns of Miyanti and Dareljamal after an ambush on the army by the insurgents
- The Army also quelled an attack on a community in Kaduna state on Sunday, September 25, killing many insurgents and arresting six suspects in the fight.
- Four local vigilantes were killed in the Kaduna attack while 9 others were wounded and the military is trailing the fleeing insurgents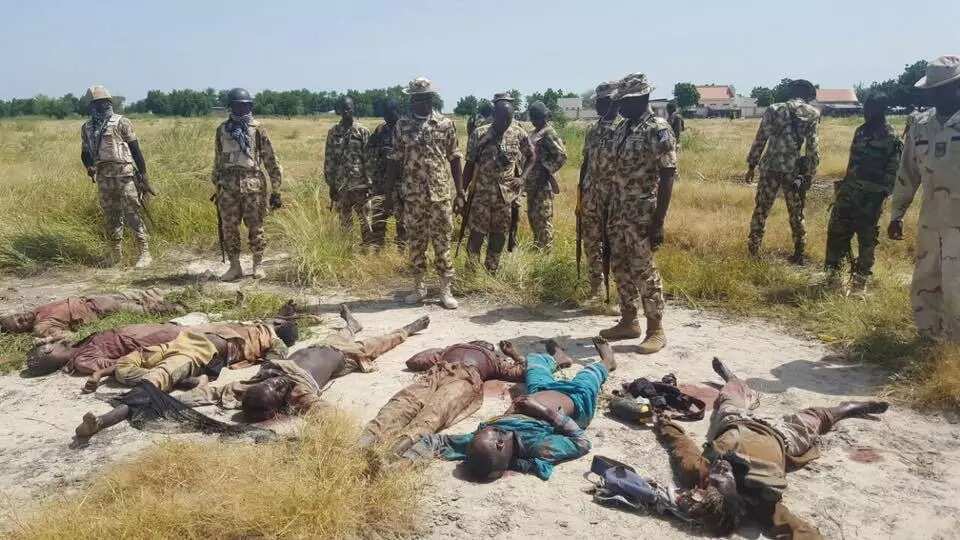 The Nigerian Army has killed not fewer than three Boko Haram militants in Borno state on Sunday, September 25 and arrested another 6 in Kaduna state.
According to an initial statement from army public relations officer, Colonel Sani Kukasheka Usman, the Nigerian troops were ambushed by Boko Haram militants at some towns in Borno state but three of the insurgents lost their lives in the process.
READ ALSO: Biafra Agitation: Judge allegedly commits terrible blunder on Kanu's case (photos)
But the army also suffered losses that included that of an unnamed officer and three soldiers.
He wrote: "Today, troops of Operation LAFIYA DOLE on administration patrol from Maiduguri encountered an Improvised Explosive Device (IED) and ambush between Miyanti and Dareljamal, Borno State.
"The ambush was cleared and 3 Boko Haram terrorists were killed by the troops. They also recovered a Machine Gun, 1 AK-47 Rifle and some quantity of ammunition.
"Unfortunately, we lost an officer and 3 soldiers, while 16 soldiers and 3 Civilian JTF sustained injuries during the encounter.
"Similarly, 2 vehicles that entered the IED were badly damaged. The wounded have since been evacuated and are in stable condition."
In a separate statement late on Sunday, September 25 night, Col. Usman confirmed the arrests of six Boko Haram suspects as the Army clashed with insurgents in Godogodo community in Kaduna state.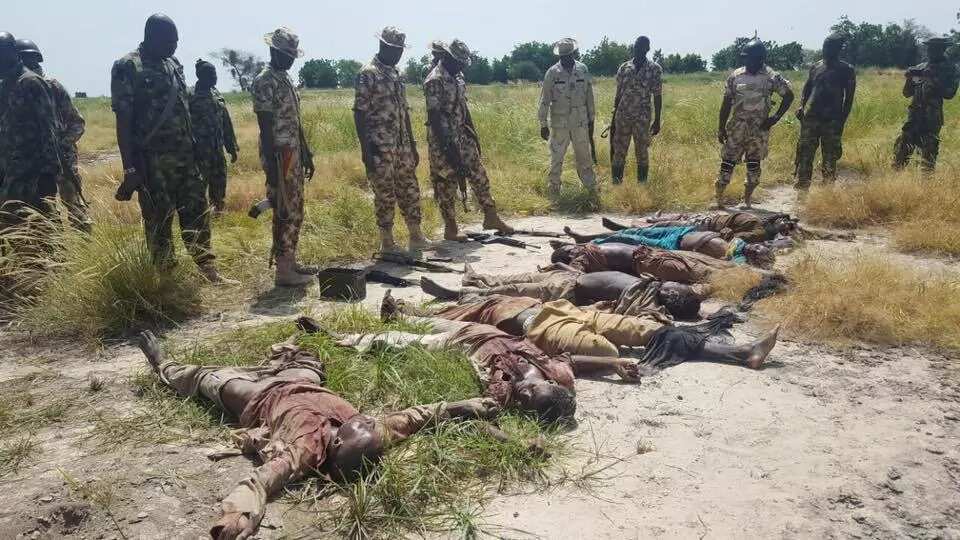 Working with the police, troops inflicted heavy casualty on militants that carried out a coordinated attack on the town.
Usman's statement read: "Gallant troops of 1 Division Nigerian Army in a joint operation with personnel of Nigeria Police and local vigilantes have today repelled a coordinated attack by gunmen on Godogodo town of Kaduna State.
READ ALSO: Nigerian Army reacts to Shekau's new video, says Boko Haram leader unstable (watch video)
"The troops fought off the attackers and pursued them into the bush inflicting heavy casualty on them.
"The combined security team also arrested the following 6 suspects : Lawal Gambo, Yau Sani, Bala Amodu, Ibrahim Maikaru, Abubakar Hassan and Bashiru Isa Ciroma.
"Unfortunately 4 local vigilantes lost their lives while another 9 were wounded in the course of countering the dastardly attack meant to cause more loss of lives and properties of law abiding citizens of Godogodo Town.
"The situation in Godogo Town has since returned to normalcy and efforts are ongoing to track the remaining fleeing bandits.
"We wish to reassure citizens that the effort to safeguard life and property will continue with renewed vigour until all the rampaging bandits are brought to justice."
Meanwhile, the Nigerian Army has confirmed that another clash between soldiers and members of the Boko Haram terrorist group on Sunday, September 25 left 22 insurgents four soldiers killed.
Two other soldiers were injured in the clash that happened along the Dikwa-Gamboru road in Borno state at about 1:00 am, according to a statement issued by Army spokesperson, Colonel Sani Kukasheka Usman.