Nigeria expecting 12 attack helicopter gunships from Russia
- The Nigerian Air Force (NAF) is getting battle ready to defeat Nigeria's adversaries
- NAF is securing alliances with friendly-nations in order to be on top of their game
- Chief of Air Staff, Air Marshal Saddique Abubakar made the plans of NAF known in a recent interview
The Nigerian Air Force is making efforts to boost its capacity in order to meet its responsibilities and to defeat Nigeria's adversaries.
Chief of Air Staff, Air Marshal Saddique Abubakar, who made the revelation yesterday, August 18 said it is necessary to tame all the security issues threatening the peace of the nation.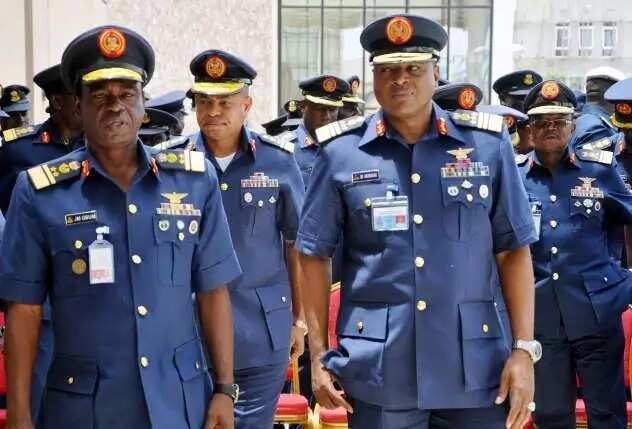 According to him, NAF is involved in the battle to rid the Niger Delta region of militancy and also to defeat the insurgency ravaging the North east.
READ ALSO: Nigerian Air force denies killing of Chibok girls by its fighter jets
Abubakar was speaking in a programme on NTA, where he informed Nigerians that NAF  would soon take delivery of 12 new Mi-35 attack helicopter gunships fitted with modern facilities to fire guided missiles at enemy positions.
Apart from the gunships from Russia, Abubakar said new set of fighter jets with ISR facilities would soon be delivered to NAF.
Commenting on the activities of Boko Haram terrorists and their camps in Sambisa, Air Marshal Abubakar said: "We have degraded the capacity of the Boko Haram terrorist's group to move around inside the Sambisa forest.
''The only problem we are having is that of the terrain. It is a big challenge because the place has been mined and troops cannot just move freely." 
Meanwhile, U.S Secretary of State John Kerry will visit Nigeria next week to hold talks with President Muhammadu Buhari and other senior government officials.
READ ALSO: Boko Haram kills five on reopened highway
The talks will focus on regional issues, the insurgency in the North east, human rights issues in Nigeria and Nigeria's dwindling economy, the State Department spokesman, John Kirby said in a statement yesterday, August 18.
Source: Legit.ng