Buhari directs to intensify oil search in north-east
- President Buhari orders further exploration of crude oil in the north-east
- According to Baru, NNPC would explore Chad basin, where Shell had made some indicative discovery of hydrocarbons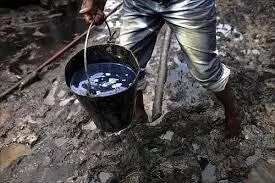 President Muhammadu Buhari has directed the Nigerian National Petroleum Corporation (NNPC) to escalate search for oil in the north-east.
Garba Deen Muhammad, the spokesperson of the corporation, in a statement unveiled on July 25, Monday, said it is stepping up measures to enable a successful operation in the current search for crude oil in the Chad basin and other parts of the inland substance basin.
According to him, this is in line with Buhari's order "for deeper inquest into the prospectivity of some hitherto neglected finds in some areas in the North Eastern part of Nigeria".
READ ALSO: Nigeria's crude oil production rises despite attacks
Maikanti Baru, the newly-appointed NNPC director, revealed this while receiving Governor Mohammed Abubakar of Bauchi state, who was on a courtesy visit to the NNPC Towers, Abuja.
He stated that the revived search for hydrocarbon deposits in the Chad basin would imply extended searching for some allocated and non-allocated oil blocks in the region with a view to establishing the magnitude of the deposits.
Bauchi governor said the reason for his visit was to felicitate with the new GMD on his nomination, stating that Bauchi state is proud of Baru and his accomplishments so far in the oil and gas industry.
On the other hand, Baru stated that the NNPC has identified specific oil blocks in the area (north-east) where some of the finds have been successful and would move to re-invigorate exploration based on new strategy.
He said: "You know that very close home, we have exploration activities on the frontier basin in the Chad and some areas close to the Kolmani river where Shell had made some indicative discovery of hydrocarbons and Mr. President has directed me to go into that area to reprove and further explore the magnitude and prospectivity of those finds.
"We are taking steps to re-strategize and get into those regions. We will re-invigorate the frontier exploration and see how they collaborate with NNPC that is holding Block A09 where some of the finds have been made and also Department for Petroleum Resources, DPR, for the other blocks that have not been assigned."
READ ALSO: ExxonMobil declares force majeure in Niger Delta
Baru called on the Bauchi governor to cooperate with the NNPC in tackling the threat of pipeline vandalism.
The GMD of the corporation asked that peculiar attention be given to reported line breaks along the NNPC products supply line from Jos-Gombe-Bauchi enroute the Maiduguri depot.
Nigeria's oil production in free fall following more attacks of the Niger Delta militant groups.
Attacks are now coming on a weekly basis, and each time, they succeed in taking more oil off line, making the government to accept that half of the country's oil production is now effectively halted.
Nigerian petroleum officers said that over one million barrels per day of production has been lost.
Source: Legit.ng