Tears flow in Enugu as Fulani herdsmen wreak havoc (photos)
From the Enugu state university teaching hospital, Park Lane, to Bishop Shanahan hospital in Nsukka, dejected families struggled to hold their emotions on seeing their loved ones battle to stay alive.
Just before one of the victims was wheeled into the theatre for a major operation, his family held hands together for about three minutes, praying fervently for a miracle to happen. What happened some days before had put him in such critical state.
Ukpabi Nimbo community, Uzo-Uwani local government area, on Monday, April 25, became a red spot on the world map when rampaging Fulani herdsmen struck, killing scores of villagers, mostly farmers, and destroyed properties worth millions of naira in the process.
Sources in the area had put the casualty figure at 40, although the police were yet to give a definite figure. However, Nwodibo Ekechukwu, the Enugu state commissioner of police, became the latest casualty of the incident on Tuesday, May 3, as the federal government ordered his immediate transfer and replacement by Emmanuel Ojukwu.
With a joint team of police officers, army and other security agencies stationed at strategic areas in the agrarian community, Legit.ng's reporter and photo journalist travelled on the back of a motorbike driven by a brave villager to Ukpabi Nimbo community in Enugu.
READ ALSO: Fulani herdsmen: We didn't abandon Enugu villagers – Police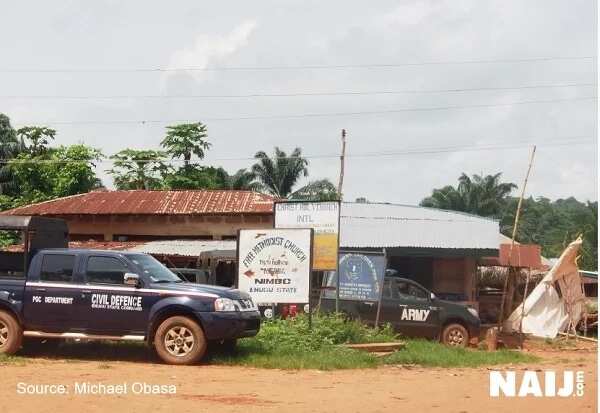 Onyebuchi Desmond Ezugwu, aka Olowu, the motorbike rider who doubled as a tour guide, pointed out what used to be the family home of the priest of Christ Holy Church, Nimbo, which was burnt down by the rampaging herdsmen.
The bungalow was gutted by fire, and a Honda car parked outside the house was also burnt. Five burnt generators and three motorcycles could be found in various parts of the building.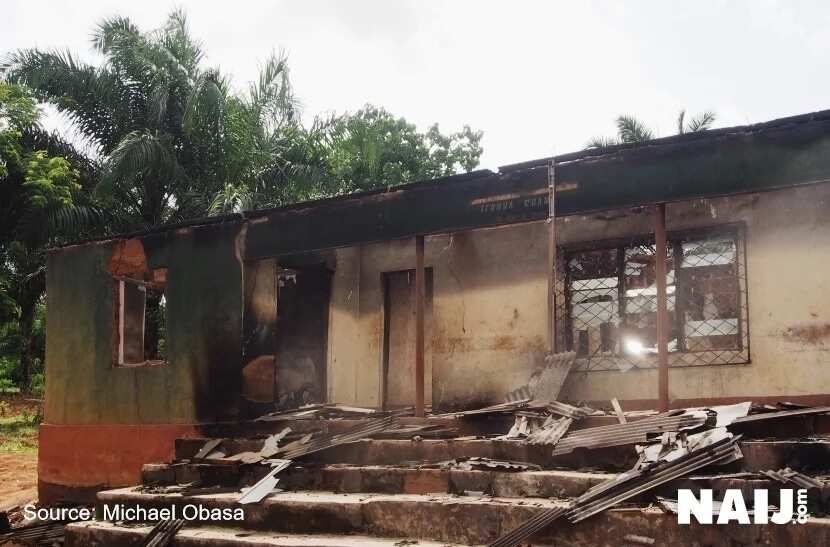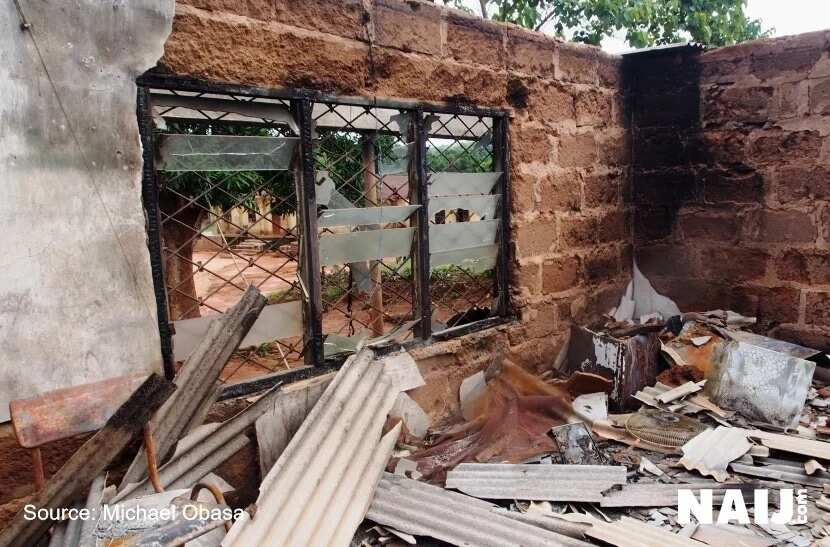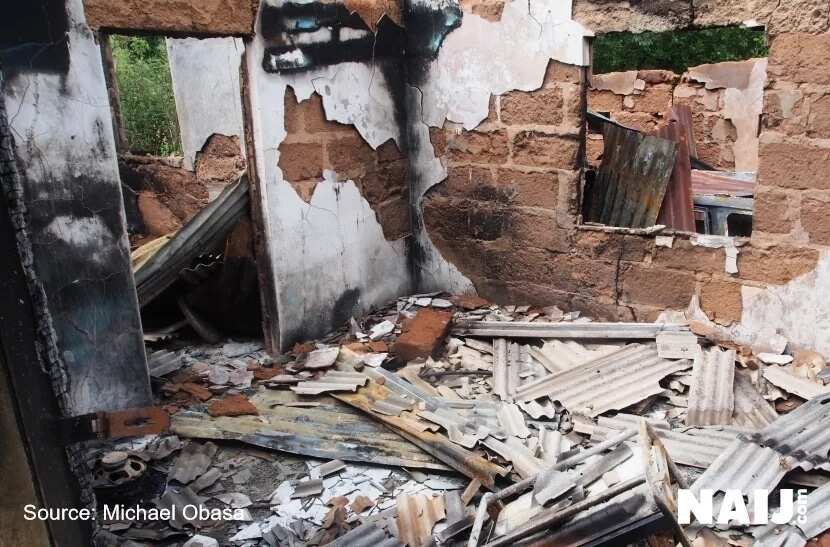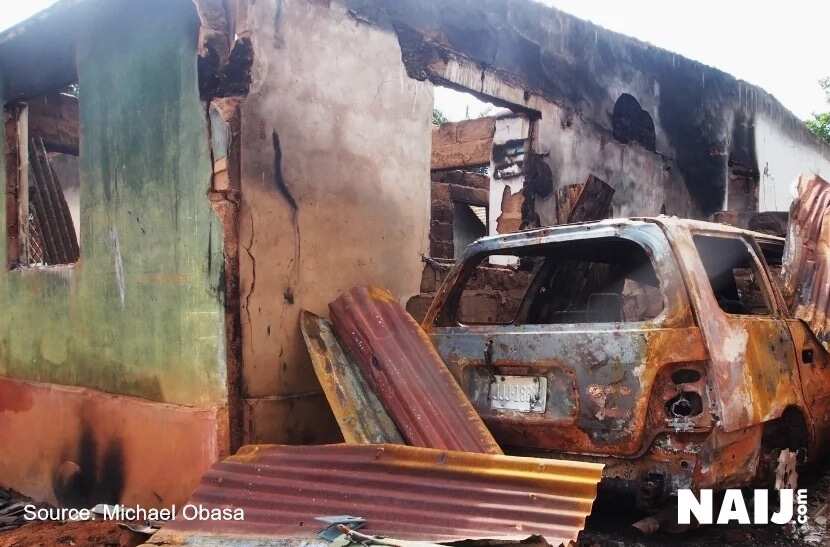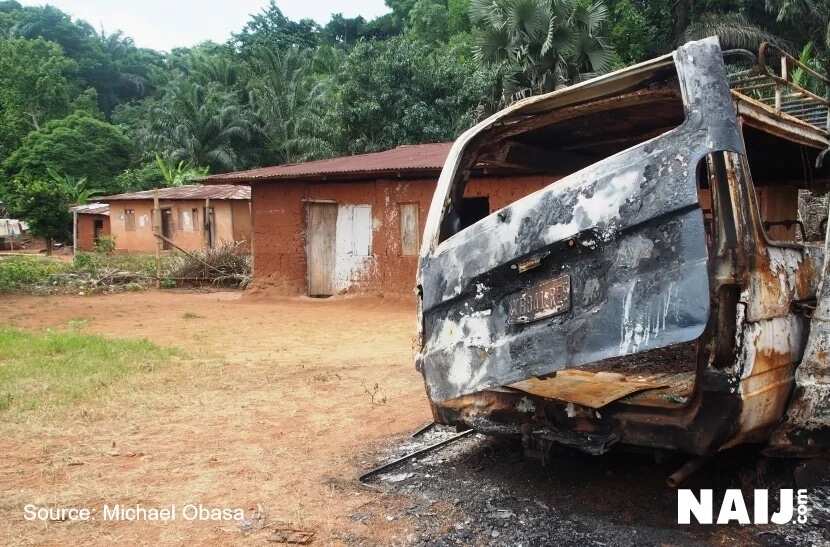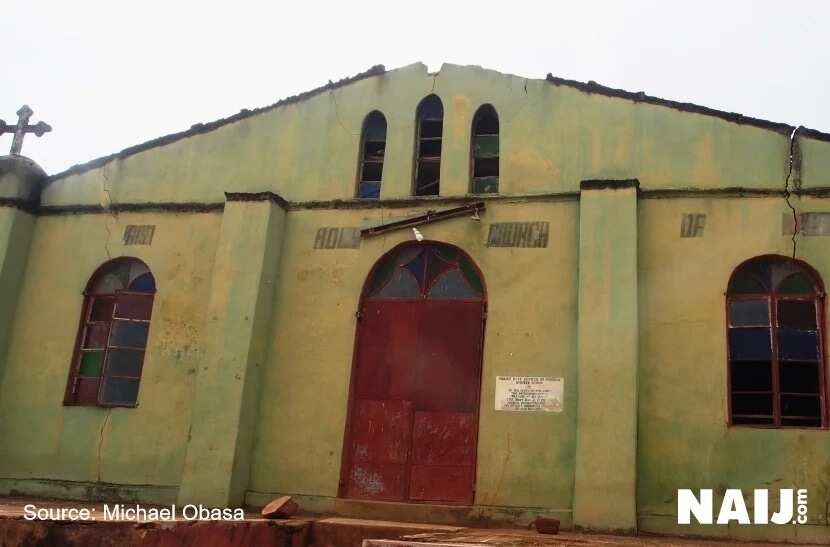 Ezugwu said: "The Fulani herdsmen around 6.30am that morning stormed our village and from what I saw they were more than 100. They rushed to our church house where Father (priest) and his wife were. They made series of attempt to get the door open but to no avail and this was when they got very angry and decided to burn down the house.
"On noticing there was a Honda car parked just beside the house, they extracted fuel from the car and burnt down Father's house alongside the church bus. They left afterwards but as God will want it, Father ran out with his wife unhurt without the herdsmen noticing them."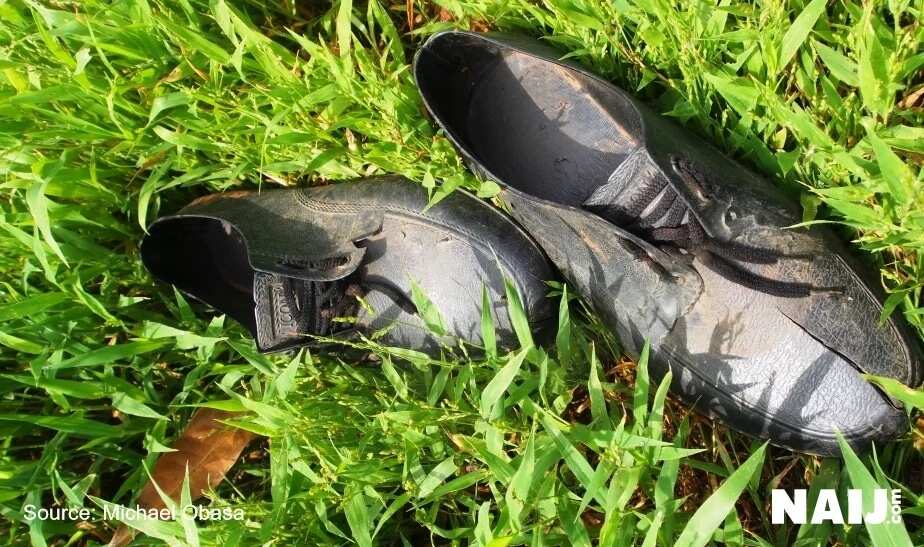 Recounting the hour the attackers descended on his village, Ezugwu told Legit.ng: "The first man they got, they slaughtered him and took his heart and he is in the mortuary now. These people that came to attack us were not killing women and children, they came for the men. From those of the ages of 16 years and above, many of them were killed silently."
John Eze, a civil servant, told Legit.ng that he had returned to the community the weekend before the incident and was on his way back that Monday when the herdsmen struck. Eze told how he lost two of his brothers and an in-law to the rampaging Fulani herdsmen who drove many villagers from the village.
"As early as 6.30am that morning, there was this loud noise and when many of us rushed out, we saw the Fulani herdsmen with guns and machetes running towards. We ran into bush while some of us ran to the top of the hill from there to another village. But the Fulani men were still giving us a good chase and they caught up with some of us.
"They killed my elder brother, Sylvanus Eze, when they caught up with him. They also killed my younger brother Patrick when they met him on the way. He was slaughtered likewise my in-law. The Fulani men injured many people with their cutlass that day. The attack took about three hours."
Speaking on the history of the conflict between the herdsmen and the community farmers, John Akor, Agaba Idu 1 Nimbo (the king of Nimbo community) told Legit.ng how the Fulani herdsmen have clashed with farmers in the past, and how the Nimbo women were subjected to sexual assault by the attackers.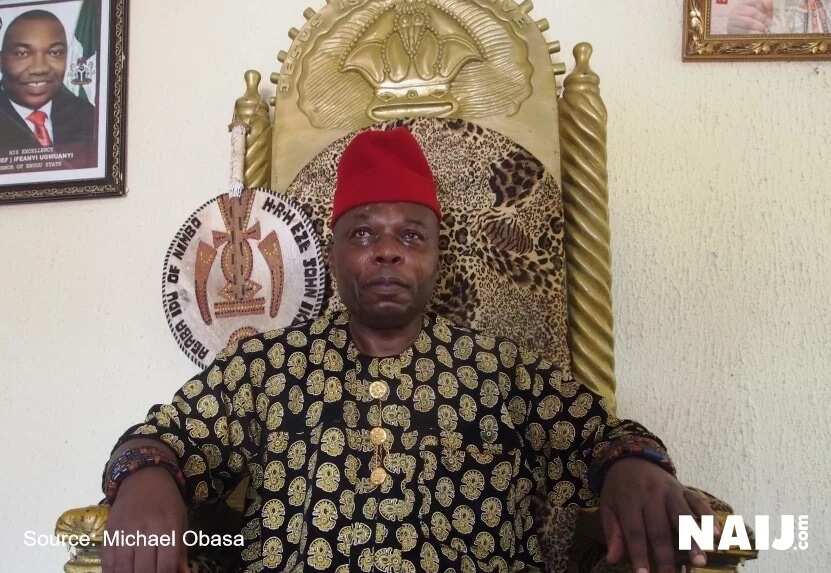 He said: "There have been lot of clashes between individual farmers and the herdsmen because we share similar boundary with Kogi state and that's where they come from. When they come, the first point of call is our farms. They destroy these farm lands with impunity; they attack the farmers and rape our women.
"I have personally held several meeting with the Fulani herdsmen in the past to ensure there is no bloodshed, but that broke down along the line before the attack on Monday."
On where the police were in the early hours of the Monday morning when the herdsmen struck, ACP Monday Kuryas, the area commander in Nsukka, redeployed to Nimbo said: "Police didn't abandon the villagers, this is Nimbo and it is a large community. Aside Nimbo, we have Ada-Nimbo, Onu-Eke Nimbo, Abbi, and many other areas. Policemen were deployed to all these areas but the attackers came from the bush and it was during day break. Most of the casualties were in the farm.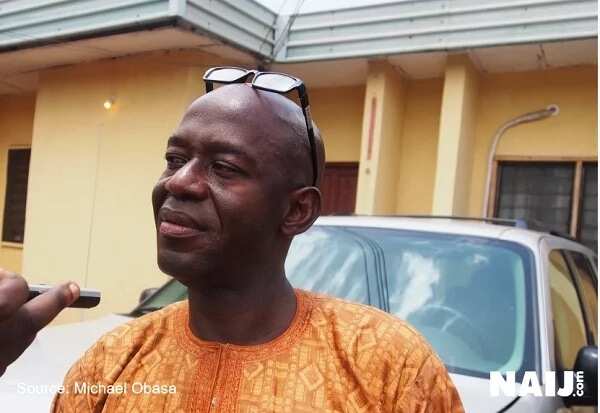 "But that doesn't underscore the fact that police were there. They repelled them, even some of the locals will tell you this."
An elderly man who looked to be in his late 70s or early 80s told Legit.ng how the Fulani herdsmen put his running skills to test that early Monday morning: "I ran to the top of the hill that morning. They ran after me but I was too fast for them."
In an emotion laden tone, he continued: "I got back to my house hours after they had gone but I couldn't find my wife and children. They are still missing as we speak."
A history of massacre
Studies have shown that Fulani people are one of the largest ethno-linguistic groups in Africa, numbering approximately 40 million people in total. And according to Senator Ben Murray Bruce of Bayelsa state, the Fulani herders have wreaked more havoc than the deadly Boko Haram sect.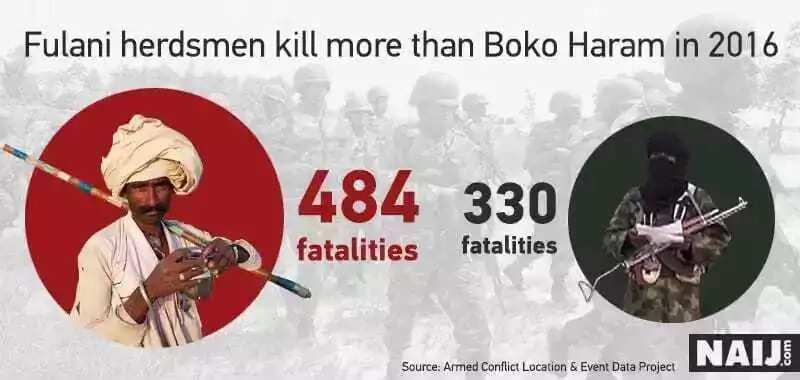 Ben Bruce said: "It will shock Nigerians to know that more people have died as a result of Fulani/indigene clashes in the last half a decade than have died from terrorist activity occasioned by the Boko Haram terrorist sect. As horrific as individual Boko Haram activities are, they pale in comparison to the barbarous slaughter of over 500 men, women, and children in a single night of terror at Dogo na Hauwa village of Plateau state of 2010."
Eight local government areas in Benue state, comprising Agatu, Buruku, Guma, Gwer-West, Logo, Kwande, Gwer-East and Katsina-Ala, have been under recurrent heavy attacks from the Fulani herdsmen, with Uzo-uwani in Enugu joining the list after last month's attack.
Between 2011 and 2014, suspected herdsmen attacked dozens of communities in the four local government areas of Guma, Gwer-East, Buruku and Gwer-West, some more than once.
In December 2015 six people were killed at Idele village in Oju local government area. A reprisal attack by youths in the community saw three Fulani herdsmen killed and beheaded. The Oju killings were followed by an attack this January at Ucha Nyiev village, near the Federal University of Agriculture, Makurdi.
Residents of the beleaguered Benue state were yet to get over the aftershock of Ucha Nyiev when the suspected herders struck again, this time in Ega Adapati, an island in Agatu local government. It was gathered that before this last attack on the wider Agatu, local intelligence units had raised the alarm that the herdsmen were mobilizing weapons and men at Loco, a border community in Nasarawa state.
Reports state that between 300 and 500 people were murdered in Agatu and other communities of Benue earlier in March.
READ ALSO: Our women were raped by Fulani Herdsmen – Enugu monarch
How Fulani problem appeared
The Fulanis have long been passing through several states en route to markets all over Nigeria. They follow established grazing routes and as long as their cattle had grass and vegetation to feed on, they coexisted in peace with communities along their grazing routes.
But as Nigeria became increasingly urbanised, it was only a matter of time before the increase in population put pressure on local communities to use the ancient Fulani grazing routes for farmland or residential purposes.
It is the competition for the scarce commodity of land that has brought about friction between the Fulanis and the indigenous people along these reserves.
Are the Fulani men terrorists in the guise of herdsmen?
Ezugwu, the motorbike transporter, told Legit.ng when asked about the type of weapons the Fulani herdsmen had: "Those men didn't look like the normal men we see on our farms; their weapons are really scary. I think they were hired, they are not the same herdsmen in our community."
Are the attackers really hired to carry out these acts? Are they truly Fulani herdsmen or could they be terrorists masquerading as herdsmen?
These were some of the issues the Nigerian National Assembly sat to thrash out last week during a plenary session. Hon Chukwuemeka  Ujam, representing Nkanu East West, Enugu state, moved a motion at the House of Representatives to check the activities of herdsmen who in recent times had reportedly attacked communities in Enugu, Anambra, Benue, Ondo, Taraba, Nassarawa and other states.
The motion was in response to the bloodshed which happened at Ukpabi Nimbo. Hardly had the lawmaker from Enugu ended his presentation when another lawmaker Honourable Aminu Shagari rose to his feet to challenge the submission of his colleague. Shagari, a Fulani man representing Shagari/Yabo constituency, Sokoto state, rejected the conclusion that the notorious raiders were Fulani herdsmen.
"Foreigners have invaded our countries in the guise of Fulani Herdsmen," he said.
This response echoes the views of those who rejected Fulani herdsmens' involvement in the recent attack carried out against Chief Olu Falae, the former secretary to the federal government,
Legit.ng recalls that the Association of Fulani Chiefs and the Miyetti Allah Cattle Breeders Association of Nigeria had said Falae was not kidnapped by "genuine" Fulani herdsmen.
So who are the dangerous herdsmen terrorizing Nigerians, and in what ways are they different from the Fulani herdsmen from the northern part of Nigeria?
A likely solution to this menace
The Fulani herdsmen attack follows reports of non-stop friction between the farmers and herdsmen over cattle rustling and trespassing onto farmlands. But according to ACP Monday Kuryas, the area commander in Nsukka, redeployed to Nimbo community, Nigerians must learn to live together.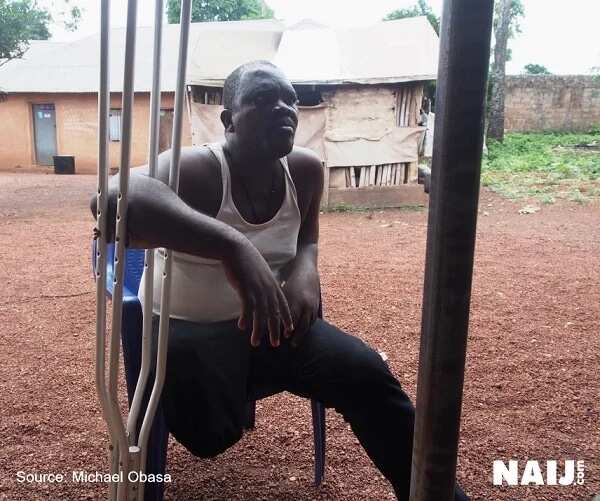 "Both the herdsmen and the farmers must have to faction out a way of continued dialogue. If there are areas of friction, they should be amicably resolved. There is no need for killing one another. We have security agencies here and if there is any infringement on anyone a right, what they need to do is to report to the security officers and they will take it from there," he told Legit.ng.
Senator Ben Bruce has suggested solutions to the Fulani herdsmen attacks also: "We should restore the ancient grazing routes of Fulani pastoralists. Both the federal Ministry of Agriculture and the federal Ministry of Lands should work with the apex Fulani pastoral association, the Miyetti Allah Cattle Breeders Association, to revive these routes and where there have been farms or houses built on these routes, alternative routes must be found.
"Next, the federal Ministry of Agriculture should give a deadline of no less than 10 years to the Miyetti Allah Cattle Breeders Association to convert from pastoral cattle rearing to the modern business of cattle ranching in which cattle are reserved, reared and bred at a central location suitable for such purposes.
"Measurable timelines should be agreed with the Miyetti Allah Cattle Breeders Association for progress towards this objective and penalties for failure to progress towards these timelines must be clearly spelt out."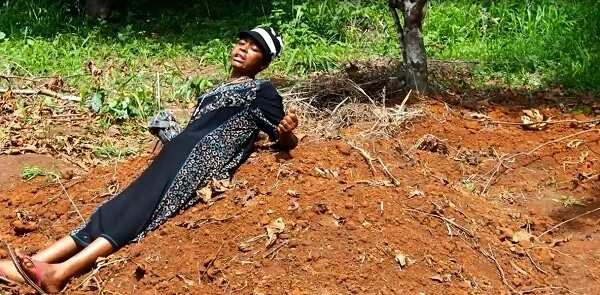 President Muhammadu Buhari has been accused of adding his silence to the violence by the Fulani herdsmen.
However, the president recently broke his long silence, placing action ahead of words. On Wednesday, April 27, Buhari condemned the attacks by the Fulani herdsmen, and directed a crackdown on the killers.
The president gave the order asking security chiefs to secure areas where the suspected killer herders are functioning.
Although President Buhari has issued a strong directive to security operatives, something has to be done to stop the killings by the Fulani herdsmen and it has to be done quickly.
Source: Legit.ng