- NBM has reacted to the death of the Oba of Benin
- The group's president described the late monarch as an epitome of truth
- Eyeoyibo says the group's history will always reflect the efforts of the late Oba
Popular Pan-Africanist group Neo Black Movement of Africa (NBM worldwide), through its president Bemigho Eyeoyibo, has described the passing away of Oba of Benin, as a great loss to the entire Black race.
President of the group Bemigho Eyeoyibo at a press conference, extended condolences and sympathies of the members of NBM of Africa worldwide to the family of Omo n' Oba N Edo Uku Akpolokpolor, Oba Erediauwa, the crown Prince Eheneden Erediauwa, Edaiken n' Uselu and to the people of the great Bini kingdom.
Oba Erediauwa's life spanned from before the birth of democracy in Nigeria through its emergence as a critical force within the Nigerian economy and a leader among Nigeria kings and the Africa nations.
According Eyeoyibo on behalf of the group, the late Oba was a symbol of truth, peace and justice.
He said: "He has been fully committed to truth, peace, justice and equality even during the days of the military era in Nigeria. Oba Erediauwa took bold steps in advancing the peace initiatives amongst political leaders, government dignitaries and ethnic communities, endeavours that will outlive him as an enduring contribution to the quest for peace and development in the Nigeria nation."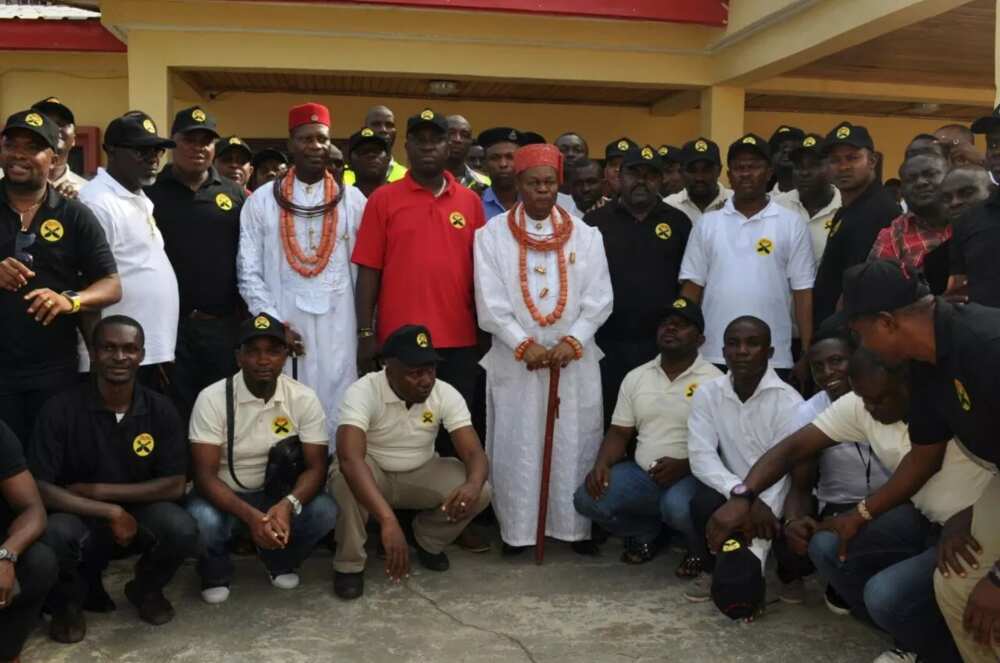 The NBM president however stated that the late king's labour, during his active days will always be reckoned with.
"His service as a permanent secretary in the Nigeria ministry of health before being crowned as an Oba will reflect his service to humanity and the Nigeria nation.
"At home, Oba Erediauwa's vision was dedicated to the development of his people and to greater achievements and engagements with the outside world. His commitment to the education of the Edo people can be seen in his strides and contribution to Education.
"He also served the then Bendel state as a commissioner of Finance and all of these will allow NBM of Africa justify our statement of describing him not just as an Icon but also, the Oba who served his people."
"This beautiful character and leadership can be traced to the doggedness and fatherly character of his father Oba Akenzua whose prayers still lead our noble movement.
NBM of Africa found love with him as one of our first patrons in 1977 where he prayed that the "death of NBM of Africa shall never be heard". Our relationship, loyalty and reverence to the palace of Bini kingdom which means a lot to us will continue to grow as long as NBM lives.
Eyeoyibo said: "Today we commiserate with the entire Benin kingdom and the good people of Edo state. It should be known that our history as a movement will not be completely written if we leave out the role Benin city and his wonderful people has played in seeing to our continuous growth over the years since our formation in 1977 to date.
"We have always found love with Benin city the cradle of black civilisation, we have always found love with the Oba's palace from the reign of Oba Akenzua till date, and we are convinced this love will continue. As a movement we will declare a seven (7) days mourning period in reflecting our heavy hearts," he said.
In another development the national publicity secretary of the organization, Comrade Melvin Udo, briefed the press on their forthcoming 38th annual national convention and 12th annual lecture series with the theme;reinventing African Resource Potentials for Global Economic Growth.
According to Udo, the event slated for the May 25-28, in Warri, promises to be an epoch making event for members, families and friends will come from all over the globe to celebrate one of the biggest black conscious groups in the world.
He concluded that speakers will also be drawn from all sectors and visitations will be made to monarchs and the IDP camp in Benin Edo state, to give back to society and also commiserate with crown prince and good people of Benin Kingdom; amongst other programmes lined up for this event.