7 reasons why Okada should be banned in Lagos
 - A good number of Lagosians and commuters are of the view that Okada (motorcycle used for transport business) should be banned in the state
- Babatunde Raji Fashola, the immediate past governor of Lagos state banned Okada riders from plying over 400 roads during his administration
- Some citizens of Lagos state who patronise Okada riders have met untimely death due to the reckless manner in which the motorcycle riders maneouvre major highways and disobey traffic laws
 - Neither unemployment nor the present economic crunch in Nigeria should be used as an excuse not to say good bye to Okada in Lagos
One of the most important factors which should be taken into consideration, when driving or riding on any road is the safety of the people being transported. The safety of lives, goods and commodities being conveyed from one destination to another, is highly important. It does not make any sense, when a commuter or a passenger is afraid he or she could sustain serious injury or other body deformities, just because the object for transportation exposes him or her to a high level of risk.
READ ALSO: How the face of Abeokuta express road is changing
Lagos state is the commercial and economic nerve centre of Nigeria. Nigerians from diverse walks of life are found in the state. They are involved in all types of business (either legal or illegal), in order to survive and eke out a living.
One of such means of livelihood is the Okada transport business. There is hardly any area or neighbourhood or community in Lagos, where Okada riders are not seen. Okada is ubiquitous just like micro-organisms.
From Ogba to Pen Cinema to Iyana Ipaja to Egbeda to Cele Ijesha or any of the five divisions of Lagos (Ikeja, Badagry, Ikorodu, Lagos Island and Epe), you will surely see Okada riders, carrying passengers from one to two or more in number.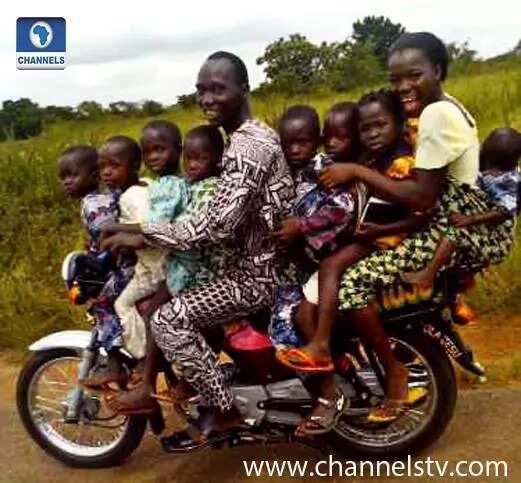 One interesting thing about the men who ride Okada is that over 90% of them are not indigenes of Lagos. A good number of them come from other states. For instance in Allen Avenue, Obalende, Festac and Satellite Town, more than 95% of the Okada riders in these areas are Hausas. While in areas like Ogba, Ojodu Berger and Aguda/Oke-Ira, the Okada riders are mostly Igbos/Calabar and a few Yorubas.
READ ALSO: Mile 12 market comes back to life after deadly tribal clash
Presently, some schools of thought believe the ban on Okada might increase the rate of crime in Lagos. However, those who hold this view are in the minority. What majority of Lagosians want is an outright ban on Okada in all the nooks and crannies of the state. The latter believe Okada has done more harm to the safety of commuters than good.
Lagosians moved from one part of the state to the other, before the gradual influx of Okada into the state in the early 1990s. Anyone who is sincere with himself or herself and has used Okada severally for transport and is still alive, would have sustained one form of injury or the other and will also attest to the fact that Okada should be banned.
1. High rate of accident
There are different safety measures the Okada riders do flout. The helmet which serves as a head safety device is hardly used by Okada riders nor their passengers. Before former governor Fashola banned Okada on some roads, Okada riders were known as Alejo Gbobi. (meaning visitors to the Orthopaedic Hospital in Igbobi in Lagos). It got to a point that Okada riders were always sending their passengers to the hospital on a daily basis, due to fatal accidents which occur with Okada and vehicles.
2. Violation of traffic laws
Okada riders are number one when it comes to disobeying traffic laws. They are often seen riding against the traffic. They are seen zooming past a moving vehicle unexpectedly. They risk their lives by riding on expressways and major highways. They even ride on pavement and walkways meant for pedestrians.
3. Constitute nuisance
Okada riders are more than menace on the road. They add no value to the aesthetics of Lagos. In some cases when traffic is building up, they are seen riding on areas demarcated or marked out areas meant for flowers and trees to beautify the state.
4. Indiscriminate parking
Since the motorcycle riders are their own lords, they leave their bikes on the road anyhow, even if the place has 'no parking' boldly inscribed there.
5. Criminal activities
Okada has been used to perpetrate all sorts of crimes. These include kidnapping, bag/handset snatching. Motorcycles are also used by thieves and armed robbers to intercept private vehicle owners. Some Okada riders sometimes are employed as political thugs during election period.
6. Not as an excuse for joblessness
Some people who are just citizens of Lagos, may be crying more than the bereaved, thereby opposing the ban on Okada. The question these people should answer is, has Okada business brought any tangible economic development to Lagos state since the it started?
7. Communication barrier
Sometimes, Okada riders and their passengers do have altercation, when one of the two does not understand the language of the other. For instance, a good number of Hausa riders do not understand English language. This therefore causes confusion if the passenger is trying to caution against a danger ahead, which the Hausa Okada rider may not get on time.
Source: Legit.ng