Army investigating killing of pro-Biafra agitators - Buratai
- Buratai urges soldiers to respect human rights
- Warns that the army will not tolerate anyone that is breaking the law
- Says soldiers are clearing insurgents from Sambisa forest
The Nigerian military is investigating the alleged killing of pro-Biafra protesters in Aba, Abia state, the chief of army ataff, Lt. General Tukur Buratai disclosed on Thursday, March 17 in Enugu.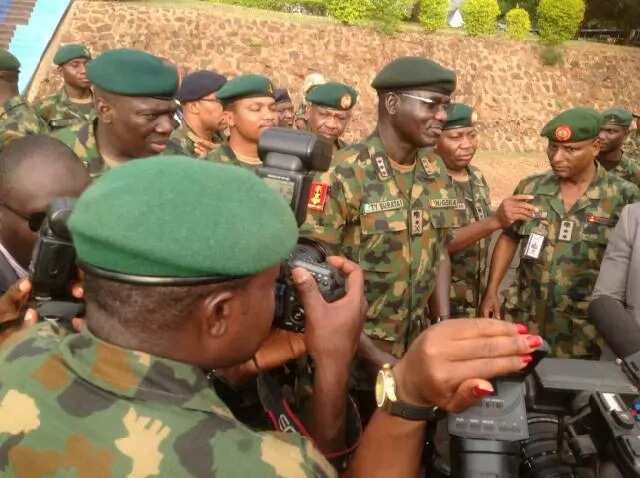 Buratai who was at the headquarters of the 82 Division, as part of his on-going familiarization tour of military formations in the country told journalist the army investigates such cases that involved the loss of lives.
READ ALSO: Asari Dokubo reportedly sends strong message to Biafrans
According to the Daily Post, the COAS charged military officers to respect human rights by holding on to the rules of engagement.
He said: "You must protect the dignity of every Nigerian, but we will not tolerate anyone that is breaking the law."
"In line with our rules of engagement, you must protect every decent citizen; when you are deployed, you must apply and observe them".
He however cautioned that where someone broke the law there will "be need for use of fire; in that regards, the issue of human rights does not apply".
"So, if you apply all the rules of engagement and you have course to open fire, you are protected by the constitution."
READ ALSO: Igbos have solution to Nigeria's economic woes - Victor Oye
On the on-going anti-insurgency war in the northeast, Buratai said: "We are in Sambisa now, we will continue to clear them. Sambisa is as big as Enugu and Anambra States combined."
In another development, the Nigerian Army has disclosed how an army officer suspected to be a major and one soldier were shot dead on Thursday, March 17, in Abonnema in Akuku-Toru local government area of Rivers state.
According to a statement released by Captain Eli Lazarus, the assistant director of army public relations for the 2nd Brigade stationed in Port Harcourt, the attack occurred at 11am today, when the soldiers were on patrol, according to Sahara Reporters.
Source: Legit.ng