IPOB alleges DSS fresh plot to eliminate Nnamdi Kanu
- The Indigenous Peoples of Biafra (IPOB) call on amnesty international and all relevant human rights organisations
- IPOB says its intelligence unit discovered fresh plots to kill Nnamdi Kanu
- IPOB refutes abduction theory purported by the DSS
The Indigenous Peoples of Biafra (IPOB) has alleged fresh plot by the Department of State Services (DSS) to eliminate its leader, Nnamdi Kanu, Today ng reports.
READ ALSO: Biafra: DSS says there are plans to abduct Nnamdi Kanu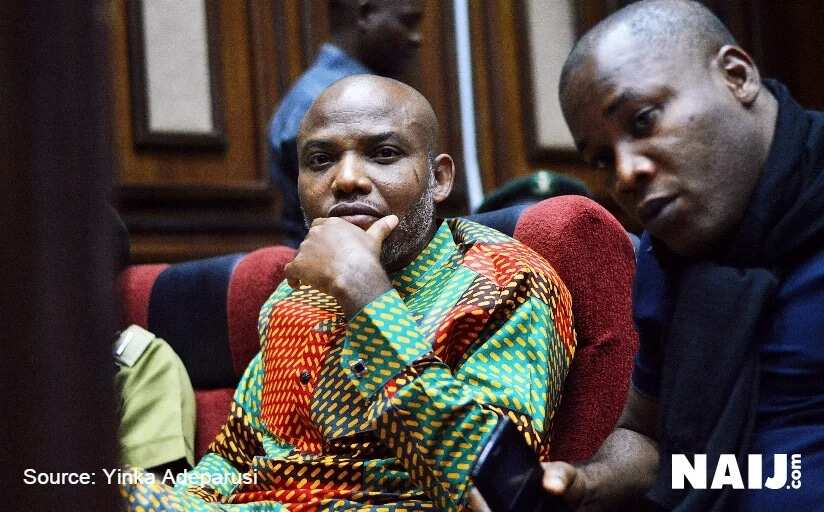 The pro-Biafra group in a statement issued on March 8, by its media and publicity officer, Comrade Emma Powerful, claimed that it was no longer safe for the director of radio Biafra to be attending court hearings because the DSS had concluded plans to eliminate Kanu through arranged auto crash on his way to court.
The group said it decided to raise the alarm following the findings of its intelligence unit.
"The plan was perfected by DSS and the federal government to be executed by prison authorities," IPOB said.
The pro-Biafra group intelligence unit alleged that plans to kill their leader through arranged accident was the reason the security agency alleged that IPOB was plotting to grab Kanu on his way to the court.
According to the group, the snatching theory was a distraction by DSS to execute their evil plan to eliminate the radio Biafra director and attribute it to auto accident, apparently to cover up their murderous deed.
"The IPOB worldwide family is calling on the international community, amnesty international and all relevant human rights organisations to take note and caution the FG and DSS (because) if anything happened to IPOB leader we will not take it lightly," the group said.
The pro-Biafra organisation who said the DSS and its pay master "are confused" in their trumped up charge against Kanu, questioned how a non-violent and harmless activists would storm a court premises heavily guided by well-armed security agents in order to snatch the IPOB leader.
"MASSOB and IPOB have no such intention, plan as we know that Kanu and others committed no offence against Nigeria," the group said, adding that "we depend and focus on divine justice of God."
IPOB reacting also to federal government decision to use masked witnesses to testify against Kanu, described it as act of "cowardice and unsteadiness."
Justice John Tsoho of the Federal High Court, who is presiding over the case against Kanu, granted an application by the Department of State Services (DSS) to protect its witnesses. The judge in his ruling said that the DSS application is not different from his previous order.
The judge threw out the defense counsel's argument that Section 351 subsection 1 of the Administrative Criminal Justice Act that complainant must be ascertained affects this matter before the court.
READ ALSO: Biafra: Nnamdi Kanu asks court to discharge cases against him
The radio Biafra director who has been in detention since October 14, 2015,is standing trial for felony, illegal possession of firearms and assisting in the management of an unlawful society alongside two others. Kanu, who is based in United Kingdom was arrested by DSS operatives immediately he arrived Nigeria.
Source: Legit.ng