- Seasoned saxophonist and pastor, Kunle Ajayi, speaks on humble beginnings and background in music
- Touches on his rough past and how drugs and a notorious environment could have negatively influenced him
Ace Nigerian instrumentalist and Pastor, Kunle Ajayi, speaks on past life as a kid in the ghetto, his conversion to Christianity and his journey into music as well as playing the saxophone.
In an exclusive interview with Punch, Ajayi talked about growing up in Mushin and attending a primary school in the community. He then proceeded to a tertiary institution where he read Music Education.
"I grew up in the Idi-oro, Mushin, area of Lagos and I attended Mushin Town Council Primary School before proceeding to Eko Boys High School. I later went to study Music Education at the College of Education, Ijanikin," he said.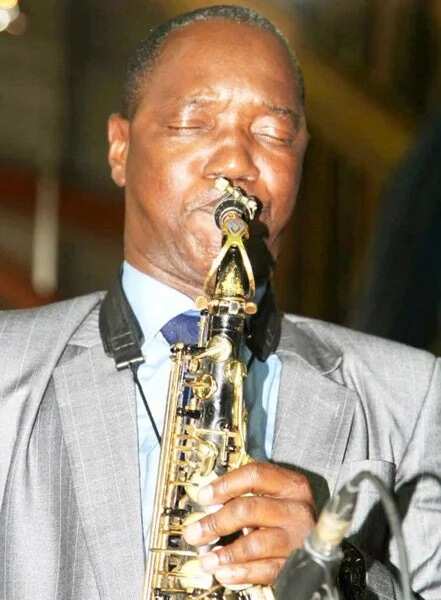 Growing up in the Akala neighbourhood of Mushin had its effects on him as a little boy, but the saxophonist and pastor was lucky enough to discover Christianity early enough.
He said: "Those days in Mushin, we had several cinemas that we used to visit almost every day of the week. We normally visited most parts of Mushin including the notorious Akala neighbourhood. But by the grace of God, the influence of the community didn't go down too long on me before He arrested me. I was in secondary school when I gave my life to Jesus Christ.
READ ALSO: Nigerian celebrity starts 'war' with Americans?
"There was a time my mother was very ill and I had to go round selling a lot of our belongings to make ends meet. There was a time I hawked cooked yam, soap and even palm oil. It was a very tough period in my life. I had to do all sorts of odd jobs just to survive. It is a period in my life I can never forget."
He further explained that he was able to survive the notorious Akala neighbourhood by God's grace.
He also credited his uncle for his Christian background and support.
He said: "Akala area is known for drugs and other sorts of criminal activities but by the grace of God, I was rescued from that environment. My uncle was a regular church goer. He used a free ride to church every Sunday and for me, the thought of riding in a car was a huge attraction I could not resist. So, because of this free ride, I started attending church every Sunday."
It was a total turnaround for a young man whose initial ambition was to become a boxer. He said he wanted to become a boxer  so as to fight back the hooligans who were a constant threat in the Akala neighbourhood back in the day.
He explained saying: "To be able to fight back, you had to acquire some boxing skills. For me, that was what I wanted to become in life.
"Honestly, during that period, I had no idea I was going to end up being a saxophonist. I learnt how to play the saxophone after I gave my life to Jesus."
He fully converted to Christianity at the age of 13.  Prior to that time he used to visit Fela's shrine and so fell in love with the act of playing the saxophone.
He also recounted suffering from a lung problem after which he got healed and devoted his life to serving God ever since.
He also explained how watching Fela play the saxophone influenced him.
He said: "Yes, he influenced me a lot and was a major inspiration for me taking up the saxophone. Fela blew the instrument with passion and from the first day I set my eyes on him, I fell in love with him and the saxophone. I am happy I have been able to live that dream through the amazing grace of God."
Kunle Ajayi is a respected pastor at the Redeemed Christian Church of God. He is also the music director at the church.
He studied music and saxophone courses in London, a move that helped his gospel music career launch properly.
But the journey was not an easy one. He spoke on the challenges of becoming one of the most influential gospel artistes in Nigeria and what he faced in the journey up the ladder.
He said: "I thank God for the experience but for me, I have been overwhelmed by the fact that God could pick someone like me from that notorious part of Lagos and use him for His work. He took me from nothing to something.
"When I decided that I was just going to be playing instrumentals, a lot of people went against it. They told me that even people who sang didn't get patronage. They told me nobody was going to listen to me and that I was crazy.
READ ALSO: Singer talks about his first love and more
"But to God be the glory, we can see what the Almighty has done through us. It overwhelms and humbles me that God can do anything and use even the most unexpected creature to glorify Himself. We must never despise anyone because only God has the power over every situation."
Ajayi is married to his heartthrob whom he has described as a "humble woman and lover of God".