- Governor Ayodele Fayose said that he was ready to be probed by the Economic and Financial Crimes Commission and Independent Corrupt practices and other Related Offences Commission
- He called on the anti-graft agencies to scrutinize the financial dealings of his government
- The governor commented on the rumoured intentions of some PDP bigwigs to dump the party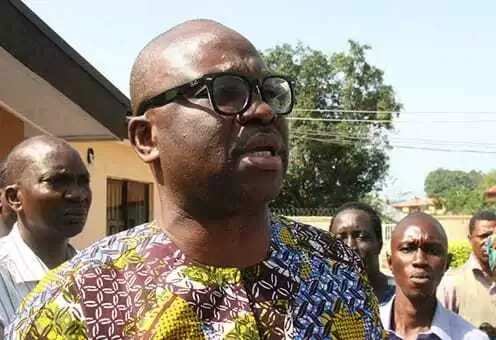 Ayodele Fayose, the governor of Ekiti state, made an unexpected announcement on Friday, February 12.
Speaking during the flag off of the proposed ultramodern Oja Oba market, the governor said that he was ready to be probed by the Economic and Financial Crimes Commission (EFCC) and Independent Corrupt practices and other Related Offences Commission.
Calling on the anti-graft agencies to scrutinize the financial dealings of his government, Fayose said:
"I know that I have so many enemies and that is why I have been following due process in all my dealings. There are enemies for me when I sleep and when I wake up, so I have to be careful. I don't want my enemies to latch on technicality to get at me."
Commeting on the rumoured intentions of some bigwigs in the Peoples Democratic Party to dump the PDP, Fayose noted that he was not scared by the defection threats.
READ ALSO: Poll: Should Fayose be arrested?
"If you want to go, you better leave now. I always rely on the masses rather than politicians, because they don't betray like politicians.
"Politics is a game and we shall play it for them in 2018. When you make the people your pillar, you will never fail. I am confident that I will defeat them if election is held here 20 times, because I make the masses the pillar of support," he stressed.
Vanguard reports that Fayose assured people of the state that the new Oja Oba market, which was demolished in November 2015, would be ready in 18 months.
Appealing to all those market men and women, who had suffered as a result of the demolition, the governor said that they would have cause to rejoice with him after the completion of the project.
READ ALSO: Taraba: Read what Fayose has to say about Ishaku's victory at Supreme Court
"It is always very difficult when structures like this were being demolished. But it takes a leader with great heart to take a bold step like this. What Ekiti needs is a bold leader and not a weakling, we don't need a weakling.
"I am a builder, who God had sent to help Ekiti and that exactly I shall do. But it is only a state like Ekiti where people would want to bring down a builder at all cost.
 "They are criticizing my government on daily basis, they are free to do so. But I want to emphasize that I won't be distracted by their criticisms no matter how tempting," he said.
Meanwhile, the APC in Ekiti state accused Fayose of attacking his opponents to divert attention from the election fraud saga that brought him to power.
According to the party, the governor is jittery and that is why he is stoking violence to cover up the Ekitigate scandal.