Ex-Militants Threaten War If Kanu Is Not Released
Former militants of the Niger Delta have threatened war if the detained leader of the Indigenous People of Biafra (IPOB) and director of radio Biafra, Nnamdi Kanu is not released by the Federal Government.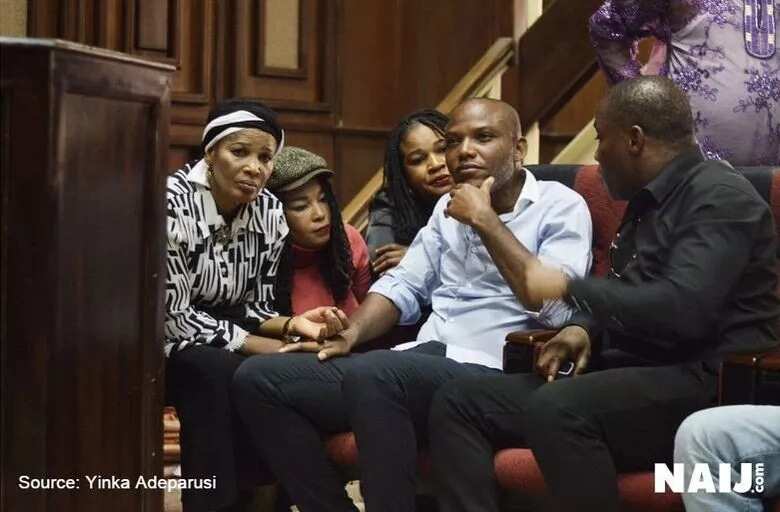 [article_adwert]
READ ALSO: EFCC's Invitation: Tompolo Gets Support
Ireporter have it that the former militants under the guise of Niger Delta Peoples Democratic Front (NDPDF) issued the threat at the weekend in Port Harcourt, the Rivers state capital.
The leader of the group, Precious Iyoyo (aka General Playboy) advised President Muhammadu Buhari to immediately release Kanu, in order to reduce the growing tension in the country.
According to him, the continued detention of Kanu after a competent court had granted him bail was provocative and dictatorial. He also demanded the immediate pullout of the military personnel drafted to Niger Bridge in Onitsha, Anambra state, to allow free flow of traffic for the "innocent citizens of South- South and South East."
Iyoyo further hinted that the former warlords would not fold their hands and watch their brothers and sisters from the South-South and South East geo-political zones "chased, tortured or enslaved with impunity in our land."
"The Nigerian government is dangerously pushing us to the wall. The unprovoked mass shooting and killing of our brothers and sisters will no longer be tolerated," he said.
READ ALSO: Ijaw Leader Urges Buhari To Maintain Amnesty
The NDPDF leader promised that his group would support and sustain the Biafra agitation, and called those from the two regions who are sabotaging the struggle to have reconsideration.
The director of radio Biafra and leader of the Independent People of Biafra (IPOB), Nnamdi Kanu who is undergoing treasonable felony and terrorism charges in a Federal High court sitting in Abuja, was granted bail but had since remained in custody.
Meanwhile, the Former Niger Delta militants beating drum of war against the Federal Government now had earlier called on President Muhammadu Buhari to prevail on the Economic and Financial Crimes Commission (EFCC) to leave their former leader, Government Ekpemupolo, alias Tompolo, alone.
Source: Legit.ng