Buhari Hosts First Media Chat
One day before the new year President Muhammadu Buhari is finally hosting his first media chat at the Aso Rock presidential villa in Abuja today, December 30.
[article_adwert]
The president has very often been blamed for disclosing his biggest moves to foreign rather than Nigerian media. Now the things have changed. Read how it happened, minute by minute:
21.00 The first media chat has finished. Thanks for being with us.
20.58 The president speaks on Biafra issue: "Why does it have to worry me, when I have militants of all kinds, Boko Haram and etc.
"The question is, who marginalised them (Biafra agitators)?"
20.57 "You want people who stole N50 billion to be granted bail to go to London when we have 2 million IDPs in camps?" - President Buhari continues.
20.56 Buhari's answer: "DSS disobeyed court orders, people got legitimate bails from courts, and they are still being held. It's due to atrocities they committed. They go against the country, and you expect them to jump bail? The one we are calling 'Kanu' he has two passports, he brought equipment. Do you know Kanu brought in sophisticated weapon into the country, there's treasonable felony case against him."
20.55 "Are you not worried about Kanu?" the journalist asked the president.
20.51 President Buhari answering questions from Kayode Akintemi, Ibanga Isine, Ngozi and Mannir Dan Ali.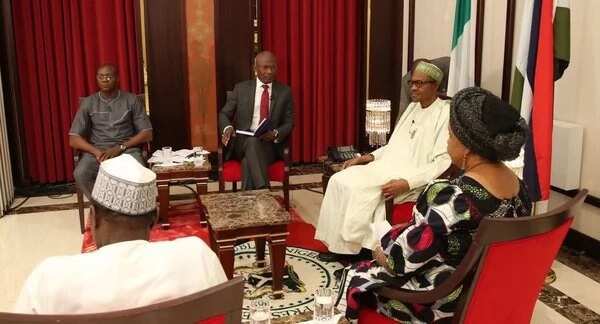 20.50 "The standard of tertiary institutions is really poor, I don't want students sitting on windows to take lectures," Buhari answers the question on tertiary institutions from Twitter.
20.49 One more round of questions from journalists (the panel) is expected.
20.47  Buhari continues: "We will look into the students already in school to be able to use their Master Card Debit/Credit cards abroad."
20.45 "We may have to send the young unemployed youth seeking N5k fee to farm to earn the money," the president suggests.
20.44 On N5,000 monthly, Buhari says: "When my people have been quoted, how can I come here and say otherwise?"
20.43 The president further answers on minimum wage: "I cannot answer the question of 18 thousand minimum wage, now and the federal government will not touch that. The federal government will not touch minimum wage."
20.40 "The Judiciary is a seating dock we need the police and other arms to take cases to them its unfair to blame the judiciary," Buhari added.
20.39 "Those making the allegations would have to prove it," the president says.
20.37 Nigerians ask what Buhari's government will do with corrupt judges.
20.36 "We are not depending on debt, we are renegotiating with those who agreed to build infrastructure for us. Nigeria is not borrowing to fund the 2016 budget but renovating with creditors to build capital projects," Buhari answers.
20.34 The question is: "How would the president respond to criticism of plans to borrow to fund a part of the 2016 budget?"
20.32 President Buhari answers first question from Twitter.
20.30 "I turned down a N400 million car proposal, the cars I have are good enough for 10 years," Buhari says.
20.29 "The question of parastatals earning money, spending it and giving government the change will stop," the president insists.
20.27 Nigerians are expected to send in their questions via twitter, using the hashtag #askbuhari.
20.26 "Who checks the National Assembly? After hesitating... the president says: "The judiciary."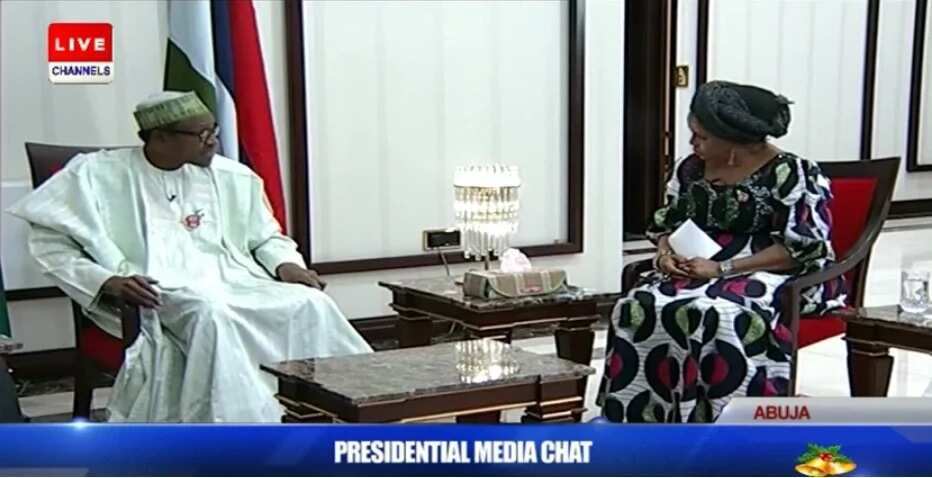 20.25 President Buhari speaks on 2016 budget. "I think I will use veto power to stop the national assembly from using N47 billion to buy cars."
He continues that he will review N3.6 billion for BMW cars scandal. "I turned down a huge bill for vehicles, but I know we need some vehicles for foreign visitors."
20.23 "The policy on foreign currency withdrawal cannot be lifted because the money is not there. A N100 billion goes to the National Assembly for transport allowances alone," the conversation continues.
20.19 "The change is in the TSA."
20.18 The conversation moves to the questions on change - the slogan of Buhari during the presidential campaign. The interviewer asks: "What has changed?"
20.16 "We had 42 ministries, with 42 permanent secretaries. We had to cut them to 24 and asked some to go," he continues.
20.15 "Fashola was not made a super minister for nothing. The issues associated with power which will take time, will be answered. He added that government is looking at different means of generating power," President Buhari answers.
20.14 Question: What is the president's understanding of job creation? And what was he thinking when the decided to make Fashola the minister with three portfolios. What was the president's vision for him?
20.11 He continues: "Our priority is to get our local refineries working, to reduce cost. The cost of petrol is so low, you don't have to subsidize it."
20.10 "By the end of next quarter, we might stop subsidy. I hope that our refineries can be functional," Buhari states.
20.09 "Our first priority now is to get our refineries working," he says.
20.07 The president being asked: "Are you considering putting a stop to the issue of subsidy?"
20.06 On the issue of people being unable to withdraw hard currencies, the Nigerian leader says: "I will ask the governor of the Central Bank. Those who want to import rice and toothpick should go somewhere else to get foreign currency."
20.04 "Our priority is for welders, barbers, building our roads and railways, not rice and expensive textile wears," the president says.
20.02 "But Mr.President would you support the devaluation?" The answer from Buhari: "If you devalue the naira, against what? Against the dollar, sterling, yen, dutch? I need to be convinced about devaluing the Naira. We are importing including toothpick!"
19.59 "Insecurity, downturn of petroleum are very unfortunate incidents in this country," Buhari continues.
19.58 "There are 45 accounts in NNPC alone. We introduced the Treasury Single Account so that we can know what comes in and goes out."
19.57 "I don't support devaluation," the president says.
19.55 Buhari answers on naira devaluation issue. "Should we be looking at devaluing naira?"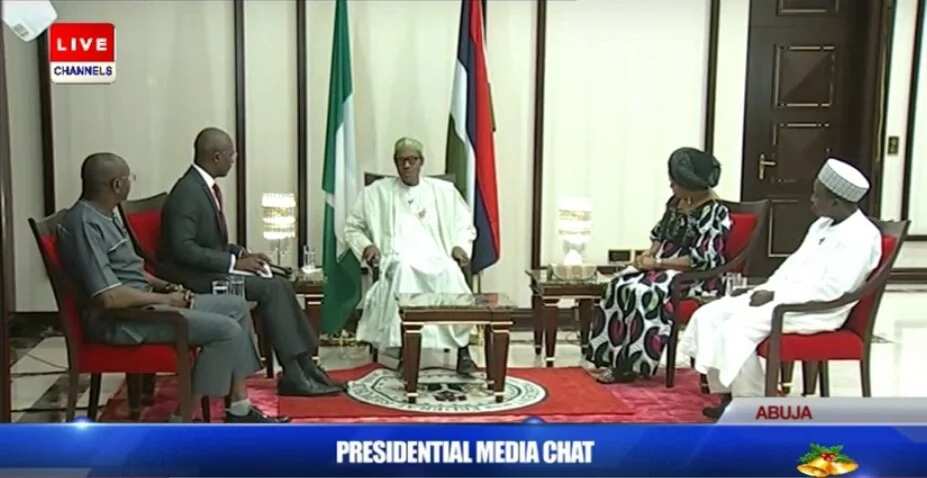 19.53 The next portion of questions is on economy.
19.52 "When I say Boko Haram had been defeated technically, we have weakened capacity for conventional attacks" - Buhari.
19.51 "People die, it's very serious. Hijab will have to be banned if this (female suicide bombings) continues," the president says.
19.50 Question: Is banning hijab an option or not?
19.49 The interviewer asks about the Boko Haram deadline. "Can you say whether the war has been 'technically' or otherwise won?"
19.48 Last question on security and the next subject comes.
19.47 Another question for Buhari: "Who would you be expecting the report of the Shi'ites' killings from?"
19.46 "The President of Iran spoke to me about it and I told him as a government, we have a system. I am awaiting the report of the military," Buhari says.
19.45 "I don't want to speak about it in detail now," the president continues.
19.43 Both the president and interviewers avoid giving names: "When it (clashes with Shiites in Zaria) happened in the state (Kaduna), the governor (Nasir El-Rufai) was visiting the area," Buhari.
19.41 The conversation moves to the confrontation between the army and the Shi'ia sect, and its similarities with the start of the Boko Haram insurgency.
19.38 The president says he has money to take care of the IDP's and he wants to settle the kids in schools/communities. His words: "We are determined to resettle children transported across the country as a result of insecurity."
19.37 Buhari says the Boko Haram victims are orpharned and Dangote, Danjuma have donated.
19.36 President Buhari speaks also on the IDPs. He stated that there are about two million IDPs in the country, especially in Borno state.
19.35 "Do we have any intelligence that the girls are alive? No credible information. Working with Chad, Niger and Cameroon. Boko Haram kept shifting them around," Buhari said.
19.34 Question: "Are you sure the girls are there and alive?"
19.32 The president continues: "Some supposed leadership wanted to make contact, but we insisted on identifying the leadership of the so-called Boko Haram."
19.29 "I have answered questions on Chibok girls and we know so far from our attack on Sambisa that the girls are not intact. We are more than willing to negotiate to free the girls without compromising our national security," he responds.
19.28 The next question comes: "On Chibok girls and technical defeat of Boko Haram, when are we bringing the girls back?"
19.27 "My ministers must make sure they declare their assets, that is a constitutional requirement," President Buhari says that any person would go to court if he or she to be found guilty. "I am going to make sure that nobody is above the law."
19.26 Buhari seems to be a bit annoyed, or even angry.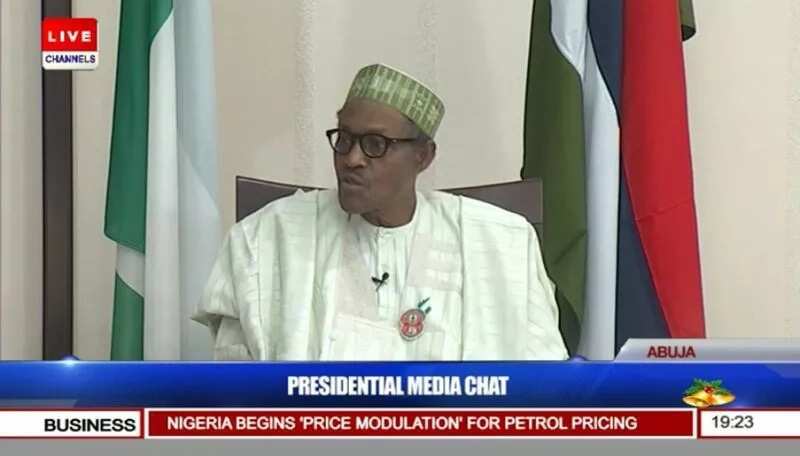 19.25 "Nigerians to know progress of the anti-corruption war by end of 1st quarter of 2016," the president continues.
19.22 "When I was being harassed, I told people that I had declared my assets four times. I mentioned which banks I borrowed money, the number of cars and all they were all deposited at the ministry of justice. If they cannot produce the documents that I declared, they should also answer questions on documents of public officers," the Nigerian leader says.
19.21 Question: "When do you intend to make full declaration of your assets?"
19.19 Buhari answers: "I have said that I will defend every property of Nigeria. We are appealing to countries to please cooperate with us."
19.16 "How long are you willing to go in this fight against corruption?" the journalist asks the next question.
19.15 "We have to be very sure of the documents we get. We have to cross check records. I have confidence in the way EFCC and ICPC are structured now," Buhari added.
19.11 The next question is "What we have now is an iceberg, and I am just wondering is there no way to rejig ICPC and EFCC?"
19.09 Buhari continues: "Money has been recovered but whatever has been recovered, we have to remain in court."
19.08 "Under whatever circumstances we cannot pre-judge what the court would do," President Buhari.
19.07 KayodeAkintemi: "Who are the people that the government claimed have returned money and how much have they returned?"
19.06 "We are taking the people suspected of corruption to court. We cannot comment. We want Nigerians to be patient," the president says.
19.05 Buhari answered: "We are doing quite well. We have some documents where Nigerian crude oil were lifted illegally and proceeds diverted into personal accounts."
19.04 "And the first question. Nigerians very love you. You are the man of integrity. You were elected on the promise to fight corruption.The honeymoon is over how do you think we are doing with the fight against corruption?"
19.02 Kayode Akintemi of Channels TV, the anchor of the chat, welcomed President Buhari and introduced his colleagues.
19.00 All eyes on Mr. President, as the media chat begins.
18.45 Garba Shehu, the special adviser on media and publicity, says that Nigerians can participate in the discussion on social media by using the hashtag and also mentioning President MBuhari.
Femi Adesina, the presidential spokesman, announced in statement that Buhari intended speak on current national issues on December 30, 2015. Some of the biggest challenges Nigeria is facing now are the Boko Haram insurgency, failing economy, war against corruption etc.
The announcement was met with mixed feelings. While a lot of Nigerians welcomed the idea, others took the opportunity to start asking the president about the victims from the supposed army/Shiite clash, while some were asking for the release of Nnamdi Kanu, the acclaimed leader of the IPOB.
READ ALSO: #PMBMediaChat: Top Eight Questions For President Buhari
Legit.ng has gathered top eight questions that the leader of the nation may be required to answer during the chat.
Source: Legit.ng