10 Bars To Hang Out In Yaba
It's Christmas time and the Lagos social scene is in full swing. Legit.ng Lagos contributor, Chinenye Obidigbo brings you the ten hottest bars in Yaba you can hang out this yuletide season.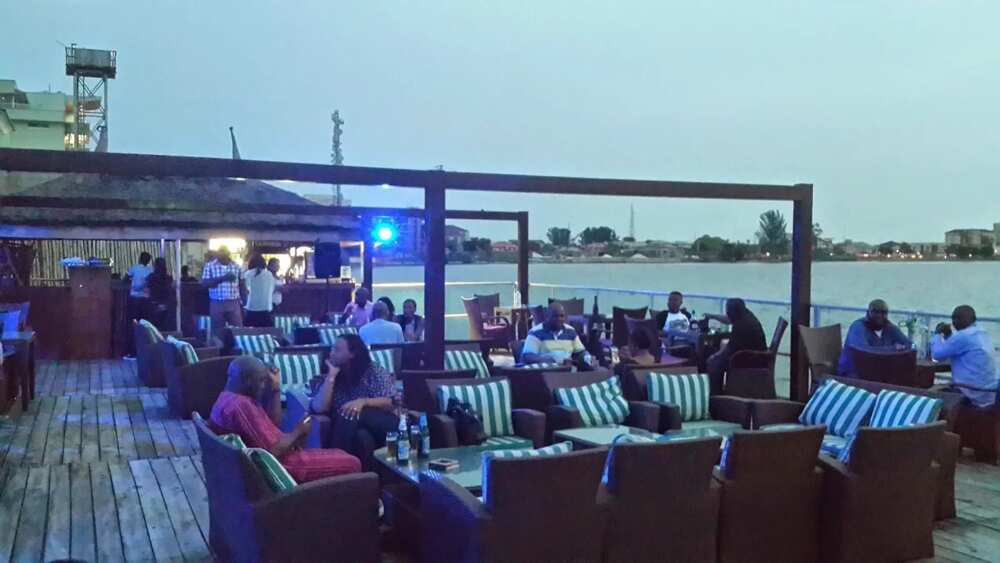 1. Akins and Akins Cool Spot is a place to be. Their bar offers a Bar Lounge, Beer Palour and varieties of beverages. Akin spot is could be located opposite APC Secretariat, Yaba. They are open for business 24hours daily.
2. Nkwobi Palace and Rich Bite BBQ Spot: If you are a lover of Nkwobi, well grilled catfish serves with chips plus other local delicacies, then this is your final bus stop. Their Nkwobi is well prepared that you will definitely request for an extra portion and at an affordable price. It is located at Federal Psychiatric Hospital, Yaba.
READ ALSO:  Infographics: Best Places To Go In Lagos On Christmas
3. Galaxy Cool Spot: Situated at Murtala Mohammed way, near Spencer bus stop, On their menu are delicious cuisines and wel-stocked bar well with assorted drinks you can wish for. The price is fair.
4. White House: Located at 9, Chapel Street, Sabo, Yaba close and to Ozone cinema has been in business for decades. White Hose is best known its mouthwatering local delicacies ranging from Amala, Ewedu, Abuja, Jollof rice and assorted meat of any kind.
Their drinks are readily chilled for consumption at any time of the day. Open for business 24/7 and also an available cab any time of the day to convey prospective customers to their various destinations so there's no rush while in White House because your security is assured.
5. Domino: Well conducive cool spot. Their serene of hygiene has come a long way since its existence in the 70's. Situated directly opposite Custodian House, Sabo. Domino is one of the running businesses that are still standing strong till date.
Cold drinks with wines of any type are always ready. Their pizza is a delectable delicacy you will always ask for whenever you are found within Yaba environs coupled with pastries and the bar is run from 9:00 am – 9:00 pm daily.
6. Banilux Bar is an open air sports-bar which is usually opened from 4pm in the evenings for customers who are lovers of soccer to relax and watch the league matches.
In Banilux bar, you will find a lot on their menu like well chilled drinks, beer and wines, pepper soup (beef, chicken and fish), Nkwobi, Barbeque (chicken and beef), noodles, chips and so on. The neatness of the environment is what pulls crowd every evening not minding the high cost on their menu.
There is also a conducive relaxation Inn to cool off for the night and a well secured parking space for cars. It is located along Chapel Street very close to White House.
7. Ozone Cinema Bar: Looking for a place to take your new date, guys, Ozone Bar is the place. Offering a range of finger food and well refrigerated drinks with cool music to calm in the background as you have good conversation with your date.
People trooping into Ozone Cinema to see movies could use the bar as a relaxation spot before or after the movies. They run the bar at reasonable hours with good customer service.
8. The Village: if you fancy the Francophones, definitely The Village is the best spot for you to be. Well decorated with wooden chairs and tables in a French style.
Located at the Industrial Avenue of Yaba axis with slim menu of finger foods, live music to entertain their customers and also a wide screen television mounted at strategic places for league matches. It is mainly populated by men who are known lovers of the soccer game. There is little difference in their price list to compare to that of Banilux bar.
READ ALSO: 7 Gifts Every Lagosian Wants For Christmas
9. Applause Garden: Is one of the happening spots in the suburb of Yaba. Their Nkwobi and Isi ewu is a delicacy you could bite off your fingers for. Usually opens in the evening in an open garden covered with canopies.
Televisions are mounted at visible places airing live matches of different league games. Also included in their menu are well chilled drinks and wines. Asun, grilled catfish served with chips, pepper soup, chicken barbeque with coleslaw and so on. Situated at 5, Isiakanda Street, Ijesha with a good parking space.
10. Road Runner and Ash Bar: Is a lounge and bar that goes all out in the atmosphere delivering an Ash Pub exclusive bar and lounge experience.
Their offers ranges from different drinks, wines, cocktails and so on with well trained and always delighted attendants. Located at 231, Herbert Macaulay way, Yaba beside National Library Casino, Alagomeji, Yaba. It is open for business 24/7 where you can enjoy top quality bottle services.
[article_adwert]
Source: Legit.ng