The Economic and Financial Crimes Commission (EFCC) may be preparing to summon for questioning Chief Bode George, a chieftain of the Peoples Democratic Party (PDP), and Peter Odili, the former Rivers state governor, over reports that they were implicated in the $2billion arms deal scandal for which former national security adviser Sambo Dasuki is being probed.
According to The Nation, Major General Sarkin-Yaki Bello, a former general officer commanding of 82 Division, may also be invited for questioning as the trio are reportedly being watched by the anti-graft agency.
Although none of them has been arrested, Chief George was said to have denied knowing Dasuki, while Odili and Bello were not reachable for comment.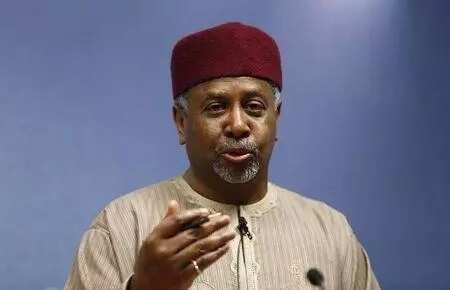 READ ALSO: Dasuki Abandoned By Friends, Political Associates
[article_adwert]
Dasuki, whom EFCC sources had credited with making extraordinary confessions, had through his lawyer on Thursday, December 3, 2015, denied ever implicating anyone in the phoney deals, the while former Sokoto state governor, Attahiru Bafarawa, also said he never collected any money for the supposed 'spiritual purpose'.
But following Dasuki's confessions, three bank accounts belonging to the former office of the national security adviser (ONSA)'s finance director, Shaibu Salisu, have been frozen as part of the ongoing probe of the $2 billion arms contracts.
The Nation also reports that the agency has invoked the interim assets forfeiture clause in its Establishment Act to seize three duplexes worth N810million in Lake View Estate in Abuja, which were also allegedly traced to Salisu.
EFCC has since secured a court order to remand some suspects in custody, including Dasuki. Others are Bafarawa, the former minister Bashir Yuguda, Raymond Dokpesi and 18 unnamed people.
Salisu was said to have allegedly diverted government funds and made illegal payments to his companies from the office of the national security adviser's accounts, and some documents discovered by The Nation indicated that four slush companies, Fanskan Exquisite Travel Tours, Starr Concrete Blocks PPTYS, Fanskan Exquisite Limited and Musim Ventures, were traced to Salisu.
READ ALSO: Court Dismisses Application On Dasuki's Appearance In Court
Speaking on these new revelations, a senior source at the EFCC said: "We have frozen three key accounts of a former director of Finance of ONSA. By the time the figures are collated, we will tell you the actual amount. But out of N600million deposited in one of the accounts on October 2, 2014, about N100million was  given to one Alhaji Bashir.
"All the three banks involved have been asked to put PNB on the accounts.
"As I am talking to you, we have invoked the Interim Assets Forfeiture Clause to seize three duplexes(at N270million each) at Lake View Estate, Jabi which were traced to Salisu."
And following the mention of George, Odili and Bello as some of the beneficiaries of the arms cash bazaar by some suspects, the EFCC source added that "we are putting them under watch until there is sufficient ground to either invite or arrest them.
"Certainly, there are some allegations but none of them has been fully implicated or arrested. And we have not invited any of them for questioning."
On when some high-profile suspects will be granted bail, the source said: "Well, we have secured a court order to remand in custody some suspects, including  Dasuki, Bafarawa, Yuguda, Dokpesi and 18 others.
"We don't want to release them in a manner that will jeopardise the ongoing investigation. Some of them have mentioned a few individuals and corporate organisations and we need to conduct due diligence.
READ ALSO: Dasuki Transferred To EFCC For Questioning
"For instance, Dokpesi admitted collecting N2.1billion for publicity. We have asked him to produce evidence of award of the contract, the terms of the contract, the schedule of execution and how the contract was related to arms purchase.
"The media owner also gave some evidence and we have to get in touch with those concerned and organisations to verify his claims.
"For a while, the suspects will be with us and we will treat them well, in line with international best practices."
The EFCC has also reportedly written to some media owners to clarify what  Dokpesi meant by being 'embedded in various organizations'.
"In making up his defence, Dokpesi told interrogators that he was embedded in some media organisations.
"We don't know what he meant and we have written the affected media to explain if they were given any share of the N2.1billion for publicity," he added.
Meanwhile, the hearing on the trial of the ex-NSA has also been adjourned till December 8, 2015.