European Newspaper Sheds Light On Biafra
While the international media have been largely silent on the pro-Biafra agitation that is currently unfolding in Nigeria, a popular British periodical the Economist has finally gathered some facts about the Republic of Biafra to plunge into the depth of its unique history.
Go your own way
Half a century after the war, angry Biafrans are agitating again
Most  Nigerians do not remember their country's civil war. A large majority were born years after the 30-month fight between Nigeria and the breakaway region of Biafra, which ended when the secessionists surrendered in 1970.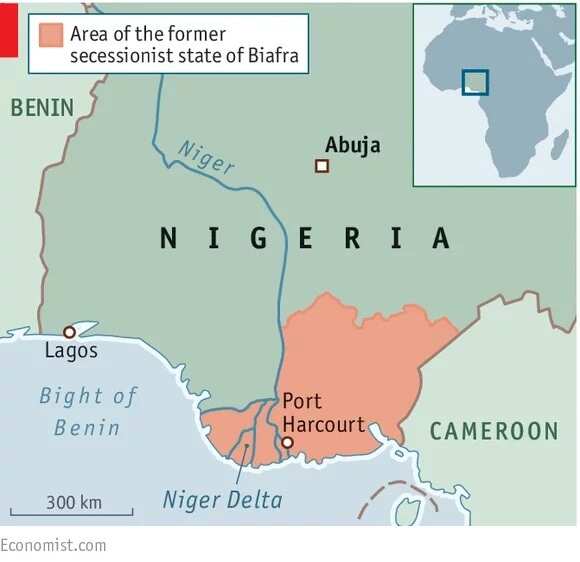 Yet over the past month independence protests have erupted in cities across the south-east, where the self-declared state once was. Agitators say that this time they will not be beaten. "Biafra is a country to be restored," declares one of them. "We are determined to fight to the end."
READ ALSO: SEE Who Visited Nigeria For Memorial Day Of Late Biafra Leader (Video)
[article_adwert]
This is a concern for Nigeria's new government. Secessionist organisations in Biafra have been agitating for years, but analysts reckon the scale of the current marches is unprecedented.
Superficially, they were sparked by the arrest of Nnamdi Kanu, the outspoken head of the Indigenous People of Biafra (IPOB) movement, and director of Radio Biafra, a pirate station. But the grievances run deep.
Nigeria did not exist until British colonialists drew a line around hundreds of fractious ethnic groups dominated by the Igbo in the east, the Yoruba in the west, and the Hausa-Fulani in the north.
The country's regions have jostled for power ever since. Predominantly Igbo protesters have not forgotten that tens of thousands of their people were killed before Biafra unilaterally declared independence in 1967.
READ ALSO: Biafra: Nnamdi Kanu's Sister Raises Alarm
Between 1m and 3m people died during the war, many as the rebel territory was starved into defeat. In the 45 years since the war ended, they feel they have been blocked from senior political posts, denied public services, and impoverished by a post-war programme that they say auctioned off their houses and returned just £20 ($320, in today's money) to them.
In the presidential election in March most south-easterners voted for the incumbent, Goodluck Jonathan, who comes from their region. He lost to Muhammadu Buhari, a Muslim from the north. "#NigeriaWillRot", Mr Kanu's radio station declared after the results were announced.
More details at the Economist.
Source: Legit.ng