President Muhammadu Buhari has stated that some ministers in his government will not get a portfolio because his government cannot afford to pay forty two ministers.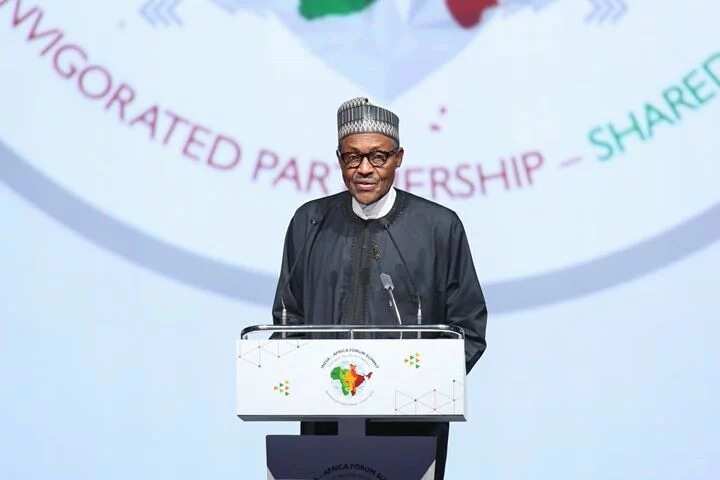 The president made the comment while speaking to journalists in New Delhi, India, during his recent visit to the country.
[article_adwert]
Buhari said that  Nigeria was "materially and morally vandalized", adding that he will reduce the numbers of ministries in his cabinet.
He affirmed that he cannot work outside the Nigerian constitution and that ministers must be appointed in conformity with the constitution of the federal government, hence his appointment from the 36 states of the country.
READ ALSO: Buhari's Attire For The India-Africa Forum in New Delhi
He said: ''We can0not work outside constitution; there must be a cabinet representative from each state. There used to be forty two ministers but I think we can barely keep half of that now because we cannot afford it.
''Others may not be substantive ministers but they will seat in the cabinet because that is what the constitution said and we can't operate outside the constitution
''We are reducing the number of ministries we can't afford to pay.''
Reacting to the controversy that characterised the nomination of the former governor of Rivers state, Rotimi Amaechi, in the Senate, the president said he did not walk into the presidency alone therefore he cannot work alone.
''This is team work. I said I know people but there are people that I accept from other people in our team that I trust without even knowing them.
''Maybe those that are having problem in the National Assembly I doubt if I have meet him in my life but then I am working with others.
''I did not walk into the presidency alone. I have to depend on all the three tiers of government from all part of the country,'' the president said.
READ ALSO: Buhari Warns Indian Businessmen, Says His Policies Will Affect Their Businesses
The president has since departed India and arrived in Nigeria after his four-day official visit to the country. Buhari departed Abuja on Tuesday, October 27, for New Dehli.
Source: Legit.ng