In less than a year in the music industry and with just a single, Condo dance hall cum indigenous rapper Ycee got two nominations at the just concluded Nigeria Entertainment Awards (NEA). His second single Jagaban has been nominated for the All Africa Music Awards (AFRIMA)  coming up later this year. Ycee visited Legit.ng offices recently where he divulged the secret to his success.
When did you start your music career?
Professionally I started music in 2012, between June and July, just before I got signed to my current label. In 2012 I was busy doing underground stuffs like freestyle, mix-tapes and all that. Along the line, my current CEO got some of my music. He listened to it and liked it, and he was just coming into entertainment at that time, so he approached me and said if I was serious about taking music as a career he would sign me on and push the music the way it should be done. Since that was basically what I was looking for at that time, I agreed. Since 2012 to this time, I have released quite a number of singles from Smile At Me Back to Pass Me and other songs. I took time off music when I gained admission into the University of Lagos.
So when did you come back into music?
I came back in 2015 and that made me look like a new entrant in music. I reentered the music industry with a single featuring Patoranking that was released earlier this year. Jagaban is my second single this year.
How did you manage to get Patoranking on your track?
Patoranking is like a brother to me. I have known him for some time now. As at the time the song was being produced, he was in the studio but I wasn't there so when they started making the song and he heard it, they called me.
READ ALSO: Mode 9 Accepts Local Rappers' Superiority
Going through the list of nominees at the just concluded NEA awards, I discovered you had two nominations based off of just one single. How did you do it?
I don't know because it also came as a surprise to me. I think people love my song. When the song came out, it was something different from other collaborations. The song just spoke for itself; people say good music never hides. It got nominated for best collaboration and best video. The video itself, Clarence Peter killed it so I don't think there was foul play anywhere. 
After the NEA awards, you released a new single. Are we to expect another award nomination or awards this time around?
I got nominated for AFRIMA this year, Best Artist For Africa, so basically, that shows that this year has been all about elevation for me because if by the beginning of the year anyone had told me that your single will be doing this good, you will have this level of recognition, I would have found it hard to believe.
What would you say is your style of music, rap or R&B?
Generally, I do rap music; a lot of people know me as a rapper. But those who know me well know I don't like to limit myself. I do dance hall, afro beat, and depending on my mood sometimes, I could do R&B. Jagaban is like me doing something outside my regular kind of songs. I love to explore, I don't want to keep myself in a box and say I am a rapper, no.
In Jagaban, you sounded like two great indigenous rappers, Olamide and Phyno, how were you able to combine their style?
Well, I don't know. When I recorded the song I just recorded it because the producer came up with the beat. With that kind of beat I just had to be aggressive. Judging from the texture of my voice and with the aggression that was in that song a lot of people likened me to Olamide. I am not saying it's a bad thing, but that my work is being recognized one way or the other. Then Phyno, I think it's because if the Igbo accent that is why a lot of people want to liken it to his style. Well, it wasn't intentional. It was how I was feeling that day and the way I attacked the song.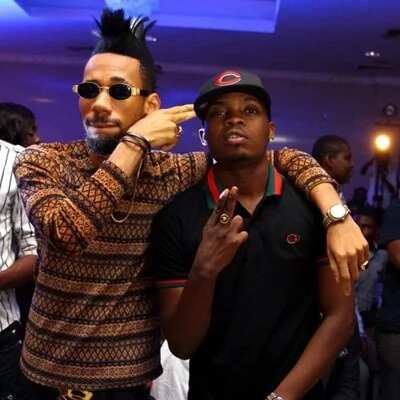 [article_adwert]
Any plan to work with the two artists?
Yes, we just concluded the recording of the remix of Jagaban with Olamide. He heard the song and liked it. He went on Twitter to ask if I would love to do the remix, he would love to be on it. And I didn't waste any time before I answered yes. The song is ready and a plan to shoot the video is on. Once the video is ready, the video and the audio will hit town same day.
There is another artist called Jagaban, he also has a track titled Jagaban; meanwhile, Jagaban is a title given to Asiwaju Bola Ahmed Tinubu. How did you come about your own Jagaban and any fight over the title?
First of all, one thing I want to clarify is that I am Ycee, the title of the song is Jagaban and like I said in the song they are the ones that call me Jagaban. Jagaban on its own is a heavy word. I did my little research on it before putting it in the song, so I know what I was talking about. Jagaban is a title given to Bola Ahmed Tinubu for his outstanding work in politics and these days anybody called Jagaban is said to be a great man.
READ ALSO: Exclusive: What It Takes To Be A Good Artist- Darey Adunni Amodeni 5 days ago 2202
Plans for the future.
I am working on recording either an EP or a mixed tape which will drop before the end of this year. If it doesn't, maybe I will just start working on my full album, which should be ready sometime next year.
If you were not doing music what would you be doing?
If I wasn't doing music, I would be playing football.
So you are a good footballer?
Yes, I was a good footballer when I was playing football all the time, but there is a big question mark on my fitness right now as a footballer. But if I wasn't doing music, trust me, I would probably be in one academy somewhere trying to be the next Ronaldinho or Messi.
You said you went to UNILAG?
I am in UNILAG currently, a 200 level student studying Marine Biology.
Any plans to put that into practice in the future?
It all depends on what the future holds. A lot of people believe that people that who do music cannot do it forever. I just feel that aside from what I am studying, it is just good to have an educational background you can always fall back on no matter what happens. Because I will get to a certain point where I will no longer be able to perform as an artist on stage and all that, so with the knowledge I get from Marine Biology I could also do some other things aside from music. There are definitely plans to use that knowledge in the future
You have a mixed background - your mum is Igbo and your dad is Yoruba, what was your childhood like?
I am a Lagosian. I was born in Lagos, I have lived in Lagos all my life, but I grew up on my mum's side. My mum is not much of Igbo like that. She grew up in Lagos too so she speaks a lot of Yoruba. Growing up, I was like I had been to there and here. I could say I got a bit of two different experiences from the two backgrounds.
Which performance can you tag as your biggest so far?
My biggest show so far was the Lauryn Hill concert, when she was in Lagos recently. It was a really good performance, everything from the stage to the sound the turnout and the appreciation from the crowd. I enjoyed myself.
Watch Jagaban video by Ycee below: