President Buhari To Make History At The UN Assembly
President Muhammadu Buhari will make history as the first Nigerian leader (since 1999), to address the United Nations General Assembly in New York on the first day of the event.
Leadership reports that the Nigerian president has been listed to address the Session this year on the very first day of the event, unlike former presidents, Olusegun Obasanjo, Umaru Yar'Adua, Goodluck Jonathan, who were always scheduled to have their sessions on the second or third week after the events had commenced.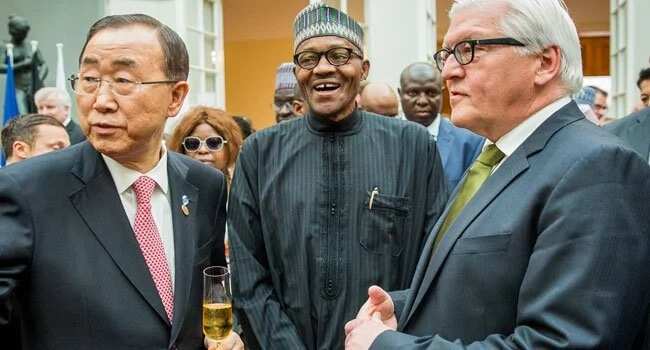 READ ALSO: FG Goes On Planning 2016 Budget
[article_adwert]
The late Yar'Adua could not make it to the 2009 Session of the General Assembly, due to the inconsistency in his health situation, and his representative at the time, then Minister for Foreign Affairs, Chief Ojo Maduekwe, did not speak until almost the last day of the Session, after all presidents and Heads of governments had spoken.
But at the Session this year the world body has listed President Buhari to be among the speakers that will address the Session on Monday, September 28, the opening day of the general debate.
This means that Buhari will address the Assembly on the same day as President Barrack Obama and presidents of other powerful countries of the United Nations.
Obama is scheduled to address the General Assembly on Monday at 9 AM (US time), while the Nigerian president, who will arrive New York with his delegation on Thursday, September 24, will speak at 3PM (US time).
Brazil, Poland, China, Russian Federation, Republic of Korea, Iran, France, Qatar, Mozambique, Netherlands, Kazakhstan, Mexico, Portugal, Denmark and Ethiopia are the other countries scheduled to address the Assembly on Monday.
READ ALSO: Buhari Promises Falae's Release
Uganda, Chile, Cuba, South Africa, Morocco, Switzerland, Zimbabwe, Argentina, Belarus, Gabon, Paraguay, Kenya, Turkmenistan, Senegal, Mali, Ecuador, Bolivia, Kiribati and Australia also make up the list.
Apart from addressing the United Nations General Assembly, the Nigerian president will also be speaking about the contributions of Nigeria to the United Nations Sustainable Development Agenda.
The event tagged: "UN Sustainable Development Summit" will hold between September 25 and 27.
Buhari is also billed to attend the 11th Clinton Global Initiative Annual Meeting together with President of Dangote group, Alhaji Aliko Dangote, and President of the African Development Bank, Mr Akinwumi Adesina, Mr Tony Blair, and some others from September 26 to 29.
The Nigerian leader will also be hosted to a dinner by the Corporate Council on Africa (CCA) at the Westin New York Times Square in the evening of September 28, 2015.
The Nigerian leader, who has been hailed for the ongoing trial of Senate President, Bukola Saraki, has also sent an Eid-el-Kabir message to Nigerians, stating that the issue of Boko Haram will soon become a thing of the past in the country.
Source: Legit.ng